Beat the cold weather blues this Fall and Winter season with some heart-healthy recipes designed to tantalise your tastebuds, warm your belly and comfort your soul. 
Low sodium, low sugar, low carb and high in overall nutrition – who knew healthy eating could be so delicious! 
By Dr Aimee-Harris Newon Psy.D., DABPS, C.HT.
Slow-Cooker Chicken & White Bean Stew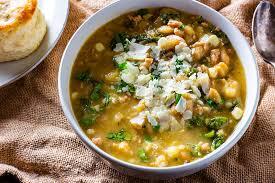 1 pound dried cannellini beans, soaked overnight and drained (see Tip)
6 cups unsalted chicken broth
1 cup chopped yellow onion
1 cup sliced carrots
1 teaspoon finely chopped fresh rosemary
1 (4 ounce) Parmesan cheese rind plus 2/3 cup grated Parmesan, divided
2 eaches bone-in chicken breasts (1 pound each)
4 cups chopped kale
1 tablespoon lemon juice
½ teaspoon kosher salt
½ teaspoon ground pepper
2 tablespoons avocado oil
¼ cup flat-leaf parsley leaves
Combine beans, broth, onion, carrots, rosemary and Parmesan rind in a 6-quart slow cooker. Top with chicken. Cover and cook on Low until the beans and vegetables are tender, 7 to 8 hours.
Transfer the chicken to a clean cutting board; let stand until cool enough to handle, about 10 minutes. Shred the chicken, discarding bones.
Return the chicken to the slow cooker and stir in kale. Cover and cook on High until the kale is tender, 20 to 30 minutes.
Stir in lemon juice, salt and pepper; discard the Parmesan rind. Serve the stew drizzled with oil and sprinkled with Parmesan and parsley.
Zucchini Lattice Lasagna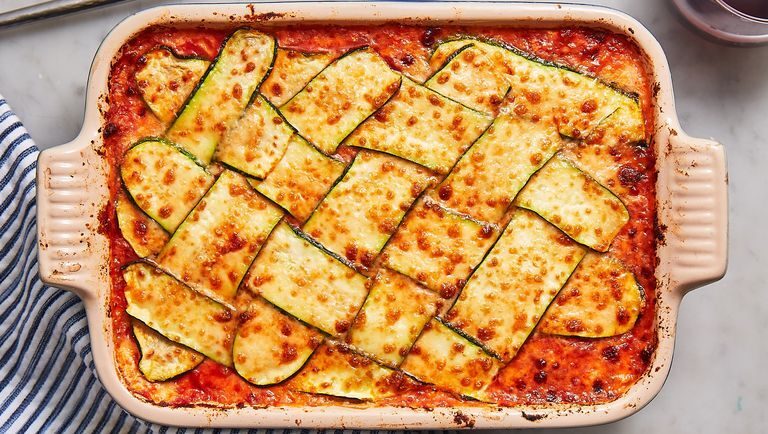 2 c. ricotta
1 c. freshly grated Parmesan, plus more for sprinkling
2 large eggs
Kosher salt
Freshly ground black pepper
1 1/2 c. marinara
3 large zucchini, cut into wide strips using a Y peeler and drained on paper towels
3 c. shredded mozzarella
Preheat oven to 350°. In a small bowl, stir together ricotta, Parmesan, and eggs and season the ricotta mixture with salt and pepper.
Spread a thin layer of marinara in a baking dish and layer with two layers of zucchini noodles, ricotta mixture, and mozzarella.
For the final layer, make a zucchini lattice. Layer zucchini noodles side by side at a diagonal in the baking dish. Lift the bottom half of every other noodle and lay another zucchini noodle across diagonally. Repeat until top layer is full.
Sprinkle with more Parmesan and season with salt and pepper.
Bake until totally melty and zucchini is cooked through, 30 minutes.
Let rest 10 minutes before slicing.
Crispy salmon with fennel, pear and cucumber salad
2 tablespoons white wine vinegar
1 teaspoon caster sugar
2 tablespoons avacado oil
2 baby fennel, thinly sliced (fronds reserved)
2 small corella pears, quartered, cored, thinly sliced
2 small Lebanese cucumbers, cut into long, thin matchsticks
4 x 125g salmon fillets, skin on
8 chat potatoes, thinly sliced
2 tablespoons roughly chopped fresh dill
2 tablespoons honey mustard dressing
Step 1
Place vinegar, sugar and 1/2 the oil in a bowl. Stir to combine. Add fennel, pear and cucumber. Toss to combine. Cover. Refrigerate for 15 minutes.
Step 2
Meanwhile, place salmon, skin-side up, on a large plate. Drizzle with 1/2 the remaining oil. Sprinkle well with salt and rub into skin. Place salmon, skin-side down, in a large, non-stick frying pan over medium-high heat. Cook for 5 to 6 minutes or until pan is hot and skin is crisp. Turn salmon. Cook for a further 3 to 4 minutes or until just cooked through. Transfer to a plate. Cover to keep warm.
Step 3
Place potato and remaining oil in a bowl. Season with salt and pepper. Toss to coat. Return pan to medium-high heat. Cook potato for 2 minutes each side or until golden and tender.
Step 4
Strain fennel mixture and discard liquid. Add dill. Season with salt and pepper. Toss to combine. Divide fennel mixture and potato among 4 bowls. Top with salmon and drizzle with dressing. Sprinkle with reserved fennel fronds. Serve.
About the Author:
Dr. Aimee Harris-Newon Psy.D., DABPS, C.HT. is a double board certified integrative and interventional psychologist, entrepreneur, author, speaker, and master success coach. She's considered an expert in integrative health and believes in a holistic approach-treating the body and the mind. She leads a very successful integrative and functional health and wellness practice, serving clients locally and internationally. She and her multidisciplinary team focus on wellness, preventive care and coaching to help people live healthier, happier and more satisfying lives. What makes her truly unique and exceptional is her broad and deep skill set and her approach to health and wellness.
As the founder and director of Dr. Aimee and Associates, and now The Center for Integrative and Functional Health and Wellness, Dr. Aimee Harris-Newon and her team of experts don't just treat symptoms, they solve health problems, create better outcomes and change lives
Dr. Aimee Harris-Newon also hosts the popular radio show, Mind Over Matters on AM 820, which airs every Sunday morning at 10 a.m. CST.
For more info visit https://www.thecifhw.com/