Photography is an element of the media we tend to underestimate. As they say there are a 1000 words in every pic. We as an audience, or a fashionista as myself don't really think about what goes on behind the scenes of that shoot with a celebrity. From designer photo shoots like Burberry with Cara Delavigne and Kate Moss to photo shoots for Makeup ads they all want the best in the business.
Lets a take a look at the few out of the many globally successful photographers embracing us with their talent. Mario testino grew up in Peru in a middle class family was one of the six children. What made him stand out was his sense of independence and his style that wasn't accepted by everyone at the time. He remembers being called a "faggot" and spending all his money on taxi fares because he could not get the public transport. When asked if he considered South America to start his career, he thought that he didn't fit in. in that area you had to follow the trend. However, he found that England was pretty tame, he felt that everyone adopted their personal style and had the freedom to experiment with it.
Freed from the social conventions of Peru, Testino flourished in his artistic temperaments. Socializing and scheduling his days and nights with parties it enabled him to use his skills of photography to good use. If this is how it all started for him can we say that our selfies count?
Testino's photography really captured the abnormal positions. the positions women don't tend to be photographed in! It gives that compromising yet natural feel to his work.  Kate Moss is in a bathroom about to apply makeup and get ready for an event. There seems to be a story that he is conveying and we have to have an open mind to see.
The model below is photographed is just about to put a dress on, this wouldn't be categorised as conventional photography but its one that Testino focuses on.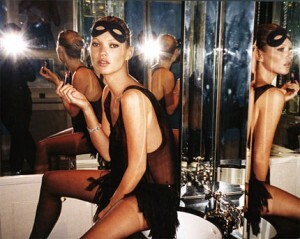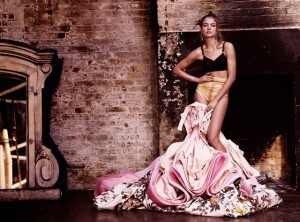 Inez and Vinoodh a Dutch couple both enthusiastic in at and photography have done wonderful shoots with Gap to Vogue Paris. Having the same passion and being soul mates are the best things in the world don't you guys think? One thing they both want to change is the conventional names in the industry; they want to become a couple with a not-so-typical name and internationally famous.
While many of their celebrity fans have claimed that they are the 'coolest' and 'loveliest' people their work is what drives and pushes through. They both claim that they shoot from all differnet angles and then work with the best one, as they are constantly moving around seeing what is the best angle on that model. In recent years their work has become more commercialized and less experimental.  Their work focus primarily on sexuality and the art of the body, the definition and the sculpture of it.
I guess to be in that industry you need to have a bit of both.
With Annie Leibovitz, I think she just got straight to the point. She knew what she wanted to do and she got on with it! She first worked for the Rolling Stones magazine and later moved on to the Vanity Fair. She started to work for high profile advertising and by the 1990s she published her work.
She started off enrolling in an art institution and well now she is one of the biggest names in the industry.
While working for the Rolling stones she developed her trademark technique along with the weird poses. Trademark is what makes you stand out. To be in such a competitive and high pressure environment you need to have that "third eye". Her perverse of the female subjectivity is shown clearly in the first picture. A woman wearing a mask but she is also about to remove it off. The implication is that a woman may have many different sides and masks for the world but she also portrays something beautiful in the fact that its not about the question of beauty.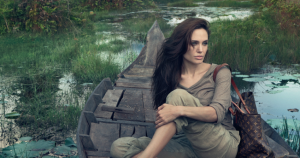 Wonder where Vogue get their technical artistic photo shoots from?
Mert and Marcus.
Their photography had certain distinctiveness from the rest of the ones I have so far described to you!
Their idea of art is polished, hyperreal and colour saturated. No its no the normal photos we are confronted with daily. It scream high fashion and aesthetically spectacular with a hint of class and intellect.
Their commercial clients include Louis Vuitton , Gucci, Pucci, Versace, Missoni, Giorgio Armani , Roberto Cavalli , Fendi, Kenzo, MAC and Miu Miu .
So you can imagine the type of art they would have to produce for these big names.
Steven Meisel obsessed with perfectionism in his vision is his signature style! As of many photographers Meisel made many of his models into stars. A lot of models who have performed for him in the past have said working with him is like working with a director. He knows exactly what he wants and describes it for you there's no guessing.
With that level of expertise in a field like this no wonder its hard to enter the industry, the third eye as they say has to be unique and accepted by your audience.
Sounds like a lot of hard work!