Mess Magazine takes its cover of the Spring 2019 Fashion Week Event to Eastern Europe. If there is one thing to take note of in the ever growing fashion industry, it is the pace at which Eastern Europe has gotten to the top of the list in terms of creativity, art and design . As one of the first participating cities of the fashion week event in Eastern Europe, Belgrade has had a lot of amazing pieces that has captured the attention of local and international designers, buyers and experts in the industry. Belgrade Fashion Week has promoted its involvement in introducing almost all-important Serbian fashion designers and icons, and made a great contribution to the evolution of the independent fashion.
We bring you 4 epic highlights of the Fashion Week Event in Belgrade featuring;
Korean fashion designer Ike Seungik Lee for the brand Starsica who brings his "empowering and edgy style" to the runway.
Bringing his narrative of "memory distortion and heavy fake news created by the mass media", Starsica brand is a concept of questioning and challenging our identity. It is bold, fearless and very daring.
Let's take a sneak peak of the creativity of Faktory by Bosko inspired by the 80's. Faktory is all about the "individuality and promoting the younger market's ability to acquire a sporty but sophisticated look". Bosko  focuses on comfort and quality without forgetting to make it "visually attractive". BOSKO's concept is to create an everyday look that is always different and with a twist.

Serbian designer Sonja Jocić graced us with her amazing design with the striking use of the red color. She states that the use of red  was deliberate as an "alarm to it's observers, i wanted to use the red color because of its intensity and psychological effect". "I'm known for bringing always, a theatrical twist to all my previous collections". Coincidentally sharing the same ideas of "preserving nature", Sonja Jocic tells us the story behind her brand with emphasis on "garments that are sustainable, multi-functional, constructed without fabric waste". She goes on to  experiment with "patterns that are geometrical in shape while using always, the whole fabric, cut or draped". We are talking zero-waste here.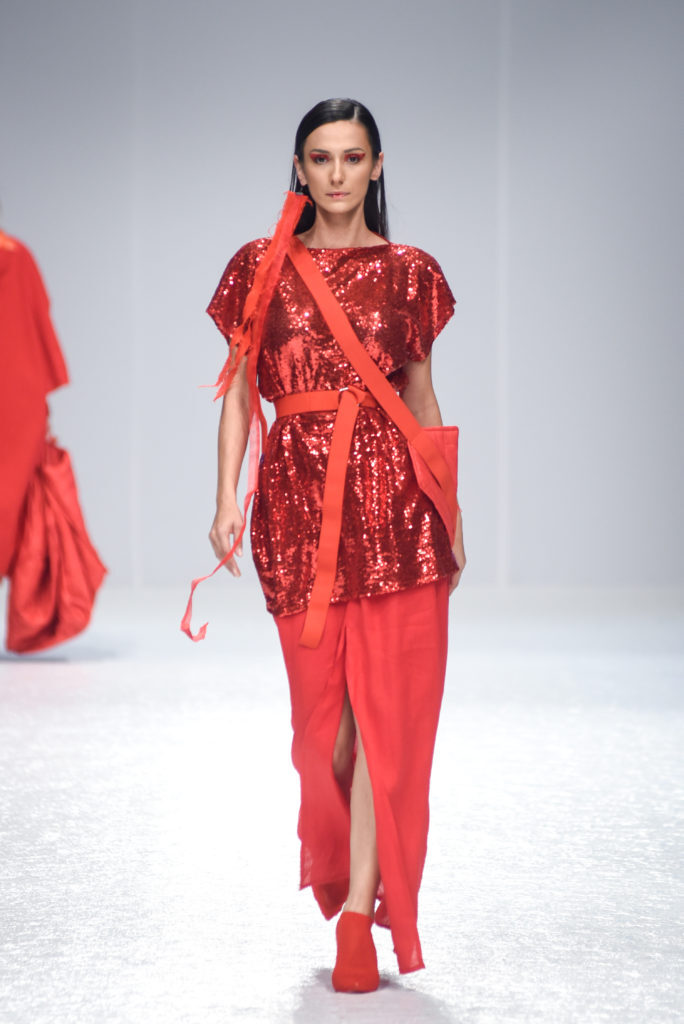 Finally, we share the powerful statement of feminine and masculine energy by the brand Atamansha. The fashion icon Ruzica Nestorov came all out with her expression of womanhood. With strong statements and notable display of her meaning of sexuality and freedom.