Berlin fashion week is over, but it ended with a BANG! This wasn't just a highlight to the week of Berlin Fashion Week, but
fashion week this year which lead  Johnny Dar received a standing ovation after his show. Think dancing, body paint, fashion and music. The show began with ballerina dancers all painted from head to toe with original style. With the message of empowering feminism, the dancers blew everyone away with extreme hair  and vibrant patterns and print.
The collection itself held strong references of avant-garde inspired. Range of fabrics included were silk chiffon, metal, tulle and cork, which were created to flatter the female figure. Using modern technology, shapes and patterns were created using laser cutting, create in-depth detail in each garment that stormed down the runway. The designs didn't stop with unusual fabrics, as there was appearances of bizarre designs such as caftans covered in skulls, sci-fi inspirations and abstract snakes. Models make-up was about 'more-the-better', with bold lipstick and eyelash extensions on the eyebrows. We saw oversized heads, Repunzal hair with some designed into leotards. Each detail of the collection and production of this show was thought out to the smallest point. All backed by a projection of DAR the BOOK, Dar's original artwork, with models walking out bringing the imagery to life.
The collection finished with a dance by the ballerina models, still with the breath-taking bodypaint, with the sound of John Lennons song 'Imagine'. Overall the show was an ideal way to finish the week, with a refreshing take on fashion, with clear combine of art, culture and music. The collection is personal to the designer, and expressing inner creativity, not just to stick on trend. This wasn't just a highlight to the week of Berlin Fashion Week, but fashion week this year. What are we going to be seeing next year?
FOLLOW DARTHEBOOK;
Twitter @ twitter.com/DARtheBOOK1 
Facebook @ facebook.com/DARtheBOOK 
Instagram @ instagram.com/darthebook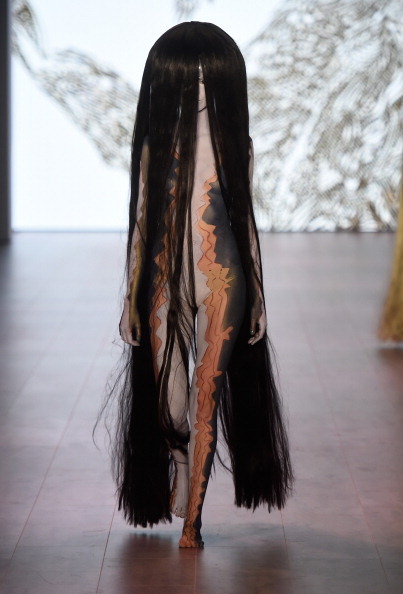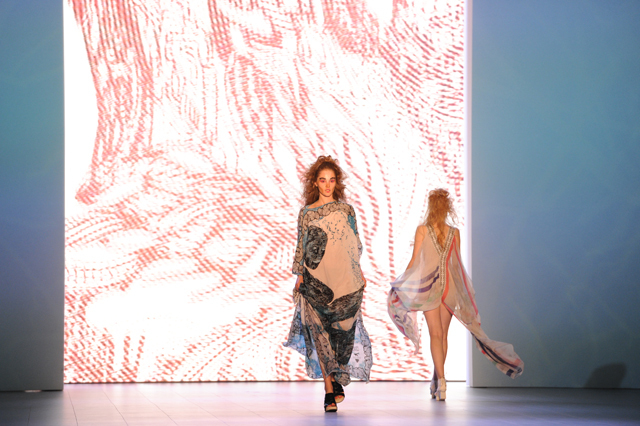 credit: gettyimages