Growing up I loved playing The Sims (read: "was addicted to"). One of my favourite parts was creating a new person to play with and then change their outfit every other minute (there is a reason the word wardrobe starts with "war"…). Somehow, seeing my Sim look good, made me feel good. Call it a win-win.
Today, the fashion industry is "finally" in flux. Brands both gigantic and small are pivoting towards the latest technologies, i.e. VR for new ways of shopping as well as in the design process, AR for engaging with fashion made with pixels instead of fibres, and AI to predict what we are buying next. Meanwhile, big brands have yet to pay their honest and hardworking suppliers based in developing countries, but let's leave that for a next post if you'd like me to.
Back to the Sims and dressing a personable character in a digital world. What if this win-win could happen in our reality? Are we ever too old to play games or at least interact with them in some fashion? (pun intended) I think not. In fact, I've been dreaming of the day that I can go full Cher Horowitz on my wardrobe. That would be great, but for now it's still an "as if!"
I promise you though, that soon, designing fashion through virtual prototyping is the most preferred modus operandi. Why? First of all, because studies prove that the environmental footprint fashion design makes in this way is significantly lower than in the traditional manner. All that is wasted is the energy and data consumed by your computer. Switching to renewable energy providers would be a great first step, but don't feel overwhelmed, we're all in a time of transition, and every step forward, is a step forward I always say.
Fashion brands like Happy99, The Fabricant, and tons of freelancers are already implementing digital fashion quite successfully. Given the cost-savings from not having to purchase materials, sending samples back and forth all over the world, and all other rather pollutive activities from the value chain, are non-existent in these models. The question is… are you ready for this?
By now, you've probably noticed the technological innovations the fashion industry is adopting in order to let the show go on and to reduce the massive carbon footprint it has been causing (i.e. First Runner Up in the Climate Pollution Contest. Congrats Oil, you're the champion). For inspiration, I highly recommend Googling Helsinki Fashion Week.
Let's look at how Sims and digital fashion having been dancing intimately, not just recently. First of all, as I kind of introduced in the start of this post, dressing my Sim was a way for me to interact with fashion digitally. This was +15 years ago. Sure, the clothes looked not realistic at all, so there was always a clear distinction between the real world and the game I was playing. However, over time, the technology has significantly evolved, making digitally designed clothes equally appealing as analog ones.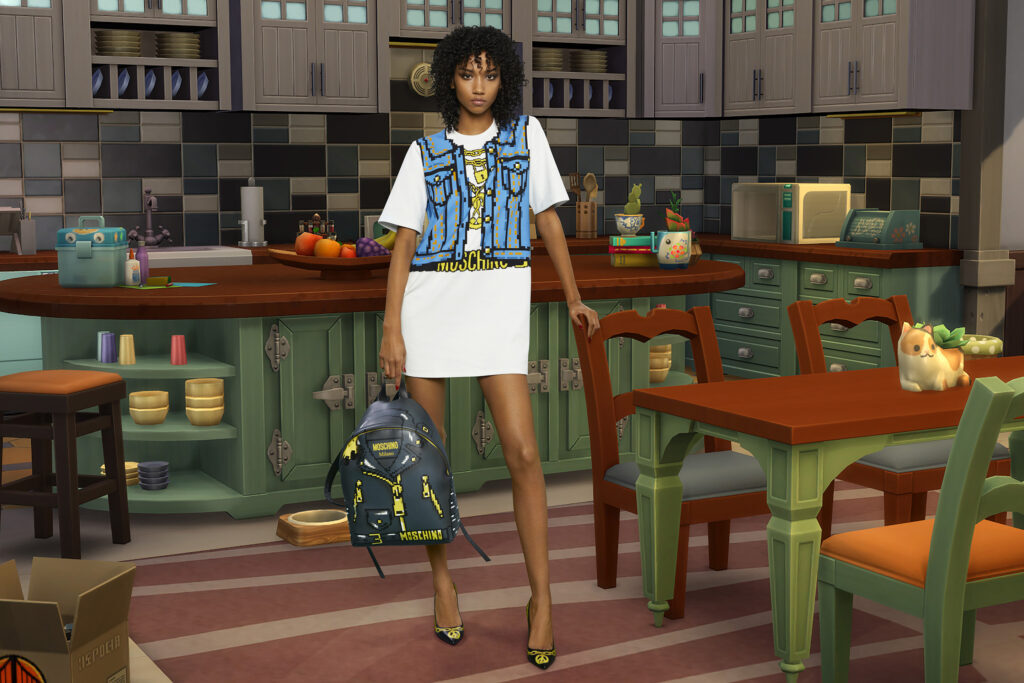 Recently, I conducted a study among my target audience, asking them if my handbag design (in fact a render) was real or not. More than 80% votes yes, and said they would buy it. What if this way of designing on a commercial level became just the next way? I cannot wait to finally launch aest-ethics, where this is exactly what I'm intending to do. But back to you!
Imagining you're a designer, who is probably not experienced yet in these softwares, you may wonder where to start and if there is enough time given the competition.
I recently discussed this with a friend of mine who is a classically trained fashion designer. Using pen and paper, ordering fabric, cutting patterns, fitting on a real model, adjusting, that's what she was used to. Then, one day she decided to force herself out of her comfort zone and started teaching herself how to work with CLO3D. She won't say it's easy and fast, but she will say it's worth investing your time in. Virtual prototyping is not the future, it's the present.
In a Post-COVID world, this, I imagine, would be one of the front-running innovations that fiercely strut down the runway while traditional fashion is too busy trying to book flights, models, hotels, MUAs, catering, photographers, studios, etc. The amount of CO2 emission that is committed by "simply" replacing analog fashion shows with digital ones is significant. Worth the shot, but where to start?
As I already introduced you to digital fashion in one of my previous posts for MESS, this is what you should become obsessed with. It does require a shift in mindset, but isn't change the only constant…?