The Fashion industry has embraced the digital world for a while now. The discovery of new trends and brands is done on Instagram and so is their marketing. But after a year of lockdowns and insecurities towards the future combined with the growing emphasis on the need for more conscious fashion industry, it makes us think of alternative ways to experience digitally. Integrating physical and digital -aka phygital- is the way to succeed in the industry these days. Fashion buyers scout the brands they are purchasing on Instagram, brands depend on influencers to advertise their products, consumers find their inspiration through social media and even magazines are accepting the power of digital by publishing more stories online. So why don't we integrate digital into the production of garments more?
There are many innovative companies that have already integrated the perks of digital to fashion, like CLO. The software creates true to life 3-D versions that enable designers and producers to predict how the product will turn out. It is a company that has revolutionized garment production, and is used by many well known brands like Ganni and Balmain. The software turns every step of the designing process digital; whether it is pattern making, or adding smallest details. It creates animations with Avatars to give a full preview of the end product. It does not only reduce the waste caused by the sampling process, but also reduces the extraneous time spent with traditional sampling methods.
Another way fashion creates a massive carbon footprint and waste is through advertising. Although most fashion products are advertised digitally, mostly on Instagram, the waste created by sending the items to influencers and celebrities is as real as ever. The company The Fabricant, founded by Kerry Murphy and Amber Jae Slooten,  comes into play at this point. Thanks to this revolutionary digital fashion house, designers can now create fully digital collections. The logic behind it is to reduce waste, cost, and inequality in the fashion world.
Companies send products to influencers and celebrities that are advertised on their Instagram through a single photo; an unsustainable marketing purpose that is quickly becoming outdated. If the goal is to have a photo, why spend money and create waste to send that item, if you can just digitally fit it to that person through this technology? Another way The Fabricant tackles sustainability is by breaking the exclusivity rule. Ms. Slooten aims to make couture accessible to everyone, regardless of their physical features or background. After an interested buyer purchases a piece of digital clothing, they need to send a photo and their body measurements. After their photo has been fitted with the virtual clothing they just bought, the social media post has been created to be seen for the whirlpool of current and potential Instagram followers.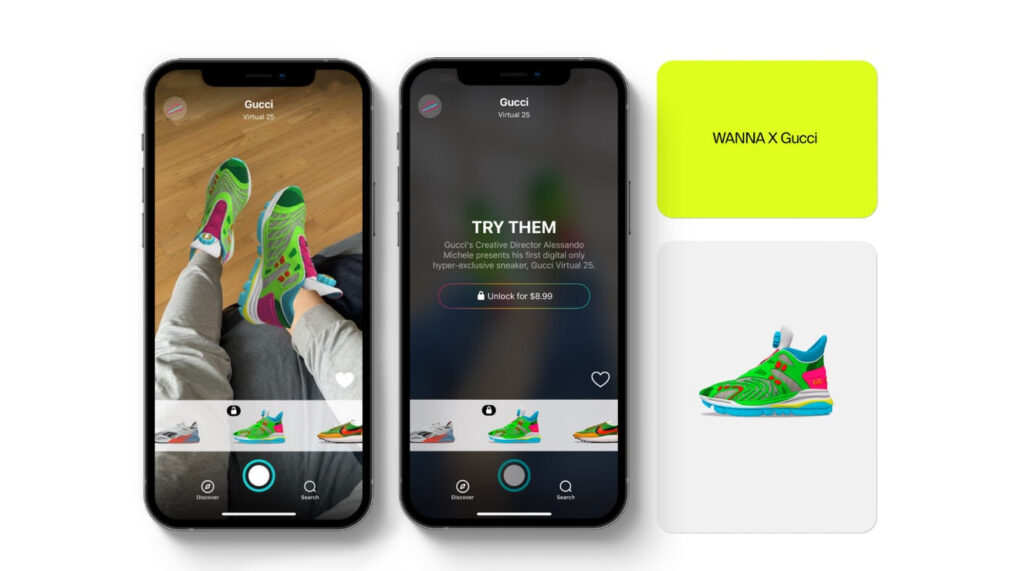 The Fabricant is not the only company with digital collections. Dress-X  is an e-commerce platform that sells digital fashion clothing and accessories by various designers. When you purchase an item, the platform asks you to send photos. Then, the platform sends you your image back, but with the item you just purchased fitted on you, like in The Fabricant. The prices on the platform are much lower than the possible physical retail versions. Dresses are around 40 USD and shoes around 30 USD. Although most emerging brands adapt to virtual collections, some innovative big fashion houses have followed the trend as well. Recently, Gen-Z's favourite brand Gucci has released a virtual sneaker in collaboration with Wanna Kicks App that can be worn only on AR. It works like a face filter for the feet. If it is purchased on the Gucci App, it can also be used by the user's avatar in VRChat and as well as Robox.
Integrating fashion into video games is emerging as a new way to attract Gen-Z customers. Many big brands have already embraced the idea. Moschino has created a collection in collaboration with the legendary computer game Sims just as  Gucci has done with Tennis Clash. As a pioneer in adapting to the latest trends, Gucci collaborated with Zepeto (an app where you create your virtual life, similar to Dwight's Second Life in The Office) to allow their customers to turn their selfies into their own avatars, and meet their peers in the 'virtual world of Zepeto'. Gamers can dress their avatars in Gucci products. By allowing gamers to dress their avatars in Gucci products and creating a collection that is available for the digital gaming world, this consequently increases brands' exposure. As the players dress their 'fantasy persona' in these brands, the brands also create the opportunity to build personal connections with them.
Could digitisation destroy the spirit of fashion? Fashion is a very tactile industry. Most buyers want to examine the products closely and physically touch the materials for quality control. Will we be able to feel as connected to our clothes as we are now without actually touching them and feeling them on our skin? Will luxury lose its allure? Time will show.
What we know for sure is that we need to reconstruct the fashion industry to reduce its harm to the world and our society. These innovations and those that follow them are essential to making a change for the better.
Special thanks to Alara Urlulu