Out with minimalism, in with Baroque. For its Spring 2021 campaign, Dior turned to photographer Elina Kechicheva to stage a series of tableaux inspired by the Old Masters.
The images for the Dior campaign were shot by Elina Kechicheva, a photographer known for her painterly use of light.
Kechicheva posed models in striking compositions reminiscent of the paintings of Caravaggio, whose pioneering form of realism and intense use of chiaroscuro strongly influenced the development of Baroque painting.
The images, starring Levi Achthoven, Maryel Uchida, Sculy Mejia, Judith Frament and Holly Fischer, were styled by Elin Svahn, with art direction by Fabien Baron. Peter Philips did the makeup, and Guido Palau the hair.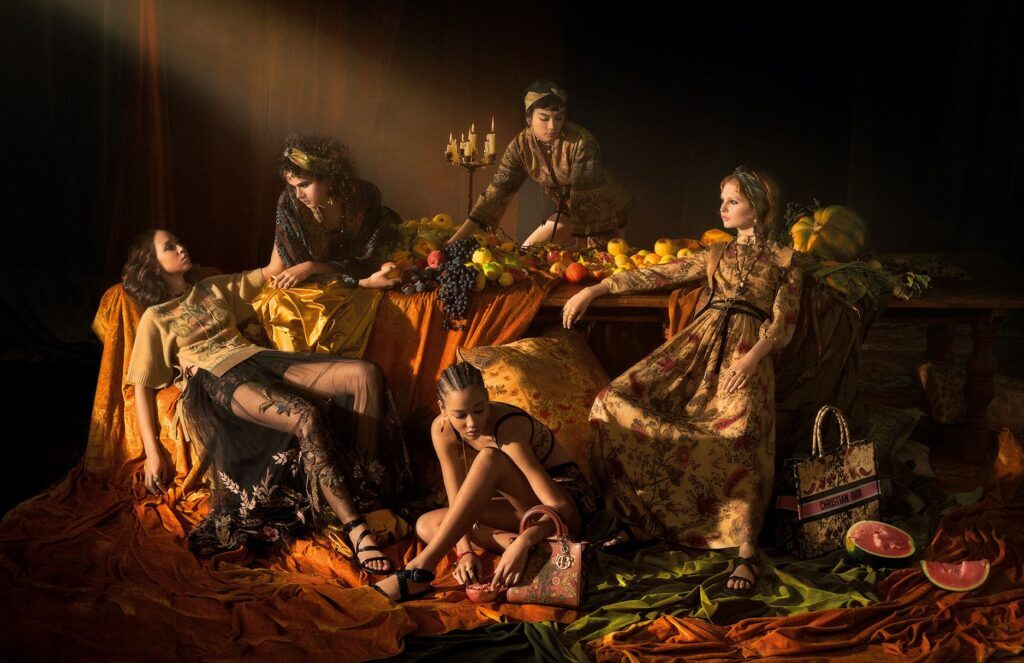 After several seasons of minimalist ads lensed by Brigitte Niedermair, Dior signalled its new visual direction with its cruise campaign, which featured models in a pre-Raphaelite setting, bathed in dappled light or seen through clouds of dust.
The brand wrote in an official statement that it wanted to give the new campaign shots "the unique power of painting" and in fact, since last year all the campaigns and shows for the brand's women's collections, directed by Maria Grazia Chiuri, have entered into dialogue with art, first with the short film signed by Matteo Garrone, then with the pharaonic show of Lecce followed by the Resort 2021 campaign.
"Celebrating excellence in savoir-faire and creation in all its forms — from Virginia Woolf's feminist essays to militant collages by Lucia Marcucci that enhanced the staging of the show — the collection is captured in a campaign brimming with the unique power of painting," the brand concluded in their statement.
Joelle Diderich, writer for WWD, reflected on the impact of the pandemic on the fashion industry, which can be seen in Dior's recent campaign:
"One of the upsides of the current industry upheaval is that luxury brands have stopped doing lookalike campaigns and are trying to stand out with more individual approaches"
"Also, travel restrictions mean houses are working more with local talents instead of the same small pool of photographers, stylists and art directors," he wrote on Instagram.
The shots visible today are just a preview of the wider campaign that will make its debut next Sunday.
Images: Elina Kechicheva/Courtesy of Dior