Euphoria has become an authentic revolution for Generation Z, settling down as the most provocative and seductress series of the year. Also known as "The Thousand Penises Series" for its wide range of erotic scenes, HBO's new bet displays a teenage world that would frighten any parent: A macabre reflection of a youth conditioned by debauchery, alcohol and drugs, flirting applications and sexual taboos, carefully moving along the blurred border which separates reality from fantasy.
The HBO fiction stands up as a genuine artwork that does not neglect aesthetics: Each detail shows off nuances of characters' damaged psychologies. One of the keys is its strong commitment to eccentric and creative make-up style, which have turned out to be Euphoria's hallmark. Every aspect of face painting has a conscious emotional meaning behind it. Doniella Davy, Euphoria's make-up artist, possesses a special sensibility and makes glitter and highlighter her best tools of freedom of expression. Through them, both personality and emotions that protagonists feel are captured.
Rue, sparkling tears from the depressive clown
Euphoria's main character is Rue, played by Zendaya, who breaks forever with her "Disney girl" label. Rue is a 17-year-old drug addict trying to fight depression and to find her place in the world. She bets on an unique unisex style and a washed face; she rarely shows up with makeup. When she paints her face, her makeup combines perfectly with her attitude: a mixture of darkness and fantasy. Black circles under the eyes or glitter tears running down the cheeks, in her own beautiful and feminized version of the sad clown.
Jules, colour shadows against gender stereotypes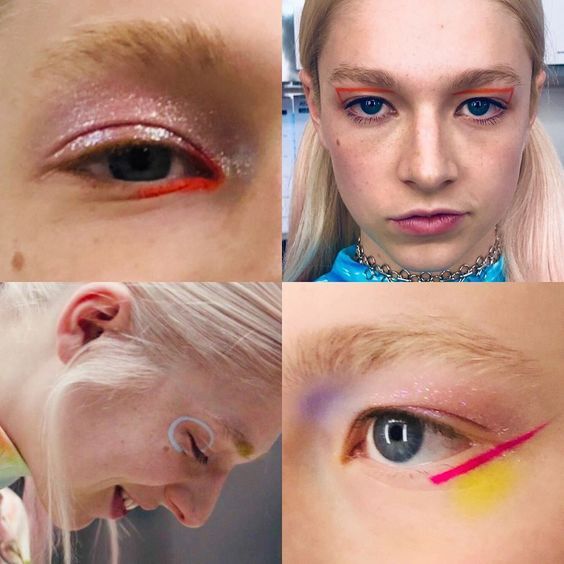 Innocent, sweet and with a mysterious halo. This is Jules, interpreted by the transsexual model Hunter Schafer, who had made the audience fall in love with a charisma taken from a fairy-tale. This angelic-looking character tends to wear make-up according to her feelings, having fun with bright colours shadows and designing shapes with the eyeliner: Clouds adorn her eyes when she is in love; dark shadows to match her internal conflicts.
Maddie, an armour of insecurities and XXL eyelashes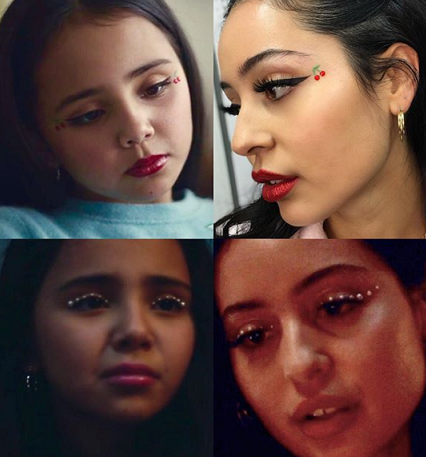 Maddie (Alexa Demie) is a former beauty pageant queen who has a toxic love relationship with Nate, her abusive boyfriend. Maddie is used to wear make-up as a protective shield since she was a kid, hiding herself behind a false facade of long eyelashes and eyebrows embellished with precious stones. But there is a certain vulnerability behind all this apparent rebellion.
Kat, the power of red lips and self-esteem
Barbie Ferreira is Kat, avid writer of fan fictions and the classical shy and virgin friend of the gang. Her transformation is her sexual awakening, when she decides to take charge of her life and transform her complexes into a weapon of seduction. Good girl gone bad. With gothic inspiration and her lips painted in powerful red, Kat is a great representative of body positive, at the same time she uses sexual domination as a refreshing injection of self-esteem.