The Event Brings Together Over 100+ International Innovators in Tech and Fashion on June 5 and June 8, 2020, through the message "Fashion Is To Love".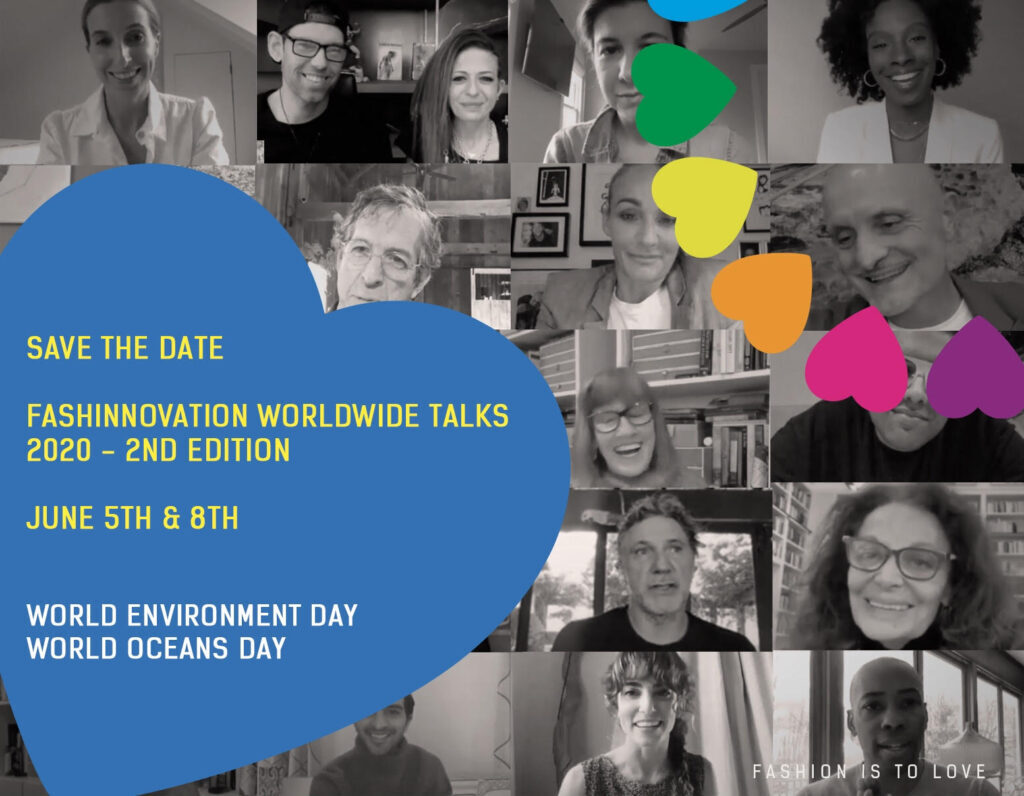 NEW YORK, N.Y., May 27, 2020 – After a massive success with the 1st edition of Worldwide Talks 2020, which garnered 1M+ organic impressions from over 120 countries, Fashinnovation, once again, will host its 2nd edition in partnership with Oceana and the Conscious Fashion Campaign along with advisory support from the United Nations Office for Partnerships.
World Environment day, June 5th, will kick off at 8:00 AM with a "surprise" announcement with the UN Office for Partnerships – Lucie Brigham and Founders of Fashinnovation and Oceans Day, June 8th, will start at 8:30 AM, with Andrew Sharpless, CEO of Oceana.
The curated virtual panel brings together a community of powerhouse, international business leaders, fashion designers, innovators, influencers, and artists in the fashion and technology industries, and personas from various institutions around the world.
The innovators will include Rebecca Minkoff, Susan Rockefeller, Fern Mallis, Steve Aoki (Grammy-Nominated Producer & DJ), Larry Namer (Co-Founder E! Entertainment Television), Maya Gabeira (Surfer, Guinness World Record Holder) Andrew Sharpless (Oceana), Oskar Metsavaht (Osklen & UNESCO), Supermodel Coco Rocha, Sara Sozzani Maino (Vogue Italia & Camera Nazionale della Moda Italiana), Rahul Mishra (Indian Fashion Designer), Karla Martínez de Salas (Vogue Mexico & Latin America), Marie-Claire Daveu (Kering Group), Stephanie Benedetto (Queen of Raw), to name a few, will amplify the message globally about topics such as plastic-waste, amazon rainforest, new-tech and ocean pollution.
Full lineup of speakers and agenda here:https://fashinnovation.nyc/worldwide-talks-2020-2nd-edition/
BIGTHINX, a global top-10 Fashion-Tech startup backed by Prada, has partnered with Fashinnovation to create a 3D Virtual Runway Show that will feature fashion brands worldwide. The runway show will take center stage on the 1st Day of the Summit – Friday, June 5th – at 6:45 PM EST.
Institutional and industry partners include: Parsons School of Design, LIM College, FIT, Instituto E, Sourcing Journal, IEC Partners, Rio Ethical Fashion, Swedish Fashion Council, Feeric Fashion Week,Techstyler, Australian Fashion Council, IED Spain.
"Fashinnovation Conference Highlights Love, 'Values' as Paramount." – WWD
About:
Fashinnovation connects entrepreneurs and innovators to create positive change in the fashion industry by ways of technology worldwide.
For additional information and to RSVP, visit https://fashinnovation.nyc.
Press & Media Requests: Media RSVP | sonali@aoprllc.com | 646-662-2638.