This summer month of July has had many exciting things filled within, as everyone gets ready for fashion week!
But let's not forget the most essential things Summer and Fun…
So I take a look back at this month's Fashion covers
Take a peep?!
Let's start with the world's most famous and well-known fashion magazines VOGUE!!
Stella Tennant covers the British Vogue Magazine.
The stunningly beautiful British model shows us exactly what British style is about- The Casuals!
This issue is all about how to style your clothes and the about the bet wardrobes!!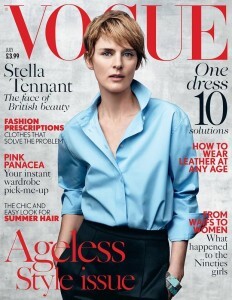 Vogue July is much different to June, since June describes how you can style and get ready for summer!
Elle Magazine this month featured Ellie Goulding in a printed Jumpsuit and it evidently showed us that it focused on 'THE BODY'.
How to get healthier, stronger and ready for summer?
But I think Harper's Bazaar had a similar idea to Vogue showing its audience the art of British style with Alexa Chung. She also goes for the print look, since it's trending this summer 2015.
Game of Thrones beauty Emilia Clark looks unbelievably 'sexy' in Marie Claire's issue.
This issue is all about
Feeling, knowing and looking
Your absolute best.