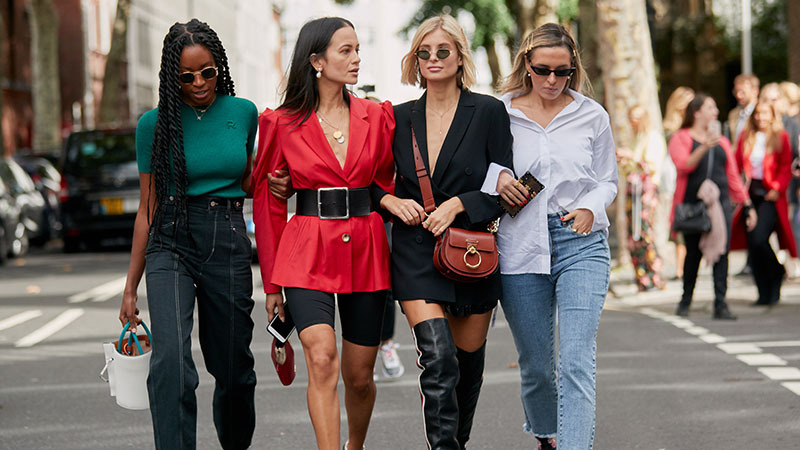 This year is quickly ending, and the new year of 2020 is just around the corner. What better time of the year than now to get excited about the upcoming trends and styles in Fashion for next year. Read ahead to find out about the top fashion crazes for 2020 that'll keep your fashion knowledge and sense of style up-to-date.
5 Fashionable Street Style Trends To Spot Next Year:
Shoes Worn Over Pants.
Oversized Victorian Sleeves.
Chunky Boots with Feminine Dresses.
Maxi Faux Leather Coats.
Bucket Hats.
Shoes Worn Over Pants.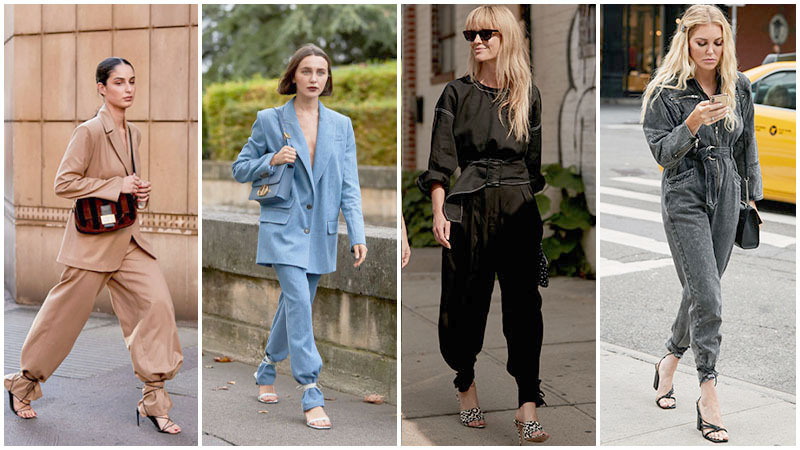 Yes, that's right; shoes worn over pants will be one of the hottest fashion trends and looks to grace 2020. This fashion style looks best when worn with a simple and easy all-in-one outfit like an oversized suit or a casual jumpsuit or playsuit. Strappy shoes work best for this look as the detailing is visible over the trouser leg, making for a chic-meets- modern sense of style.
2. Oversized Victorian Sleeves.
A trend you're probably more familiar with, the oversized Victorian sleeves are a fashion look you'll see regularly next year. Oversized sleeves add a stylish structuring to the silhouette of your outfit, plus this style-look screams ultra femininity and elegance. Wear the trend in the form of a summer dress, a smart shirt or opt to integrate the look into a casual daytime top for everyday wear.
3. Chunky Boots with Feminine Dress.
You'll definitely see lots of the Chunky boots with a feminine dress trend next year, and we can see exactly why. The contrast of the heavy accented black boot with a soft feminine dress makes for a fashionable high-end look. For this look, think hippie-bohemian-vibes-meets-punk-chic.
4. Maxi Faux Leather Coats.
Get ready for another trend expected around Springtime 2020 that is the maxi faux leather coats. Outerwear is just as important as the outfit you wear underneath, and this design of coat packs in a lot of style, versatility and edge. You can wear this style of coat in multiple ways, achieving several looks and styles depending on the occasion. Button yours up from top-to-bottom for a sophisticated style, or do the top button up only for a high-fashion look. Opt for a classic look and do-up your tie front to enhance the shape of your body and to add more structuring to your overall look.
5. Bucket Hats.
Get ready for Summer 2020 when we'll embrace the bucket hat trend in our lives. This hat offers an edgy hybrid of style between casual wear and streetwear, making it a great add-on for many outfits styles and choices. Not only are bucket hats hot in style for next year, but they too keep the sun out of your face on a hot day – making them both practical and fashionable. Perfect to wear at summer festivals.
One of the biggest trends that's set for 2020 is the movement of Consciousness and Sustainability within the Fashion industry.
Dominika Perek explains this concept:
The consciousness & sustainability movement will take over 2020, establishing a strong online marketing trend to hire people based on 'conscious values', such as sharing a higher purpose in business, fair pay, respect and care for all stakeholders.
– Dominika Perek, founder of Mess Magazine and Condé Nast producer.