In the last few months, parents have had to homeschool their children and find different activities to keep them entertained without going to school, the playground, the movies, or even their friends' house. They have had to adapt to a new kind of life in which they had to keep their children's anxiety over their routines being changed under control while still taking time for themselves. It has been hard but luckily there have been plenty of online resources to help. These next five women have had up-and-running blogs for years now with several tips and ideas to keep motherhood real.
Laura Scott, M.D., has had her blog "A Little Bit of Lacquer" since 2011. She stared writing when she was in Harvard Medical School and continued to do so through her Residency in the University of Miami. Even though nowadays she is more active on her Facebook account (you can find her under the same name as her blog), she is still sharing her knowledge with moms all over the world. With three kids ages 7, 5, and 3, Scott has written on several topics and given advice that fit her area of expertise and her experience as a mom. You can see her writing about medicine, outfits, beauty, décor, travel, food, and, of course, motherhood.
Brittany P. Robertson started her "Backporch Confessions" blog back in 2011 because she believed she had no idea what to do as a new mom and thought there would be more people out there in her exact same situation. She is a college instructor who fostered kids to adopt and now has three children. She keeps her blog updated with posts almost every month, and you can see her more active on her Instagram account (@brittanyprobertson). What should you expect her to write about? Fostering and adopting, faith, family, lifestyle, what she calls mom style, and makeup.
Alicia Trautwein writes The Mom Kind blog to help neurodiverse families like her own. She has autism and her four kids have different diagnoses including, autism, ADHD, anxiety, bipolar, depression, restless leg syndrome, and sleep apnea. Once you start reading her posts, you can immediately tell she is a proud advocate for special needs and shares everything she has learned through experience. You can find articles written on parenting, advice, special diets, babies, becoming a better version of yourself for your children, college-bound, and inspiration. She is also very active on her Instagram account (@themomkind).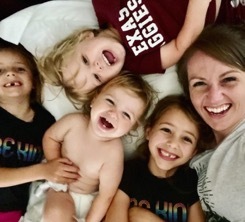 Danielle Jones is an ObGyn and mother of four kids between the ages of 8 and 2 years old. She started writing back in 2009 and has kept her blog going for many years; although, nowadays you can find her posting more often on her Instagram account (@mamadoctorjones). Doctor Jones shares her knowledge on medicine and medical education, and her experience in parenting, marriage, home improvement, and traveling.
Actress, blogger, entrepreneur, and mother-of-three Eva Amurri started writing in 2015, one year after becoming a mom. Through her posts and her weekly email newsletter, she shares with the world her experiences and her adventures. She has the spotlight experience as she comes from a family of actors–her mom being Susan Sarandon. In the last five years, she has written about style, décor, food, crafting, motherhood, single parenting, and co-parenting with her ex-husband, anxiety, and miscarriage. You can find her sharing her daily life through Instagram stories (@thehappilyeva).
The world of mommy blogging is an enormous one and there are plenty of women sharing their experiences with the world. These five women are some of the ones who stand out the most and you should keep an eye out on the content they post. With entertained, creative, and resourceful material they have been helping other moms through the crazy and wonderful journey of motherhood.