By Anastasia Golovicera
The right pair of sunglasses can make the whole outfit. Whether you want to look like a rock chic or a classic glam queen you should always be on the hunt for perfect statement-making shades. But who needs a pair more than paparazzi-hunted celebrities, when a crucial accessory is not only trusted with face shielding, but also helps to stay in trend. With so many sunglasses brands out there, how to choose the right pair? MESS magazine is presenting an ultimate guide on how to become an "It Girl", just stick to any of these brands while shopping for a new pair of shades, and you'll see the reason why celebs stay fiercely loyal to them.
Etnia Barcelona
This amazing high quality, extremely comfortable as well as stylish newcomer brand has been spotted worn by few of our favourite celebs. Inspired by Mediterranean culture, this independent sunnies brand has created a wide range of colours and designs for a relatively affordable price. As said on their website " Because everyone has the right to wear some good glasses!".
Miu Miu 
Miuccia Prada herself said "I always wanted to be different". Miu Miu eyewear is highly distinctive with its quirky designs and strong playful nonchalance. With one of the definitely iconic pair of Miu Miu shades, which has proven to be more than just a glamorous trend, be prepared to be mistaken for an It girl. 
Illesteva 
We've all seen the famous round plastic frames copied by all sorts of brands. That was and still stays Illesteva's signature sunglasses style. New York-based brand is a definite favourite among the international fashion set. It has put a contemporary spin on classic style, no wonder it has become Beyonce's Coachella brand of choice.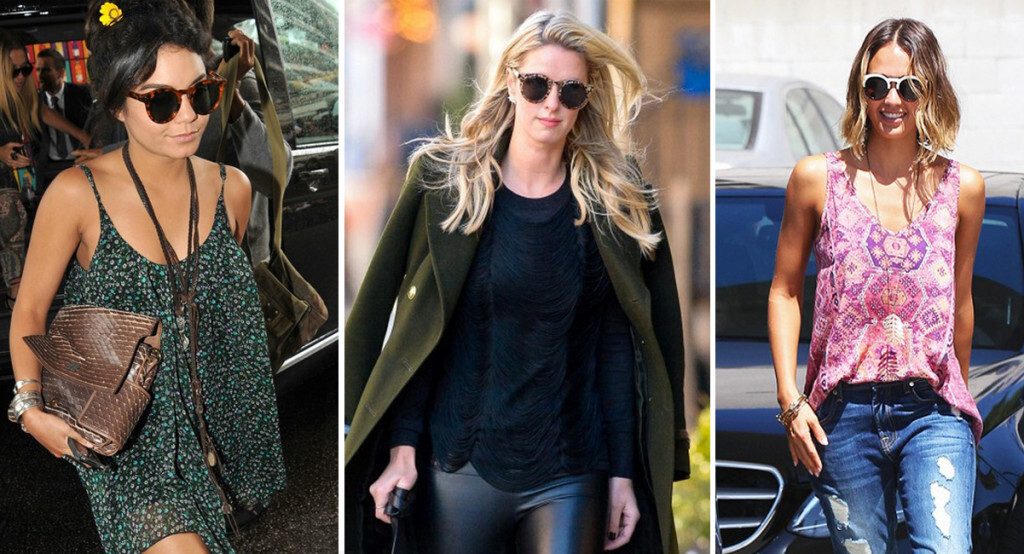 Le Specs
Would you believe it if someone offered you cool, trendy celeb-favourite sunglasses for less than £100 ? We know just the right brand that makes it possible. Le specs presents old-Hollywood classic styles with a little modern twist that has nerve been more affordable.
Celine
There is no need to say anything about Celine. It doesn't get more glam and sophisticated than that. Absolutely worth the investment. Even the trendier seasonal styles remain classic.