The fashion and creative industry is constantly growing and developing, with new and upcoming ideas, having some kind of technology collaboration to a catwalk show is now a norm.
Past few years we've seen ways of enhancing the viewers experience in fashion shows and events, to technically enhanced fabrics being worn all around the industry.
So what has these past few years given us and who's gone the furthest into combining the two together. We've gone through our 5 biggest fashion x technology collaborations;
BURBERRY: Beijing fashion show
Think holograms and surreal graphics, bringing you a whole new level of experience showcasing fashion. Taking place April 2011, Burberry created a one of catwalk show featuring a range of artists such as Adele and ones from Burberry Acoustic, bringing together a vibrant, exploding show enhancing the simple concept of a up and down catwalk.  We had Burberry theme mini-movies and holographic models, showing an insight of future showcasing.
DVF X GOOGLE GLASS
Google Glass hit the highstreets during the first few months of 2014. Created to make simple tasks of taking photos, contacting friends and keeping online even easy, which is all accessible through a pair of lenses.
However, surely something so in-depth and run by power can't always be a fashion statements must have. Teaming up with Diane Von Furstenberg, Google Glass was able to set a fashion-acceptable pair on the high street, for a hefty £1,250. With her use of the product in the past such as her SPRING 2013 show, where each model was able to wear a pair, giving a POV experience to her online viewers there was no surprise collaboration was on the horizon.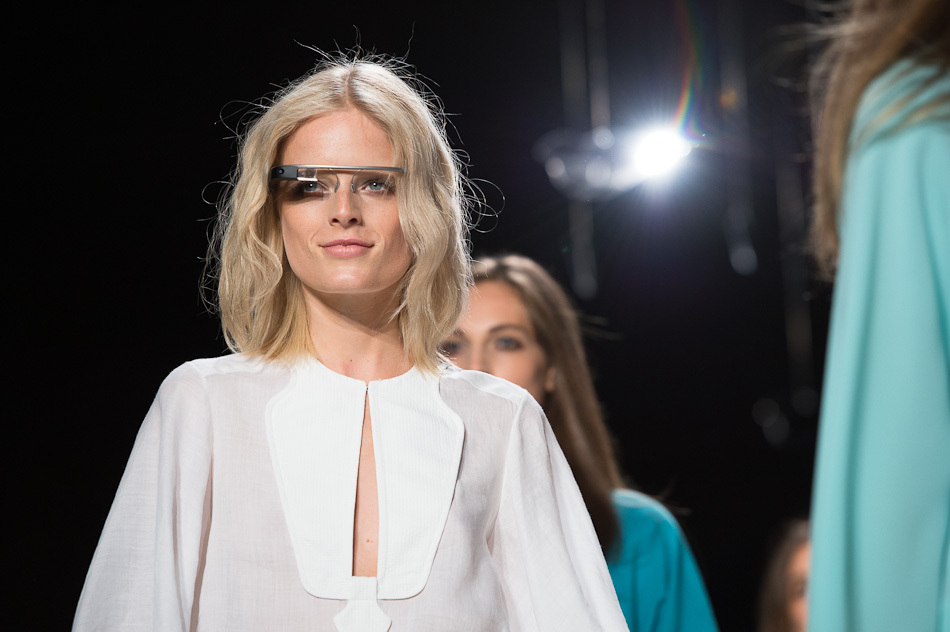 THE IPHONE 6 DRESS
Yes, you read that right, a dress created by a dozen of Iphone 6's. In celebration of the launch of the highly anticipated phone for 2014, Elie Tahari's  created a dress which hung a range of Iphone 6's, which gave viewers a 360 preview of a catwalk during SS15 fashion week.
"I'm inspired by the iPhone. I've always been. The only device I really have is an iPhone," the designer said. "So I was very excited for the launch of the iPhone 6 today."
BURBERRY MAKING CATWALK A INSTANT SHOP
Every London Fashion Week, Burberry brings a crowd of celebs, die-hard fashionisters and the biggest names in the industry. With thousands viewing the catwalk not just face to face, but also live stream online, creates alot of instant wish listing (well for us maybe). With Twitter rising ideas of themselves realising a 'buy now' button for the app, creating instant buying for musicians, fashion brands and companies, Burberry was onboard. Trailing the idea Burberry teamed up for SS15 show, making buying an instant and literally 'off the catwalk'.
INSTA-CARA
The most wanted model can create buzz with anything she get puts up for. So why not use her for your catwalk experience Instagram updates? Well that's what Giles did for SS14. Being one of the first models to take her own phone down the catwalk and film a 'selfie' at the same time brings experiencing the exclusive show to a new level. Liked by thousands in part of Giles and Cara's personal account, this soon created the talk of the week. Question is, what's next to go down the catwalk?
Whats next down the line for fashion going 'super-tech'. Maybe in a few years we won't even need real models at all, or maybe just basic livestream will be a thing of the past? We're excited to see what's going to come around, are you?