We caught up with London stylist Patrice Hall to talk style, fashion and determined beginnings.
I remember taking textiles class with you.  I had no idea how serious you were about fashion or how far that drive would take you- what happened after we left school?
Textiles was actually one of the few subjects I cared about! After school I went to college to study fashion design, with the plan of going to University. I decided that if I didn't get in to either of my two choices, then Uni just wasn't going to be for me.
I didn't get in, but instead of feeling sorry for myself I went straight into internships [Julien Macdonald, Harper's Bazaar, Vogue & Marie Claire to name a few]. It was while I was at Julien's that I realized I wanted to be a stylist and not a designer because I loved the clothes, not the process of designing them.
As a stylist, I imagine there's a huge amount of research and organization that goes into prepping models for a shoot?
It usually starts with an email from a photographer who wants to collaborate on a new editorial or story for a magazine. We discuss the concept, create mood boards and then get a team together for make-up and hair, not forgetting to book a great model!
Each member of the team will then do their research. For me I'll get ideas from the likes of Vogue to Pinterest, even old magazines that I've collected in the past. I liaise with designers and PR companies to pull together a wardrobe which I'll bring along with me on the day. There, the team will go over the vision again, putting all of our skills together to create a cool, exciting shoot.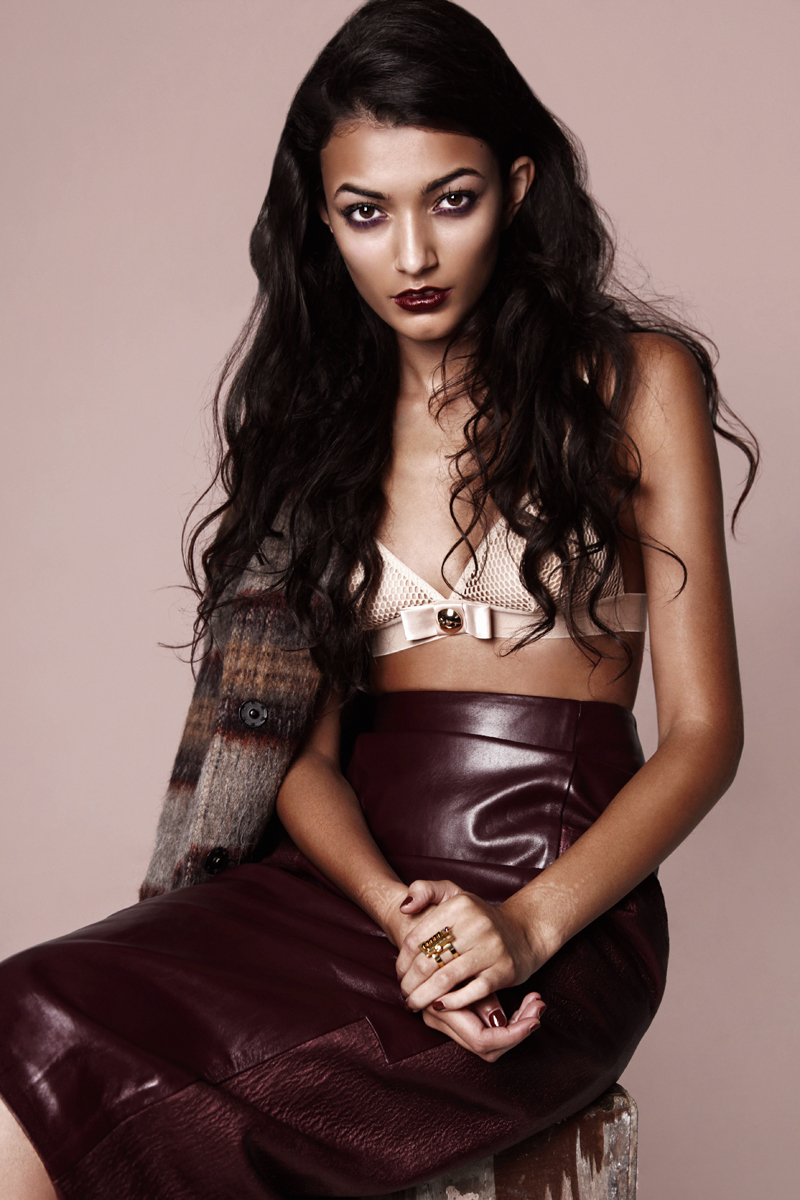 (Photography- Main: Jane Kuznecova Inset: Aleksandra Podburtnaja)
Who or what influences you?
I've started to become influenced by different cultures. I've always loved travelling, but specifically, I'm fascinated by different ways of life around the globe. I don't necessarily use this in my work but personally, it's a huge influence. In terms of style, I've actually come to like the bloggers on Instagram. Margaret Zhang is a favourite, I style stalk her a lot!
As much as I felt hesitant to broach the subject, there's no escaping the fact that black women are still wildly under-represented in the fashion industry. What's your take?
It's a difficult subject to talk about, purely because in the year 2016 we didn't think we'd still have to discuss it. I definitely believe changes have been made, some significant ones actually. Not only do I see more black women [models] which is great, but I love that we're now seeing black models rock their natural hair as afros and in cornrows on the catwalk (check out Lineisy Montero, Karly Loyce, Hannah Shakespeare). That alone is huge, because it's something that we as black women were always encouraged not to do, in order to get a job or to look 'tidy' or just to 'fit in'.
Having said that, it would be great to walk in to a store and see more black models on the covers of magazines. It would be great if models of darker skin tones weren't still having problems with make-up artists, who don't have the right kit at fashion shows. And it would be great if more photographers didn't shy away from using more black models in their portfolio. There's still a long way to go.
How big a role has social media had in shaping your career?
I'm not sure if social media has helped shape my career but it has allowed me to show people what it is that I love and do so much faster. Can you believe that when I first started in the industry I was actually sending 6-10 letters in a post box asking designers if I could intern with them? Talk about old school!
Describe a typical working day.
So I tend to wake up around 7AM. Now that summer is coming up I'll make much more of an effort to go the gym, so I spend an hour or so there, get back home and then I go through and reply to all my emails. I'll get in touch with the PR's and start calling in clothes for the next job. If it's a shoot day I'll still get up around 7AM, but I'll have a large cup of coffee before heading out. I'll be at the studio all day shooting.
(Photography: William Ferchichi )
What's your work wardrobe like?
For the past year or so I've become obsessed with a Scandinavian way of dressing, so my wardrobe is filled with very minimal, easy, stylish pieces. I own a lot of men's cotton and denim shirts, khaki, tailored trousers and chunky knitwear, but I'm looking forward to summer when I can ditch the jumpers for dresses.
How would you describe your off duty style?
Luckily because of the industry I work in, my off duty style is the same as my work wardrobe.
Favourite labels/designers?
I love Saint Laurent and Alexander Wang, as well as contemporary designers such as Joseph, Rag & Bone and By Malene Birger- they do minimal cool very well! On the high street you'll find me in Zara or & Other Stories. If I don't have time to get to the shops, then I'll use ASOS.
What trends are going to be big for the summer?
The slip dress is still major! Think Kate Moss in the 90's. Rihanna is a huge fan, so I think we're going to see it a lot, whether its worn to a club or at a summer festival (team it with an oversized jacket and wellies/boots). I like the trend. I think it's cool if it's done right.
What is the one item you can't live without?
Denim. It doesn't matter what it is, there's just something so versatile about denim. I love that you can really dress it up and down.
If you could go back and give one piece of style advice to your younger self, what would it be? 
To calm down on the 'What Would J-Lo Wear?' mentality, because you're not her and you don't have her kind of money! [laughs]
If you could work with any celebrity for any event, who would it be?
Freida Pinto. She comes across as such a graceful woman. She's beautiful but she has this timeless elegance about her. It's very old Hollywood. I would style her in a great piece of couture from Ralph & Russo for the Cannes Film Festival.
And finally, describe your perfect day.
At this moment right now, I would love to be in Kenya on a safari, watching the gorgeous African wildlife with close friends and family.  Then I'd go shopping for something authentic. I like the idea of market shopping when travelling! Afterwards I'd go back to the hotel and enjoy a drink-or two[laughs]. Now that's a good time!
For more about Patrice Hall see Instagram