Breakfast is known as the most important meal of the day, and sometimes we need to inspiration on how we can make breakfast not only taste good but do good. What better place to look than Instagram? The app where you can share your meals through photos. Here are 5 of the healthiest breakfast options, easy to make at home.
1) Hanne @naturallyhanne
Hanne is a 17 year old from living in Belgium, she calls her Instagram page a food diary and it really is. Her Instagram shows all her meals which includes healthy and easy to make breakfasts. In the photo above Hanne shows us her breakfast of oatmeal soaked in almond milk topped with banana, blueberries and caramelized almonds. Hanne also has a blog where she posts recipes of her delicious meals, check it out here.
2) Alice @slowlymendingme
Alice is a health and lifestyle blogger using the power of healthy eating to beat a chronic illness. Proving that eating the right food can also DO good. This morning she shared a photo of her healthy breakfast describing it as her favorite of the year so far. The meal consists of chia seed pudding layered under Greek yogurt, homemade granola and finally topped with blueberries. As well as breakfast Alice also post photos of all her meals on Instagram, inspiring those who want to make healthier meals. She writes a blog which you can find here .
3) Sophie @sophiesfitness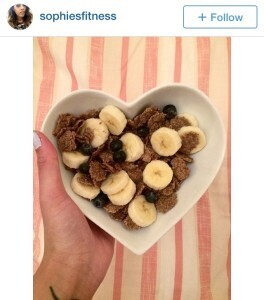 Sophie is a 20 year old student who posts her daily meals and occasional throwback, reminding us how far healthy food and exercise can take us. In the photo above Sophie shows us just how easy it is to have a healthy breakfast of milk, bran flakes, banana and blueberries. With over 12,000 people following her Instagram page Sophie is without a doubt inspiring a lot of people. She too writes a blog about beauty, fitness and life which you can find here.
 4) Sara @sarabondo 
Sara is a 22 year old nutritionist from Denmark. Her Instagram is filled with healthy and delicious meals including the photo above where she shows us just how easy healthy breakfasts can be to make. Wholemeal toast with spinach and an egg, it really is that easy. She describes her page as a dairyfree and mainly plant-based food place.
5) Susan @sus_fit
Susan a 19 year old student from Canada and her Instagram would make anyone's stomach rumble. A page filled with delicious, colourful and easy to make food. This morning she posted her breakfast of yogurt, banana, granola and blueberries and better yet it's on the go. Susan displays how you dont have to stay at home to have a healthy meal, even if you are in a rush you can take your healthy breakfast wherever you go, so now you have no excuse to skip the most important meal of the day.