As the festive season approaches its Christmas this, Christmas that, snow this, snow that, but of course what we all look forward too is the office party, I mean who doesn't love to embarrass themselves in front of all their colleagues, am I right?
But of course it's the months planning the perfect outfit that has us jingling our bells the most!! But there's always the question, am I too dressy? Should I wear heels? Will I be cold? Here are a few tips to head you in the right direction, to keep in style and to hopefully keep your dignity intact this year! Maybe…
Baggy Jumpers.
Every woman knows a baggy oversized jumper is their favourite item of clothing, but instead of just wearing it inside on a Friday night with a tub of ice-cream and the Bridget Jones DVD's. How about dressing it up with a pair of wet look leggings, Boot heels and a pattern scarf, you'll be comfortable and stylish and hopefully your boss won't get a cheeky flash of your knickers this year.  A detacher's A/W ready-to-wear collection shows us the right way to style a jumper and scarf along with a very 50's beehive that we all wish we could pull off!
A Detach
er A/W 2015/16 Ready-to-Wear collection.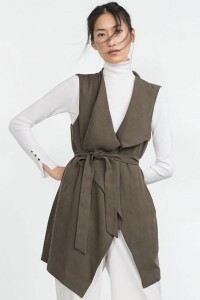 Zara A/W 2015/16 new collection
2. Sleeveless Coat
Sleeveless Coats… Yes I know they sound pointless, but bare with me and you'll see they are all the rage, especially when you want that bit of comfort but also want your nipples to not freeze off. You can buy sleeveless coats all over recently, simple trench coat styles with big buttons, with a long sleeved turtle neck top or jumper underneath paired with jeans or leggings, whichever you prefer, and some trendy heels. And Bam, Stylish, Warm and all together on fleek! Zara working for the classic girl, showing us how we can look good but on a budget.
3. Capes
Who doesn't love a good cape, you can pretend to be batman, or a queen, because we're all queens at heart of course. But a cape or cloak can bring any outfit from dull to fabulous, you and pair it with a skirt, thigh high boots and a simple shirt, bang on a patterned cape and walk like the queen you are! Also a great blanket when you have one too many tequila shots. Acne shows the capes we all want in our lives, big, baggy and patterned to make us stand out to all!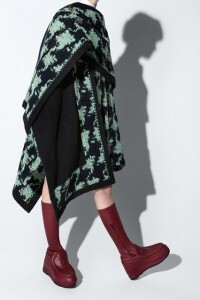 Acne-Pre A/W 2015/16 Ready-To-Wear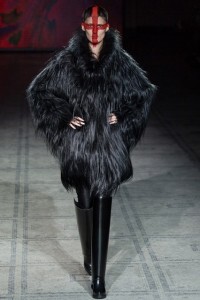 Gareth Pugh A/W 2015/16 Ready-To-Wear
4. Fur
Fur, who doesn't love fur, faux or not, its soft, its warm, its fluffy and damn girl it makes you look and feel like you own the place. You can wear a fur coat, scarf, gloves or hat and it will instantly dress up your outfit so you can be comfortable and warm but also you can be the bell of the ball! Gareth Pugh's Ready-to-wear 2015/16 collection shows us many fur ideas, including oversized coats to keep you cosy in the winter evenings.
5.Be Yourself!
Now this is the most important, Always be yourself, don't drink too much, or drink a lot, who cares its Christmas! Keep warm, and dance like you'll never dance again! There's always fashion advice for you to take, and take it! But do it for yourself, you don't need to impress anyone! Unless you need a raise… then do it for your boss, he writes the cheques! Enjoy, keep warm and out-style them all!