With pretty much the only fashion event happening in real life, Copenhagen just had all eyes on for this August's edition. While Copenhagen some years ago was a full-on Scandinavian fashion and trade show event, it became in recent years what London was to European fashion before. The destination defined itself by strong signatures styles and nordic values. Sustainability as much as giving space to international brands on the schedule were some wonderful developments. Now, we all know that the textile industry got turned upside down by 2020 and the global pandemic. So, how can we imagine brands, trade shows, and fashion houses to act now? To give you a little context, Denmark is a pretty relaxed country. Due to its very strict lockdown earlier this year, it almost feels like they skipped the first Corona wave entirely. As a result, we now see neither obligatory masks nor particular health precautions. This in itself made the whole event possible in the first place and, surprisingly enough, even I rarely felt weird about participating in bigger gatherings. Great trust in society and the thrive for similarity are defiantly vibes that can be found in Danish fashion. There is probably rarely a brand that does not make a strong point about it's local bound and love for Copenhagen.
Hyper local was the clear impression for this year's event in August and probably the biggest trend.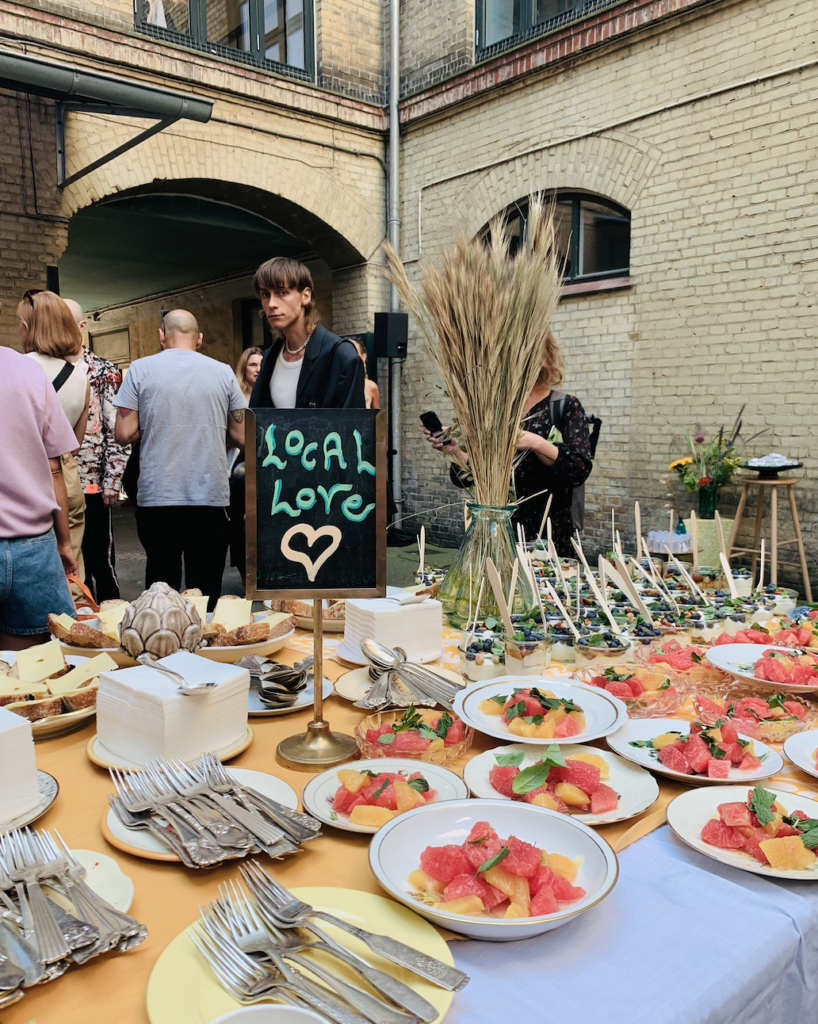 Local Love by Samsøe Samsøe
Samsøe Samsøe hosted a wonderful breakfast at their Nørrebro headquarters including an AMAZING spread by the uber-cool veggie-bistro Baka d' Busk. They also showcased an installation going all-in with their love for Nørrebro. The on-rotation video featured shots from typical street scenes to observations what locals love about the alternative and multi-national neighborhood. The brand in itself and the visuals are marvelous, but what was very evident is that not a lot of this casual flow was reflected at the actual event. In the end, it was still an exclusive exhibition, but inclusive tools are used to highlight accessibility. Is the fashion world using the local term out of honest motivations or do we make a sales point out of the pandemic's effects?!
Is the fashion world using the local term out of honest motivations or do we make a sales point out of the pandemic's effects?!
Ganni on the other hand skipped the usual catwalk and focused on what is really important. The fashion house created an inspiring experience at their Kiosk location. Showcasing the newest SS21 collection styled on friends and family members was a back to the roots move. With a strong local bond, the brand still managed to reflect its global outlook by hosting a wonderful essay by Marjon Carlos. All together the display felt like entering a Danish wonderland, disrupted by a pandemic and waking up in a new reality New York. The brand is probably one of the best blueprints of change and internationalization. So, how can this multi-cultural approach work in the context of a fashion week that is only circling around its own microcosm for now? As a matter of fact, I was wondering who at the event even knew Marjon Carlos?!
Marjon Carlos for Ganni
While we are talking about major brands here, it was for example quite noticeable that at the trade show location of Revolver the local brands are the best-performing ones! They are also the ones that trade shows counted on and supported truly. The wave of newness dried out over 2020 and even to buyers it felt like a copy and paste on Danishness at the order locations.
As much as I appreciate Copenhagen, I wonder where those microbubbles will get us. Can those concepts translate to international customers? And how will a fashion week and order weeks look like if they only focus on their domestic market, especially thinking about sustainability? Local can be great, but how local can a scalable brand really be? With photoshoots and messages around local love, I wonder if this love also goes as far as producing back in Denmark and showing love to communities that might not fall into the usual fashion bubble.