I love MESS MAGAZINE a lot. In 2014 we worked on one of their first issues, we found out new things about different designers, we created some articles together and met new talents.
I am really in love with the whole team and I want to make a throwback article where I am going to speak about my 2014 memories. All my memories are made of feelings and emotions. When I check my 2014 outfits, I can easily say which outfits have been iconic and the most fabulous. So, my plan is to tell you about my brightest outfits of 2014 which give me amazing memories about fashion moments in my life.
The first one is the latest one and my favorite. I reached 100K+ views on my blog about 2 weeks ago. I wanted to say thank you to my readers, so I called one of my favorite photographers – Alexandr Lopatin and we decided to make a photoshoot. We changed 4 outfits in literally 2 hours. My favorite outfit was inspired by late 90's and cyber generation from nowadays. If you go on Instagram, there are so many fashion people. Maybe, they are not even bloggers, but their outfits are so inspirational, that's why I chose pastel pink for the background of the photo and neon colors for the outfit. My eyebrows were total pink and lips were filled with glitter. I found my vintage DIOR sunglasses and they completed the look. I was so in love with that outfit, we made amazing photos and gifs.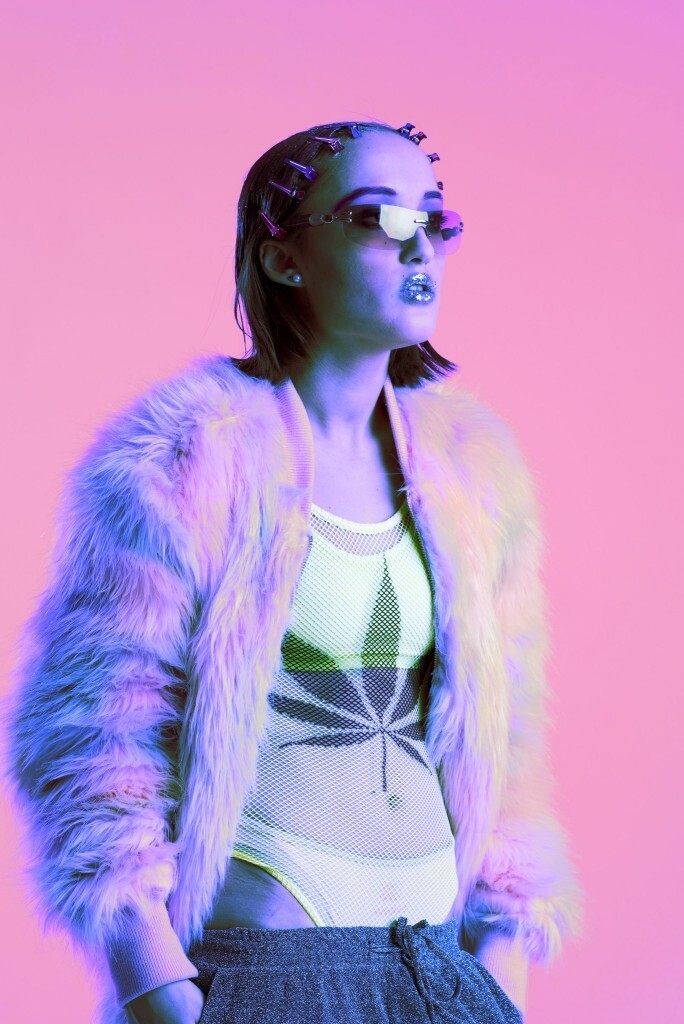 The second outfit is so funny and cute. I think that was the first time I did not take part in creating the outfit, but I was the muse of the woman who created that dress for me. 5 months ago I was nominated as one of THE BEST fashion/beauty bloggers of Russia for OOPS CHOICE AWARDS. Unfortunately, I did not win, because I was the only fashion blogger in my category and other beauty bloggers were pretty famous and had more followers than me. But my outfit killed everyone. Yana Lorenz made an amazing decision – she created a Japanese stylish dress with Galliano motives – I looked like a little Galliano's girl with a big black hat on my head and a small white real rabbit. Yana told me to take a rabbit as a joke, but I took her words seriously.
Another fabulous outfit was for the MBFW Russia. I am really into fashion weeks. I guess I am a happy person only when it's a fashion week. During S/S 2015 season I wore such different dresses and accessories, but that one was the best. It was the first fashion week day and I HAD TO look fabulous. So I bought that light blue fur hat in River Island, white fur jacket in Forever 21. Also I wore Jeffrey Campbell shoes and Calvin Klein bag. I had a wig and it looked fabulous.
Right before S/S 2015 I did such a fantastic appearance at FALL 14/15 fashion week season. Goga Sabekia my dear friend and an amazing designer created for me a red mask inspired by Margiela. It's pretty to connect with Margiela designers when you live in Moscow, so we decided to create something by ourselves. We worked hard and we all fell in love with that look. As soon as I arrived there everyone started taking pictures. Even guests were excited to come and talk to me or take a picture with me. I was so happy on that day, but that was the last day of FALL 14/15 season in Moscow.
The last one and one of the most beautiful – XVIII inspired cake dress by Alisa Maximova. She literally saved me. I called her one night before the event and she gave me that beautiful dress which I had seen a year before during fall 14/15. I was invited to the Red Carpet of RUSSIAN MUSICBOX awards. I took my friend , a very famous YouTuber – Igor Sinyak. We made it! We walked on the Red Carpet and everyone fell in love with my dress. I looked like my favorite XVIIIth century girls. I am still thinking of 19th November, that was such a day.
I am going to miss 2014, but 2015 has more to come. Who knows what am I going to wear  next. I love being different. I am good at changing outfits. Wherever I go, I am always different. Friends never know who am I today, but inside I am always the same. I think fashion is about it. Fashion is about being in different centuries and decades. It's about catching inspiration from the culture and the history. Fashion is good, it's what I really love and live for.