On 2nd November of 2018 in Dubai, UAE, Pullman Dubai Creek City Centre and Islamic Fashion & Design Council's (IFDC's )Pret-A-Cover™ Buyers Lane launched "Artist Playground by Pullman". This exciting partnership will allow chosen artists to have their artworks displayed for the next 3 months and presented to international press, buyers and VIPs.
"It was an exciting evening! The launch of Artist Playground by Pullman at Pullman Dubai Creek City Centre in partnership with IFDC's Pret-A-Cover™ Buyers Lane sealed opportunities for artists as we saw the tremendous appreciation for the selected artwork by VIP art lovers and media alike. Our out of the box thinking in creating a unique hub for all things creative, is an obsession – not just another operation"
Nishan Silva
Cluster General Manager for Majid Al Futtaim-AccorHotels Shared Services
Emmy Alim of Thomson Reuters superbly moderated the engaging panel discussion as she gave us great insight to intimate moments with each artist that she spoke to on the stage. Great artistic profiles were adored on this night, like Musab Al Rais, son of the master Emirati artist Abdul Qader Al Rais, the clever illusions of Muhammad Ibrahim.
"I have a vision for my art that evokes people's hearts as well as their thoughts. I saw that my 3D work especially moved a lot of people tonight, and it's great to have such indicators through a place like Artist Playground by Pullman. This is by far the most exciting experience of my entire career as an artist!"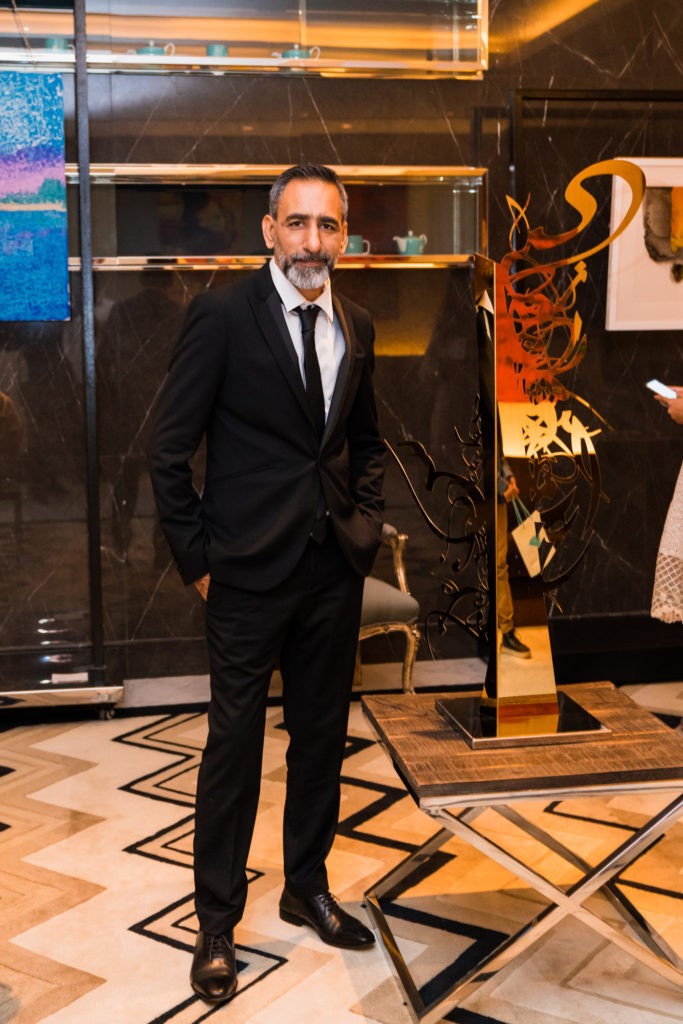 Shabir Mir, Sculptor

Tells Emmy Alim of Thomson Reuters as his stunning work caused a stir on the opening night of Artist Payground by Pullman
Then there were mystical calligraphies of Ahmad Khan and also Zulqarnain whose painting was purchased immediately by an art buyer right at the beginning of the evening. The meditative art by Arif Khan and the works of Bahraini artist Abbas Al Mosawi, miniatures by Noreen Akhtar, generated strong media interest.
"My expression is what I've made my career. This unique art hub space gives me a powerful driver to move forward. Now there are many ways to connect with an artist in this place!"
Humaira Hussain

Guljee's very own apprentice and acclaimed artist.
"I can't express how thankful I am for a space like this, it is exactly what artists like myself need in order to develop our clients and business further"
Sanaa Merchant 
Emerging Emirates based artist.
"I've been very careful with the art spaces that I showed my work in, however the Artist Playground by Pullman was a no brainer. Who wouldn't want to be a part of this unique concept?"
Meena Kamal 
Lead artist of San Francisco's top galleries told the audiences at the panel discussion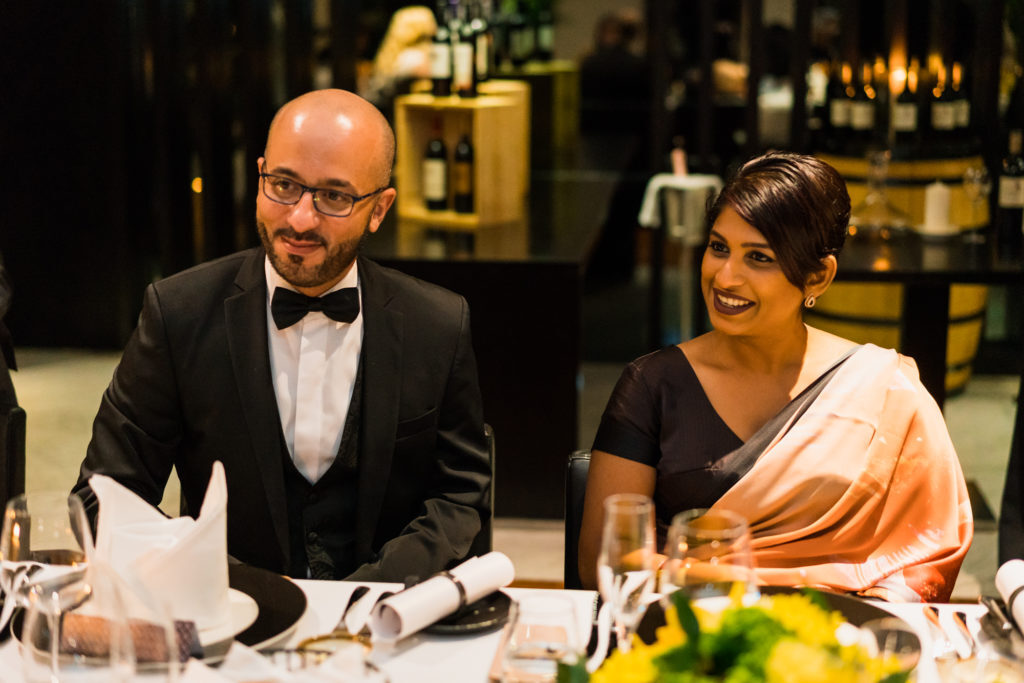 Guests enjoying the dinner, fine dining and VIP company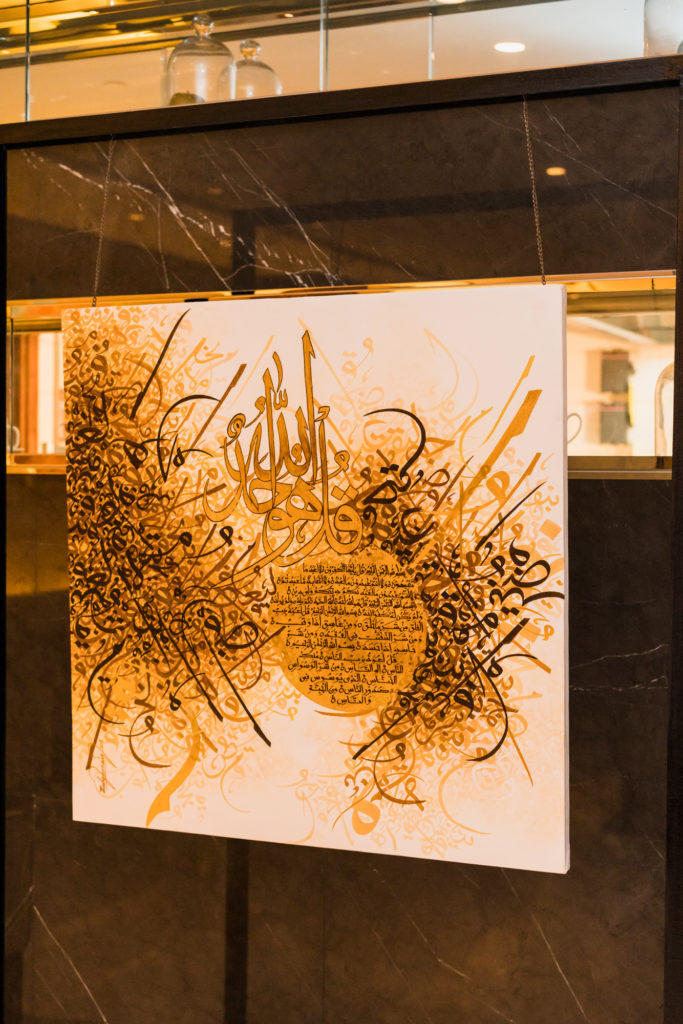 Zulqarnain sells out right in the beginning of the evening
Guests together
Alia Khan
IFDC Chairwoman
"It was exciting to see people enter transactions on the exquisite art right from the beginning of the magical night. So many pieces have already been put on reserve or purchased at the launch event. They will now be replenished by the artists so that newcomers to the exhibit will also have fantastic choices to choose from. This experience proved the concept, that people are ready for a unique art hub where opportunities for artists are heightened and people who appreciate all things creative can come together for any purpose be it social, business, work space, etc. We are pleased with the way Artist Playground by Pullman was welcomed by art lovers and the t-Lounge by Dilmah completed the experience with their art-like food and beverages. Artist Playground by Pullman is a very unique concept, and it's here to stay"
If you'd like to work with IFDC and Pullman as an artist, send an inquiry to OFFICE@IFDCOUNCIL.ORG.
For press inquiries contact Office@IFDCitaly.org