It's a statement that can make or break you. A double of the demin fabric can be a fashion fad or a massive fashion trend to the fashionista's eye. However with SS15 Demin x Demin appearance making it all seem so appealing, we can't help but have flashbacks of the famous 'Britney Spears and  Justin Timberlake 2001' show stopper.
Demin is timeless and can complete some of the most classic outfit combinations. It something every girl has in her wardrobe, either in blue, white, grey or black. With ripped and customize denim being a huge want on the highstreet near to the end of 2014, it's no surprise it's has hit the catwalk in a range of combinations, and keeping strong for the SS15 season.
The fabric was first created for workers, due to its durability and it's strong fibres. The fabric was known for it's long lifespan, making it ideal for the typical middle-class worker. From the 1800's, demin has evolved in fashion and work life. From American Gold Miners to Teen rebellion, Denim has lived through a range of jobs and sub-cultures.
The fabric was a lifestyle, and made huge impact to society. Through business and in cultural influences. During the 1800's, Levi's was created by Leob Strauss. Strauss wanted to create sustainable work wear for the men down in the gold mines. He teamed up with a tailor, to then create a range of jeans, which got renamed and branded as Levi, rather than his own name Leob. From then on, Denim was used for work. In 1950, James Dean was seen in denim in the film 'Rebel Without a Cause'. The young generation jumped on to the denim worn in the film, creating and trend within the young generation.
The name 'Denim' comes of a huge background. Demin was originally called serge de Nîmes, which soon got shortened. The reason for the name is down it being first made in Nimes, France by a family called the Andre family.
Now being one of the biggest essentials to anyone's lifestyle, denim is now available in all shapes, styles and sizes. With 1990's & 2000's seeing Denim in Vogue and a range of high brands on the catwalk, it was clearly a fashion 'must-have'.
With the popularity of denim, a range of brands have been established, such as Calvin Kleins (and there iconic advertisements), Levi's, True Religion, Current/Elliot, Rag & Bone, J Brand, AG Jeans and Diesel. The list is forever expanding due to high demand from the market and trends.
When it's seen on the catwalk, it also has to be seen in campaigns. We've all heard of the iconic Calvin Klien adverts, such as 'Brooke Shields' in 1981, which caused huge controversy. Yet we've also seen big stars such as Justin Bieber get cosy with Lara Stone. Additionally brands, such as Alexander Wang, Lui-Jo, Levi's have also given themselves the iconic spot for adverts, which are racy and full of big names.
So demin is back on high demand as usual, but can you risk the trend? Here at MESS we say yes to taking the trends and fashion to a new level in ways it can completely work! Already for SS15 we have seen a confident use of the combination. Brands such as Stella McCartney, Gucci, Roberto Cavalli, Fendi and Chloe have took huge interest in the trend. Some double it up, but some keep it simple. However seeing big names take on the trend shows the highstreet will be down for it these coming spring months.
So who has worked the trend better than others? We've nailed down the brands who have been heavily influenced by the trend in the most creative, stylish ways possible.
Stella McCartney
Box shapes and low waists. For SS15 McCartney took a huge focus on the fabric, giving the double up a whole new perspective. Large pockets and 'squiggle' detail, the collection is the right way of creating the demin co-ord, with a style of masculine and luxury.
Fendi
Another big name using the co-ord method is Fendi. Although the huge focus is layering, the SS15 collection held a more feminine approach. Cropped jackets, waist lines and skater dresses, the collection is a shade of light blue demin. Not too outstanding, yet daring enough to be double denim.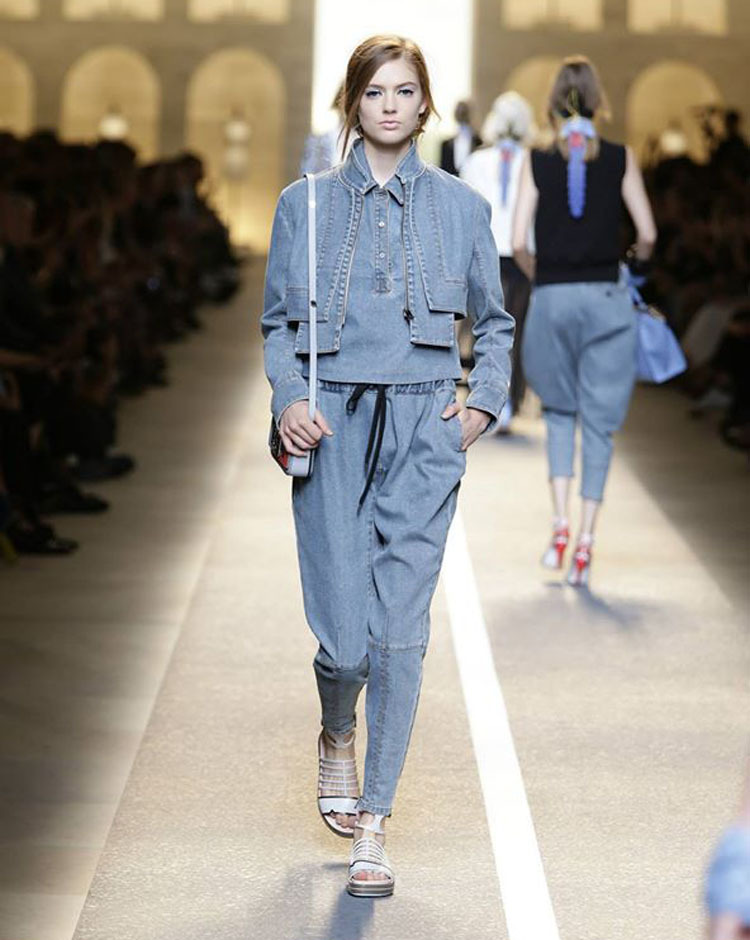 Chloe
It's a take on of the timeless outfit 'the white shirt and jeans' look, however mixed up to fit into the wants of 2015. Boxed shaped and widening the body, Chloe used demin for high waisted shorts, shirts, dresses and tops. Each put with a basic white or dark blue garment. Simple yet effective.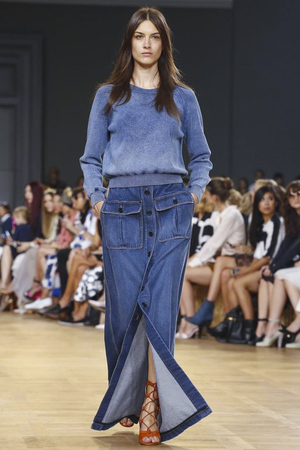 Kenzo
With the trend of distorting the body, Kenzo have mixed that up with oversized and demin. Huge zips, midi skirts and unflattering baggy shapes, Kenzo worked with 'one part demin' to each outfit. 70's baggy flares, with tight slit midi skirts, the whole collection is refreshing to see and brings a whole new way of using demin. Paired with a white shirt and light blue cotton, the collection is another simple interpretation of the trend.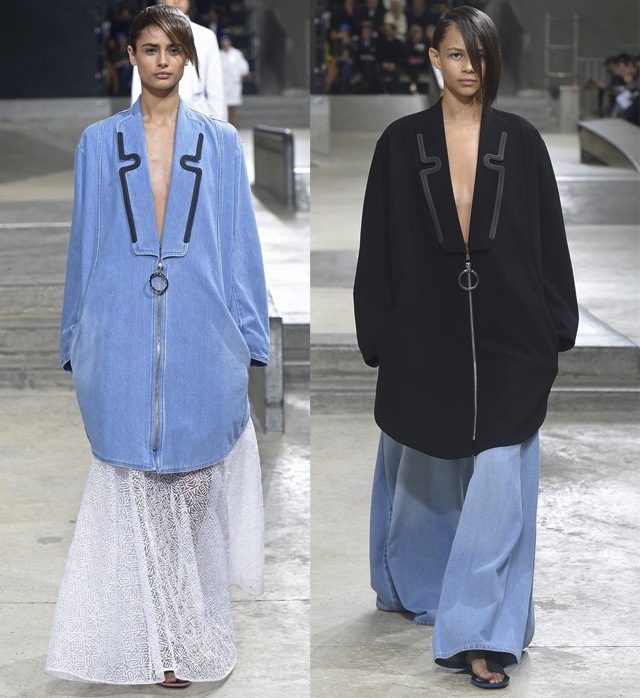 Gucci
Western meeting denim, Gucci's SS15 collection is a mix of colours, textures and detail. Demin boxed shape dresses, with laced up ribbon at the front. Other pieces included double denim outfits, of a light and darker shade. Topped with neutral shades, the collection is modern wild west.
Roberto Cavalli
Mixed with lace, metallic's and cold tones, Cavalli has used denim in the simplest ways of layering. Not seen as much as other brands with doubling up on top and bottom, denim has been used simply to layer over dresses in a simple shirt. The mix of lace and light shades give the denim a elegant look.
Denim is a clear big trend for the spring/summer season of 2015, which can go so right or so wrong. When double demining, remember to go for two exact shades, or shades with a slight difference. This creates a co-ord, which is easy to dress up and dress down with other colours, without too much of a clash.
Do not patchwork. When mixing denim, do not go overboard. Patchwork creates unnecessary clash, and can be unflattering. With that don't make EVERYTHING denim. Remember less is more.
However we can never forget the most classic way of wearing denim. White shirt, jeans and boots, the timeless outfit which can be dressed up and dressed down. With the masculine shapes trend, this is an outfit which can be comfortable, and minimal.
Here at MESS we cannot wait to see where this trend leads, with influences on other designers and on the highstreet. So go on girls, get those denim trousers and shorts and work the combination!