London is hands down the best, innovative and most creative fashion street style ever. With designers such as Lucy Choi to Vivienne Westwood praising the Brits on how well we do it.
Here are some of the street styles that our MESS team caught and loved!
They say a picture is worth a thousand words. All I can say is one: Amazing!
Beautiful textile print and interesting silhouettes. Just love both of these outfits.
Emma Hill and Tijan Serena's combined looks had to be photographed!
See more of there outfits and adventures.
Emma Hill at EJSTYLE
Tijan Serena's vlag here
These Sophisticated men are part of Live Fashion.
A Street Catwalk Series that did a live performance at Somerset House.
Another Live Fashion outfit.
Lara Carbonara's metallic angular shaped clutch is stunning!
That combined with her grey and beaded dress go together beautifully.
They clutch and dress are both from Roksanda Ilincic 
Rosette Damilola's fun and poppy look is young and fresh. 
She even made up her fluffy clutch bag! DIY at its best.
Check out more of her stuff at Thrift Queen Lola
Kyle Lo Monaco is a fashion designer, stylist and musician.
He is a triple creative threat. His attention to detail is astonishing and his laid back attitude enhances his eccentric look.
See more of what Kyle is up to here
Geraint Donovan-Bowen caught my eye with is beautiful felt clutch bag which he made himself!
I love it when Bloggers make some of their own pieces. I think it just adds to their individuality and style.
See more of his style at Geraint's blog His Name is Fashion
Deborah Stubbington beautiful ensemble caught my eye literally from across Somerset House and I had to take her picture to share with MESS readers. I love the casual and comfortable silhouette of her outfit. That combined with the warm colour palette and black and white colour blocking on the shoulders makes this outfit one of my favourites!
See more of her looks at Bang on Style
Juliette Long has the perfect combination of east mets west.
Her edgy hair style and her chunky ankle shoes adds that Western punk edge while the silk shift dress with the oriental print has that Eastern touch.
She is a journalist for Fashion Plus.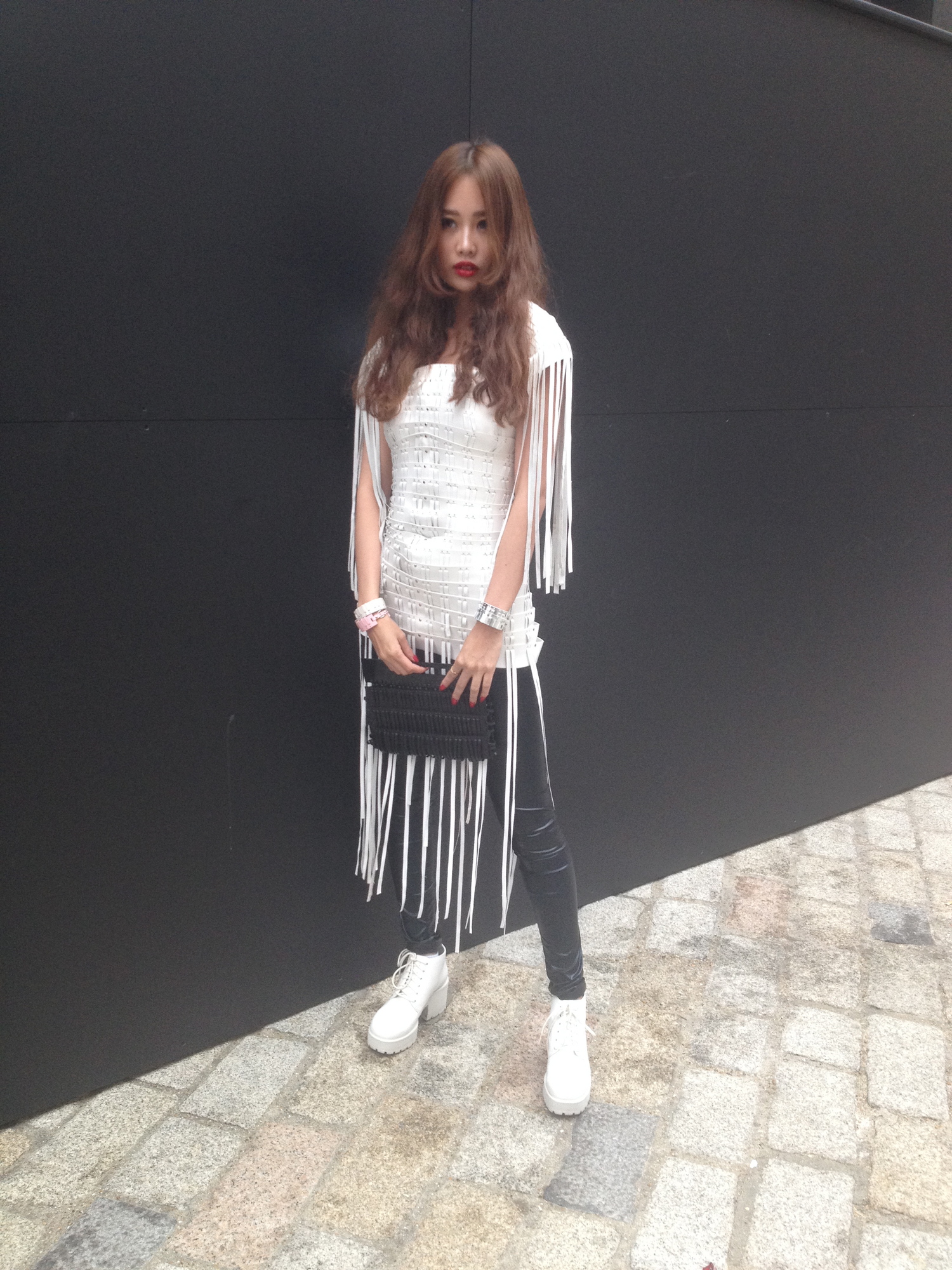 Whitney Valverde's neutral colour palette caught me eye.
I am currently really into grey and her whole look inspired me. Its casual, its chic and she has amazing accessories. 
Bracelet and skirt: Gail's vintage
Nails: Izabelle Hammon
Check out more of Whitney's adventures at Whitney's Wonderland