Georgia is a county that geographically boarders Western Asia and Eastern Europe. Its history and culture is an attraction for people around the world. Its ever growing talent and rapid development in the industry has made it one of the center of attention for the Fashion Week Event.
Mercedes-Benz Fashion Week Tbilisi is an affiliate of the Mercedes-Benz Fashion Week in Georgia with Tbilisi being its capital. Established in 2015, MBFW Tbilisi is considered fairly new in the fashion week event. it has done a great deal in attracting great talent and successes and creating a platform for emerging and independent designers and talents.
This year, the opening ceremony was held in the Funicular restaurant on Mtatsminda. The ceremony was dedicated to the memory of the Georgian actress Bela Mirianashvili. One of the significant and yet common concept and movements linked to Tbilisi Fashion Week  "We Must Take Care of Nature". It's slogan is a focus on Georgian designers using more natural fabrics to symbolize an evolution for Georgia. This movement is a great stepping stone for change, fresh talent, art, creativity and a change to the international market. Focusing on it's "street style"and let's not forget their history of promoting domestic creativity and talent. We can agree to say that there was a huge display of the importance of community.
It was a stunning show of creativity from some of the most talented Georgian fashion icons like; Gvantsa Janashia, Lalo, Irakli Rusadze of The Situationist, Materiel, and George Keburia
Gvantsa Janashia: She studied fashion design and styling at the Paris American  Academy and moved back to Georgia where she launched her brand. With a retro-futuristic vibe to her design, and her use of multicolored fabrics and geometry to create a light but at the same time strong style. According to Janasia, "I will say it is mainly for women that like challenges".
Lalo: Established in 2012, It started with an idea of a knitted piece considered to be a personal design worn by her and turned into a great future for her now Lalo Cardigans brand in the fashion world. The recognition and push by her twin sister established Lalo Cardigans, which quickly became a success. Lalo design draws a focus to community and according to the luxury brand designer "the inspiration behind her designs is  nature".
Situationist: Irakli Ruzadze as one of the prominent labels seen on many celebrities and spoken about alongside creative minds in the industry, he took a stand for sexuality and gender equality through his designs on the runway. Using a combination of leather and distinct cuts in his pieces, the idea and creativity stands firm.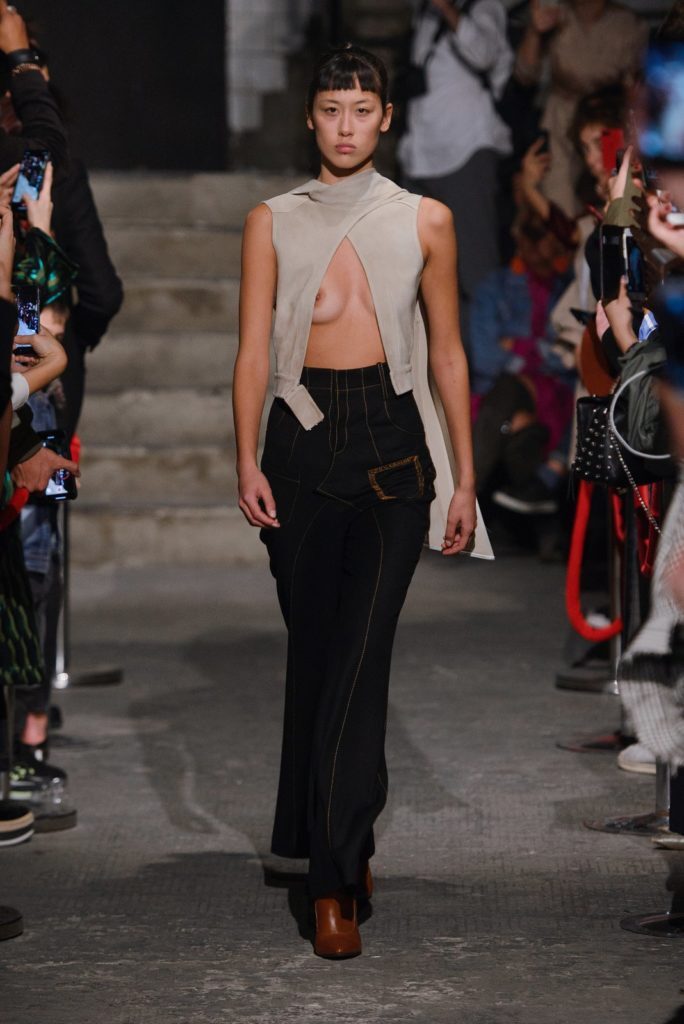 Materiel: Materiel launched in 2012, the umbrella brand Materia has helped to develop brands like Materiel as well as other successful designers in Georgia and worldwide. Aleksandre Akhalkatsishvili and Lado Bokuchava currently are the creatives behind the brand that has been a platform for many young designers for over a decade. Materiel showcases its creative designs on the runway at the MBFW Tbilisi. Aleksandre says, "his collection was inspired by the existence of two spirits in one space.Their inevitable intersection at one point through the time of existence, because of their linear movement. This intersection point is an ideal balance between spirits, which lasts only seconds, and their separation causes chaos and imbalance".
George Keburia: Keburia is an internationally recognized brand. It is popularity goes across boarders and selling in its home country Georgia, as well as in some other European countries and the United States. It is famous for its tiny sunglasses design that has got everyone on the trend. His brand has been seen on several celebrities in the entertainment industry such as Rihanna, Bella Hadid and so many more. His collection in the MBFW event highlights his use of rainbow colors which is in connection to the the LGBTQ community and confirming support through a creative expression.