NYC 'IT' girl, Caroline Vazzana is not your average fashion guru. With a successfully published book, over 200 thousand Instagram followers, and a website to answer your burning career questions-Vazzana may remind you of a certain someone who also ran the big apple.
Beginning her career in the editorial world, this modern-day Carrie Bradshaw made her mark writing for publications such as InStyle and Marie Claire. Her passion for fashion and success later inspired her to write her own book, Making It In Manhattan, adding "author" to her long list of accomplishments. Vazzana's book is tailored to help aspiring fashionistas make it in the competitive industry. With personal stories and interview advice, Making It In Manhattan is a valuable resource for those looking to land their next gig.
I caught up with this spunky style guru for her tips, tricks, and an inside look into her fabulous life: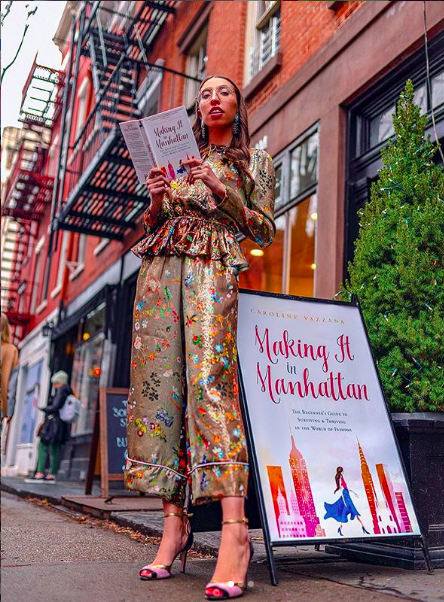 How and why did you get into fashion?
I've wanted to work in fashion since I was about ten years old! I went to college in Pennsylvania and on my summer breaks, I did several internships in NYC! Right out of college I set my sights on working at a fashion magazine and landed a job at Teen Vogue!
What do self-expression and style mean to you?
My style is the way I express myself! Through color, texture, design! I always say the style is a way to say who you are without having to speak.
What was your initial motivation behind your book, "Making it in Manhattan?"
I wanted to create an all-encompassing guide book for beginners trying to get their foot into the fashion industry!
How does New York City inspire you?
The streets, the people, the views! NYC is filled with so much inspiration. You just have to stop and look for it.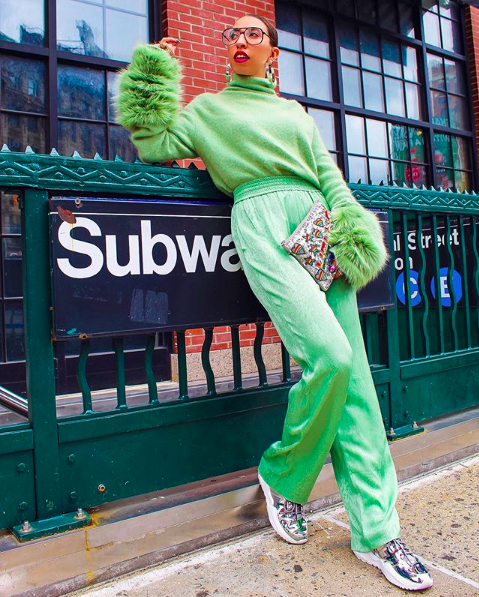 How does it feel when you're compared to an icon like Carrie Bradshaw? Has she always been an inspiration to you?
It is one of the best compliments! I've admired Carrie Bradshaw's career and, of course, style for so many years. So when people started calling me the modern-day Carrie I was so flattered and honestly shocked!
What do you hope readers will gain from reading your book?
I hope my book inspires them to follow their dreams and not to let anything stand in their way. I hope they also learn that you don't have to have connections in fashion to make it. I knew absolutely no one when I started out so if I can do it you can too!
Describe your style in three words:
Colorful, eclectic, ever-changing!
Biggest advice to anyone scared of leaving their comfort zone?
There's no right time to take a risk. When I quit my full- time job to become my own boss I was definitely scared but I knew that I didn't want to look back five years from now and regret not taking the risk. Also, things always seem scarier in our heads than they really are!
Visit Caroline Vazzana's site, Making It Manhattan for all things fashion and career advice. Be sure to also follow her Instagram @cvazzana for a look into her colorful style palette and a sneak peek into her exciting projects.