Moschino presented its long awaited AW15 collection in Milan last week and it brought to mind many wonderful and wacky ideas, of which will have most definitely been souring through the onlooking audience, who were then eagerly obliged to tell their close-knit neighbours about what they thought. Go ahead, we won't judge; we'd be doing it too.
Last year, the collection leant towards pink and girly girl designs, but this year Barbie has stepped aside and run back into her Dream House, to be replaced with new and improved hardcore Moschino.
The Fluorescent Adolescent vibes at the start of the show, with the full length, fully inflated –short of a bouncy castle- wildly bright coloured Puffa Jackets, really got the crowd on the edge of their seats. The Front Row 'King and Queens' were having to do the opposite, and perch further back, in order for the collection to have the full dramatic effect that it deserved, even if it meant taking their breath away and almost winding them in the process.
As the show continued, we became wild for the nostalgic atmosphere that came strutting down on two, very long, pins. No sign of jealously there, of course. The Looney Tunes characters popping up on over-sized baseball tops, baggy shorts and cropped leather jackets, left us wanting our favourite cartoons to stop disappearing back into the past of our long lost childhood and stick around for a bit longer.
The denim craze powered on through next, and the small glimmer of gold aspects, that were patched on to the full length dungarees and jackets, added a little extra to scream and shout about. Denim stuck around a little longer, of which we are always grateful of; as long as it fashions itself between the distanced barriers of 'Fresh Prince of Bel Air' and the shocking 'Britney Spears and Justin Timberlake Red Carpet Disaster of 2001!'
The classic Moschino Teddy bear made a few appearances in the collection, which actually worked very well, with the fur coat in the shape of a bear. However, one huge throwback into childhood is great, but perhaps one step at a time? But, despite all this chat, Moschino's bear is pretty cute and so I suppose we'll give him a chance; as long as he doesn't start bad mouthing like Ted, of course.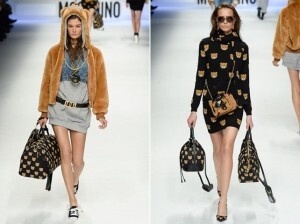 By all means correct us if we're we wrong, but we always thought Black was the new Black, right? Even the smallest thought about the terrifying rumour, of Orange replacing our one true love, officially happening, scares us entirely. Fortunately, there's actually no need to panic: Jeremy Scott proved to us, extremely well, that both colours can be worn together, and that there's no reason to take sides on this fashion debate when Moschino can decide for you with its orange AND black side to the collection. And we'll happily let this happen.
Finally, last but not at all least, the dresses proudly paraded on through. Whether it be one of the full skirted ball gowns flaring from the chest, waist or mid-thigh, the flouncy mini dress with its matching shawl, the glamorous maxi black dress with its detailed add on, or the sexy maxi plunge sequined bodycon dress, they all have one marvellous thing in common: Graffiti. Moschino took dress style to a new level and, without a doubt, brought us elegance, but met it half way with the spectacular Graffiti design. Most would have thought that two complete opposites would never work, let alone completely ROCK and take over Fashion Week, but Jeremy Scott proved you all entirely wrong.