When I think of Milan I instantly think of the extravagant glamour of Dolce, the refined opulence of Prada and Donatella's nose. This week the omniscient eye of fashion week, was firmly focused on the Italian couture capital. The look of the Italian women took on many a different guise, although lacking her signature red dress. MaxMara's women harked back to the uber feminine ideals of old school Hollywood. Taking inspiration from screen siren Marylyn Monroe, the collection was sensual but not ostentatious in its buttery cashmere coats and over sized knitwear clutched snuggly by the backpacked models.  This more refined, demure fitting appeared to ripple across the usual outlandish bling of Italian designers. From Fendi to Marni the silhouettes were long and lean. Turtle necks and trousers, the looks nodded in the direction of the 70's. With Jil Sander adding a modern twist to the revival, with flashes of orange and chevron stripes.
Of course Donatella did provide a theatrical alternative. Staying true to the vibrant roots of the brands ethos. The Versace women although still boldly colourful, had a toned down sex appeal. Tapping into the hashtag generation, Versace was pixelated into an array of diamond embroidered emojis and @ signs on tulle tops and sleeves. With its vivid primary colours and fun suede bombers emblazoned with #Versace, the brand added a youthful skip to the minimalism of the other shows.The latest offering from Dolce and Gabbana was a kind of middle ground between the slick suits of Sander and the hyper colours of Versace. The D&G women embodied Italian yummy mummies showing pastel colours of marzipan yellows, candy floss pinks and Palma violet hues. The 'I love you Mama' collection paid ode to the ladies that gave us life. A luxurious family affair with its sensual floral embroidery, 'Ti voglio bene' stitched in baby blues and sketches created by the designers very own nieces.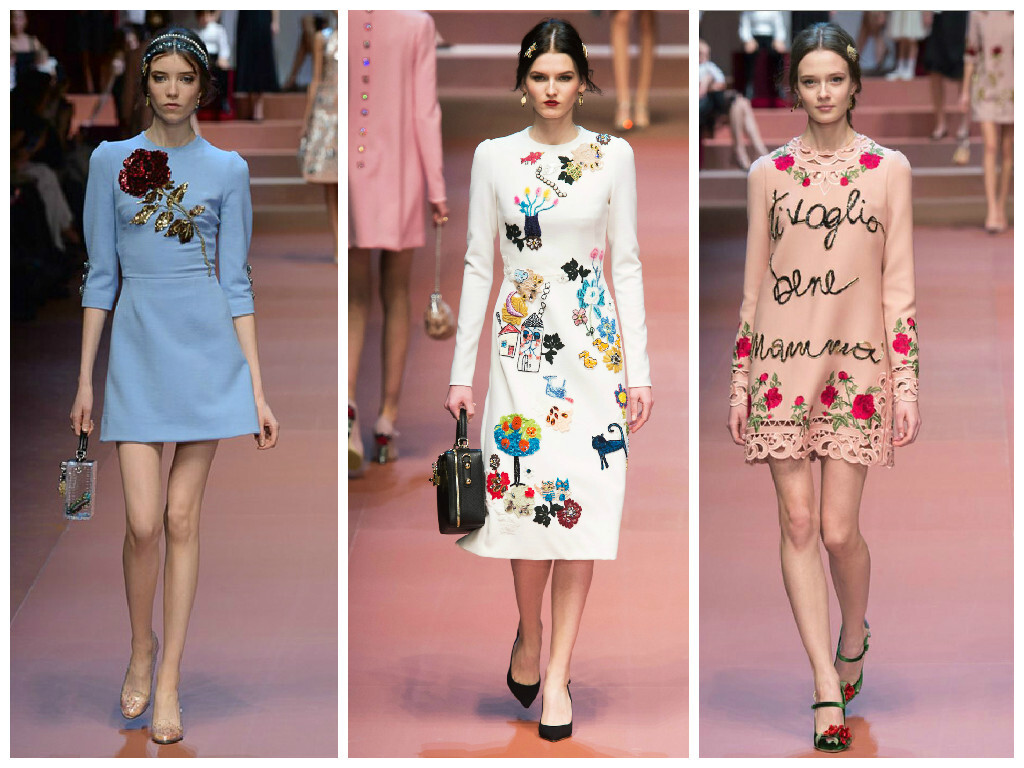 Then we have Gucci. All eyes undoubtedly on the debut of new creative director, Alessandro Michele. Cutting out of the bondage dress and curvy silhouette of predecessor Frida Giannini's style. The new Gucci women was more androgynous then promiscuous. Bespectacled, barefaced and wearing backless loafers. Of course there was still the sheer tops and dresses that defines Gucci. But the overall look was decidedly edgier and cooler. A youthful vibe of burgdandy berets in juicy pomegranate tones, low slung silk pyjama bottoms tucked into pussy bow shirts and swinging pleated leather skirts. The jackets were fastened and the lengths were kept long. The only curve being the occasional flash of the smooth Gucci insignia, winking its G's under the jaded green jackets.