Most Talked About Celebrity Dresses of All Time
Whether they were beautiful or weird, there are dresses that made a mark and earned places in the history of fashion as they stay imprinted to your memory, always casting your mind back to the time when they were worn regardless of the current designs being worn.
While some of the dresses on this really were jaw-dropping due to their sexiness, others were downright ridiculous and out of this world. It really took a lot for these stars to appear on the red carpet wearing these dresses that got tongues wagging for a long time.
Below, we feature some of the most talked-about celebrity dresses of all time.
Most Iconic Celebrity Dresses of all Time
Celebrities are an unusual lot when it comes to what they wear on the red carpet. You just never know who is going to show up wearing what, which makes award season all the more exciting. Without further ado, here is a list of some of the most outrageous celebrity dresses of all time.
1. Lady Gaga on 2010 the MTV Video Music Awards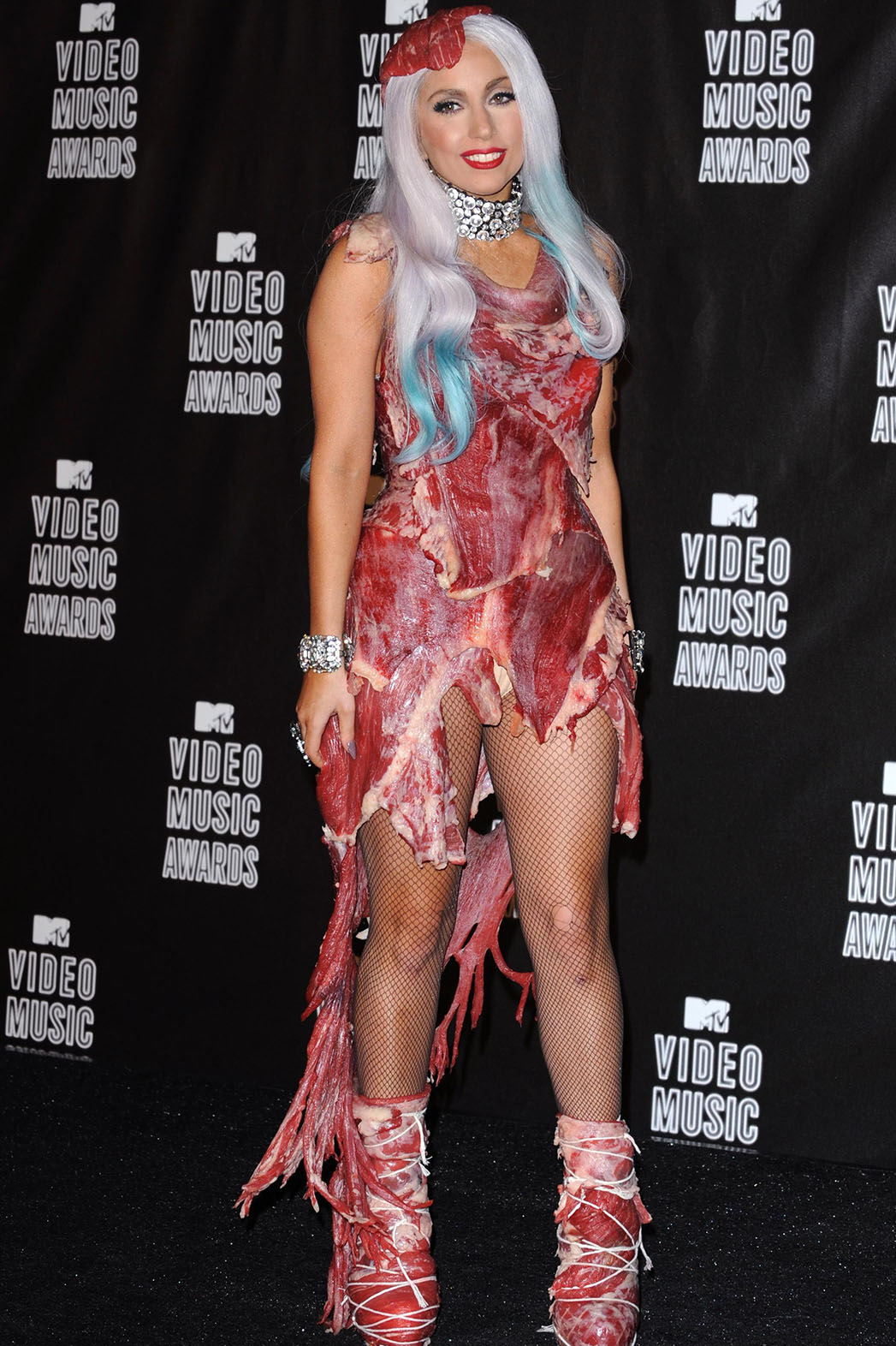 50 pounds of ribs and steak designed by Franc Fernandez known as the "the meat dress" worn by Lady Gaga in 2010 the MTV Video Music Awards was an unexpected shocker. Some regarded the dress as disgusting, scandalous, and to the vegetarian and vegan disrespectful but Gaga said for her it was about sending a message which fought for human rights saying, "If we don't stand up for what we believe in and if we don't fight for our rights, pretty soon we are going to have as many rights as the meat on our bones and I am not a piece of meat". Trust only Gaga to say such!
2. Bjork, 2001
Dating back to 2001 the musician Bjork wowed the audience in her swan dress. Jokes like "laying an egg on the red carpet" were made about the dress but up to now, the dress is rated as one of the most iconic dresses of all times.
3. Angelina Jolie, Oscars 2012
Angelina Jolie graced the Oscars red carpet in 2012 dressed to kill in a Versace less complicated dress than her other option. The actress and mother of six showed up wearing a black leg-baring dress which she said she wore because it was comfortable and she liked feeling comfortable.
4. Issa Rae, Council of Fashion Designers of America (CFDA)
Hosting the Council of Fashion Designers of America (CFDA) fashion awards, mostly known for her lead role in "Insecure" drama series, actress Issa Rae gave people a memory to live with as she used her look to communicate a message. She wore a dress with a belt that read 'Every Nigga is a star' which people took as a swipe at Kanye West who had said that the 400 years of slavery for African Americans was a choice, which made the dress iconic.
5. Rihanna, 2015 MET Gala
2015 MET Gala Rihanna set the stage on fire with her Guo Pel dress. Popularly known for her killer dress sense and her singing talent Rihanna has a reputation for turning up always on point, looking good almost every time this dress is said to be maybe one of the best red carpet looks ever. As controversial as the statement best red carpet look ever may sound it describes how Rihanna looked gorgeous in the Guo Pel dress regardless of her on-point fashion sense.
6. Beyonce, 2015 MET Gala
Style icon Beyoncé, at the 2015 MET Gala, showed up in a lace dress that showed off her skin and curves. This look was astonishing as it left people with no words as she ended up drawing everyone's attention in the Givenchy dress that left no imagination. The Gown was nothing but 'Slay' and the well-known singer got the lion's share of focus from both the internet and the immediate crowd.
Conclusion
Most of the looks served by the above individuals are more than five years old but still, they are being talked about up to now giving them a rare touch than other dresses that have been and are being worn.
A lot goes into the designing of these dresses, with some of them taking months in production. It, therefore, comes as no surprise that fashion designers are some of the highest-paid professionals in the entertainment industry.
For more articles that are focused on issues to do with women, we suggest that you visit luralura today.