The plane touched down and it was such great weather that we decided to start exploring straight away. We drove past sky scrapper's and along grand boulevards to reach the city centre. Our first port of call was Puerta del Sol, the centre of the radial network of Spanish Roads and where you can find not only the Kilometre 0 paving stone to take an amazing #fromwhereistand shot, but also the iconic billboard signs of Tio Pepe and the even more famous symbol of Madrid El Oso y El Madroño, a giant statue of a bear eating fruits from a tree, the symbol of the city.
Puerta del Sol was pretty busy but we sat for a few moments by the large fountain in the centre of the square and enjoyed the sun. All of a sudden, a gaggle of giant foam cartoon characters appeared and started mingling amongst the crowds in the aim of getting tourists to take their photo. Mr Bean, the Minions, they were all there. I really wish now that I had take my picture with them because they were hilarious, especially when Mr Bean and Bart Simpson started engaging in some sort of photo turf war, which after some comical gestures, required a hot flustered Bob Square Pants to intervene. Was I in Madrid, or was I actually dreaming?
The cartoon action was getting intense and so we decided to move off in search of some shade and the old quarters of Madrid. The narrow streets were cool and lined with orange trees. The houses were brightly coloured and in between the old fashioned barbers and coin collectors there were flamenco taverns and tapas bars. This place seemed to embody everything Spanish, from the food to the sounds, it was all there. A must see if you are ever in the area is the Arco de Cuchilleros, the Barber's Arch, that leads to the grand Plaza Mayor, which has beautifully painted walls, corner turrets and balconied three-story residential buildings – starring up at those houses was most definitely a "life goals" moment if ever there was one…
Although the open air terraces of Plaza Mayor looked appealing we decided to have lunch at the famous restaurant, Casa Lucio's, who's signature dish "huevos rotos", Spanish Ham, Eggs and Chips has been enjoyed by all sorts of celebrities, from Leonardo Di Caprio to the French President Nicolas Sarkozy. For pudding, because there is always room for pudding, we waddled over to the Mercado St Miguel, an incredible place, full of counters and stands with dried hams, cheeses, olives, wine, coffee, fruit smoothies, exotic fruits and of course my favourite, macaroons and cakes. Not too dissimilar to La Boqueria in Barcelona, along the counters there were stools to sit and it would have been a great place to have a more informal lunch surrounded by locals and definitely the right place if you are looking for some seriously photogenic food! After some amazing pistachio and raspberry macarons, we rounded off our first day at the symmetrical French design Sebatini Gardens and incredible Royal Palace of Madrid, the official residence of the Spanish Royal Family, who unfortunately forgot our invite for afternoon tea..
The next day I wore a bright yellow 1970's style skirt by the Russian designer Smorodina with a green halter neck top, high heeled black shoes from Dune and a black leather jacket from Zara.
We drove around Plaza de Colon to admire the many monuments built to commemorate the explorer Christopher Columbus and saw Cibelles the fountain in front of the Town Hall of Madrid where Real Madrid celebrate their victories, after which we engaged in a fair amount of shopping. We hit the beautiful boutiques and designer stores along Calle Serano, definitely the best place for shopping in the capital. Everyone here looked very stylish and it is a great place for fashion inspiration and chic looks. Some of my favourite stores included Caramelo and Loewe one of Spain's best-known labels, which dominated the street with two boutiques, including one on the corner of Calle Goya. The stores boasted ready-to-wear pieces from Paris Fashion Week and pop-up exhibitions, so Loewe enthusiasts like myself were really spoilt for choice. I also really enjoyed Agatha Ruiz de la Prada as it 's colorful collections, which had incredible energy, with vibrant patterns and eclectic accessories. Of course I also stocked up on some incredibly stylish pieces from Zara and Massimo Dutti and had to hit Bershka and Stradivarius for some great street style looks.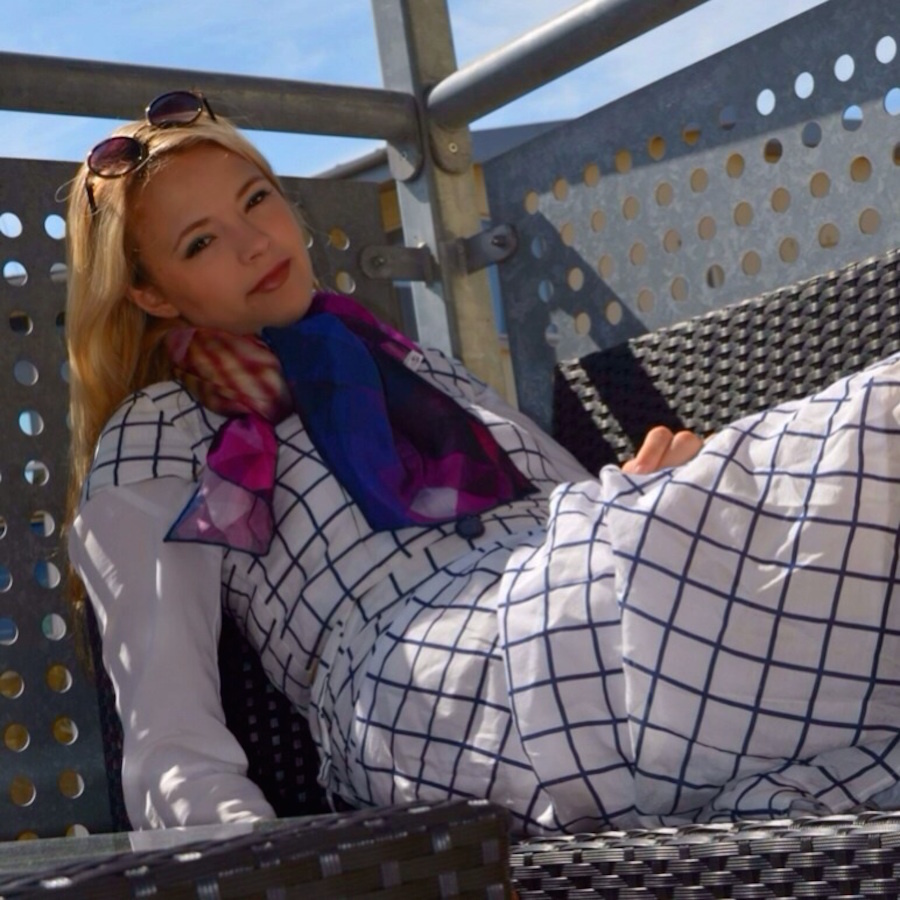 We followed in footsteps of Naomi Campbell, Penelop Cruz and Jimmy Carter and ate churros with hot chocolate at the most famous Chocolateria, Chocolateria San Gines. We played golf and had strawberry smoothies and Sunday's at Tommy Mel's in between evening with our friends and before we knew it, it was our last day and we were preparing to go down South to Andalucia, to the beach, because really all that is missing from Madrid is the sea. We had one two more stops though before we could leave, one of the most famous museums in the world, El Prado and the other, Picasso's Guernica, which is housed in the Reina Sofia National Museum. We waited until 6pm to go to El Prado, because it is free to get in after 6pm and although the queues was pretty long to start with, it soon died down and we got to see the Goya's and the Velazquez's in all their glory, it was an incredible experience and definitely a must if you visit Madrid! It was still pretty hot, so I wore a lace French Connection Top with Spanish floral espadrilles, Zara jean shorts and a Louis Vuitton Clutch Purse. Now time for the beach!
Written by Abigail Royston