The latest work done by Ev Marquee and her team is bursting with energy and leaves you transfixed. The minimalist street style looks, accompanied by traditional locations, and whimsical illustrations creates a dynamic set of photos. Ev Marquee says that the images showcase" a dream-like multimedia mess of then and now".
The shoot is more than a collection of innovative and beautiful photos. The choice of style, location and editing has contributed to the story that Ev and her team wanted to tell. That story is rooted in a rich history and culture, whilst maintaining its piercing vibrancy in a new age.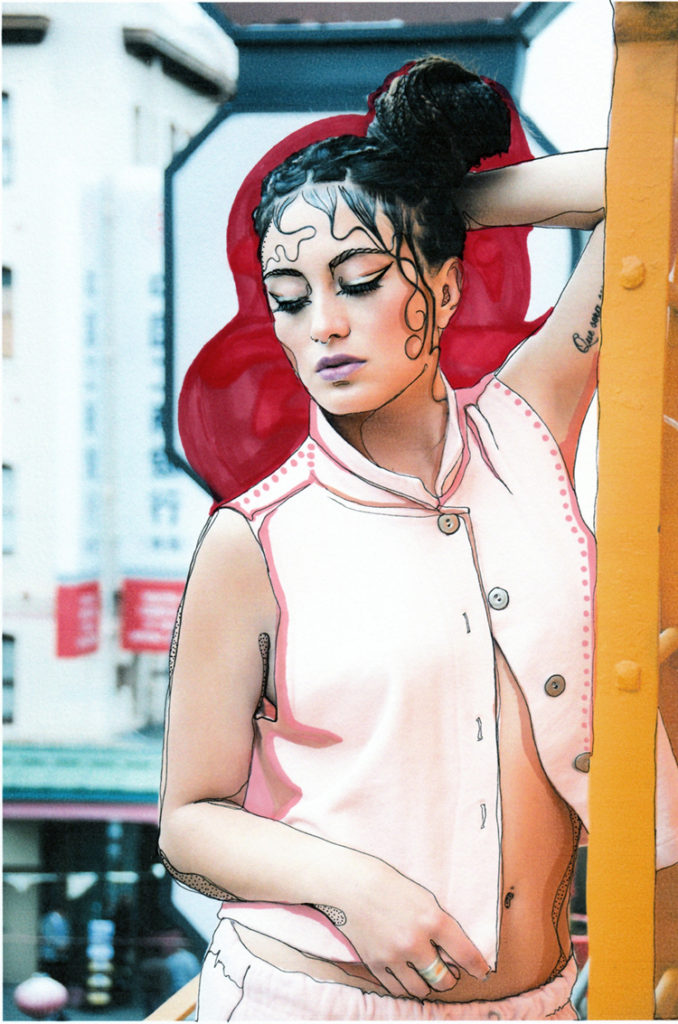 Each member played an integral role in the mergence of drawing and photo to create a truly distinctive editorial piece.
If you would like to see more of Mess Mag and Ev Marquee, check out our Snapchat: Mess Magazine, as Ev takes us around for a day.
Credits:
Photographer/Retoucher  – Ev Marquee [ www.evmarquee.com ; IG @evmarquee ]
Model/Singer – Samantha "Ouida" Hyland [ www.ouidaofficial.com ; IG @ouida.odyssey ]
Stylist – Kia Rhymer [ www.styledbykia.com ; IG @missthriftalot ]
Fashion Illustrator – Lily Duk [ www.instagram.com/lilyduk ; IG @lilyduk ]
Hair/Makeup  – Tara Marshell [www.taramarshell.com ; IG @hairmubytaramarshell ]