Look out. Balmain is taking over. It's launching itself into the universe of fast fashion for what will most likely be a dazzling collaboration with H&M.
The build up to the reveal was high- creative director, Olivier Rousteing and his army of beauties invaded Instagram and the Billboard awards, to combine the worlds of music, social media and fashion for the 'ultimate' of exposes.
Yet as Rousteing graced the red carpet, with Jourdan Dunn on one arm and Kendall Jenner on the other, I didn't start planning what my H&M online cart would look like on November 5th but I started thinking of what this meant for our industry.
Balmain isn't the first high end designer to join forces with a company like H&M. Karl Lagerfeld, Stella McCartney, Donatella Versace and Alexander Wang have all done it- so why stop there? Rousteing wants to talk to his generation. He says 'H&M allows me the unique possibility of bringing everyone into the world of Balmain, getting a piece of the dream and creating a global… a movement of togetherness.'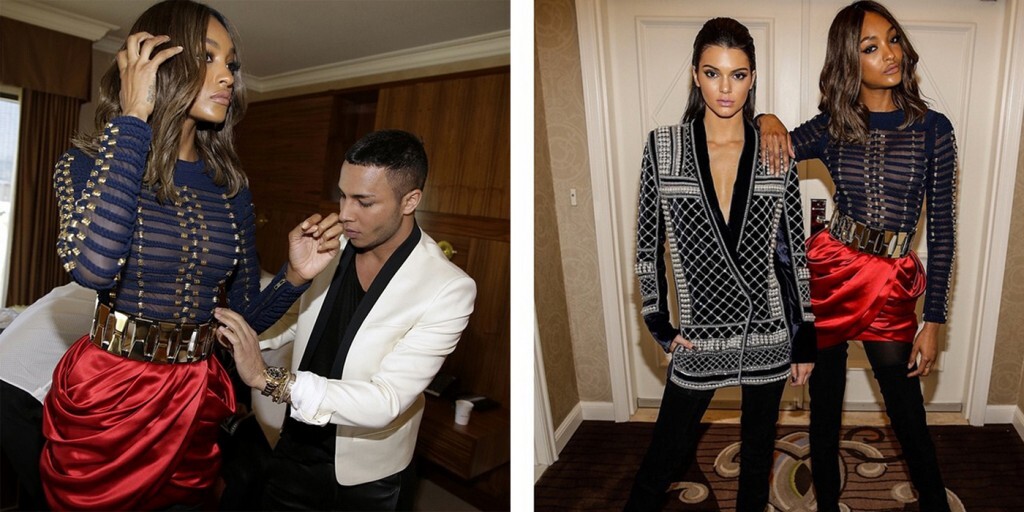 But what does this mean for an industry where exclusive high end designers were for those who could afford it and those who dared to dream? Don't get me wrong, everyone deserves to have a bit luxury in their lives or at least in their wardrobe. But that's it though, its luxury and what is luxury if it is being sold adjacent to t-shirts for $19.99?
With luxury, comes a story to be told or to be finished. It ignites this idea that clothes aren't something you just buy in a shop. That these carefully curated items are the product of great craftsmanship intricately put together. Everything from a pleat detail to a button has a tale to be told. Yet, in a world where we, the majority, are moving at the speed of light, the industry is finding new innovative ways of appealing to the masses. Whilst they raise profits, they raise their profile, giving us a taste of the good life and bringing us over to the wonderfully styled bad side. This globalisation of fashion is making it more accessible than ever before appealing to the consumers craving for more. But how many times have you walked into H&M and thought about the individual who's spent hours creating the print on that dress? Hardly ever. Technology isn't killing craftsmanship or luxury; it's our awareness.
So whilst Balmain may be calling for unity, H&M for exclusivity, I am calling for acknowledgement. Acknowledge the vision behind the idea; appreciate the resolution and above all #livethedream.