Mess Magazine sat down with the CEO of Lone Design Club, Rebecca Morter. Morter is a London-based fashion designer, consultant, and entrepreneur. After a lot of research and experience within the fashion industry, Morter sought out to bring change for smaller brands. She helped them to take the reins in their business without the need for wholesale while incorporating her understanding and knowledge of the design world mixed with her passion for more sustainable fashion.
By empowering others and rebelling against traditional wholesale, Lone Design Club was born.
Read below as Rebbecca Morter gives Mess an insight look into the world of LDC and how this unique company continues to make a growing impact today: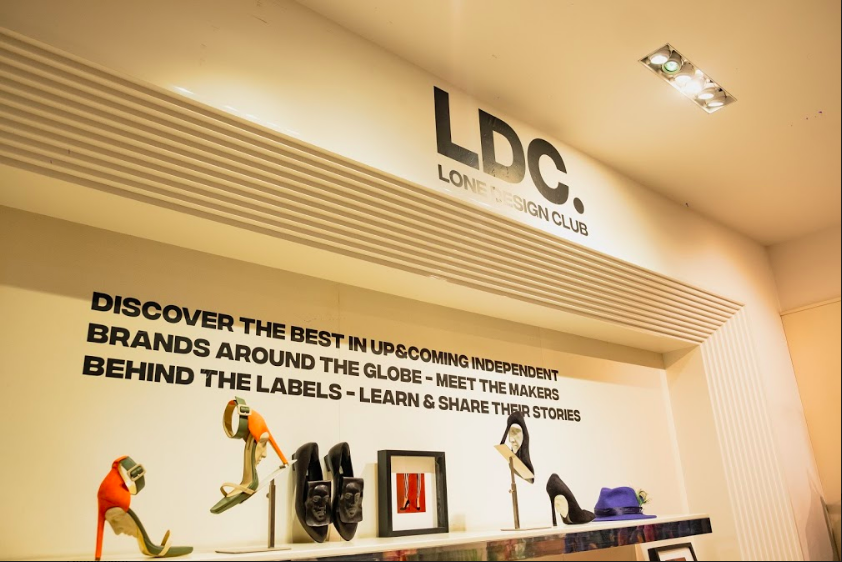 What was the initial inspiration behind LDC? 
Some time ago I founded my own womenswear brand called REIN London. As the Founder of a small fashion wears brand I faced many of the same trials and tribulations that most emerging designers do, and, I soon realized that wholesale was a tough, expensive and unsustainable route to market.
Generating awareness, building excitement and momentum around a new brand, and finding the 'right' customers is always challenging, so I collaborated with some other designers and we tried our own pop-up store as a sales vehicle for our brands in 2017. The sales results were great and we found that they were a fantastic way to build deeper customer relationships; they were an exciting place for customers to visit for a limited time, where they could test new designs and have the opportunity to speak to the designer while they tried pieces on. I decided to place my own brand on hold and pursue this avenue of helping other designers to market, founding LDC and officially incorporating it in 2018.
How do you think LDC is revolutionizing the online & fashion industry?
Online is invaluable, online platforms can be a huge help to new designers who are unable to hire spaces for their clothes when they start out. However relationships and feedback from your customers is vital for growth, therefore the combination of online presents and shared spaces and events, such as what we host at LDC, really are key to propel a brand into the market.
I have been an avid supporter of eco-friendly and independent designers for a long time. However, it took a while for the fashion industry and the wider community to learn more and realize they wanted to invest in these pieces. At LDC we have been delighted with both our growth and also how the industry has changed and is really supporting new and sustainable brands. In a way, it has been like a mini-revolution and one which I hope will continue to grow. 
How do you make online shopping different from other shopping platforms?
Our model will always be built on the relationship between digital and physical. As with our physical stores, there are innovative ways that you can make online shopping a lot more interactive and thoughtful. I think it's important for companies and designers to take the time to design a more personal online experience for their customers. In today's' hectic world, and particularly during the challenging coronavirus crises, people will be looking to shop online more than ever before. We really hope our visitors and customers enjoy the new LDC Digital. 
We are very proud to have recently launched this new platform, which brings the physical through the digital with new online features. Our channel offers support and solidarity to their designers and customers through these unprecedented times. We have been working hard to bring our in-store customer experience directly to consumer's living rooms whilst supporting brands in these changeling times. The new platform, LDC DIGITAL, will be offering multiple online options making our immersive experiences accessible to all.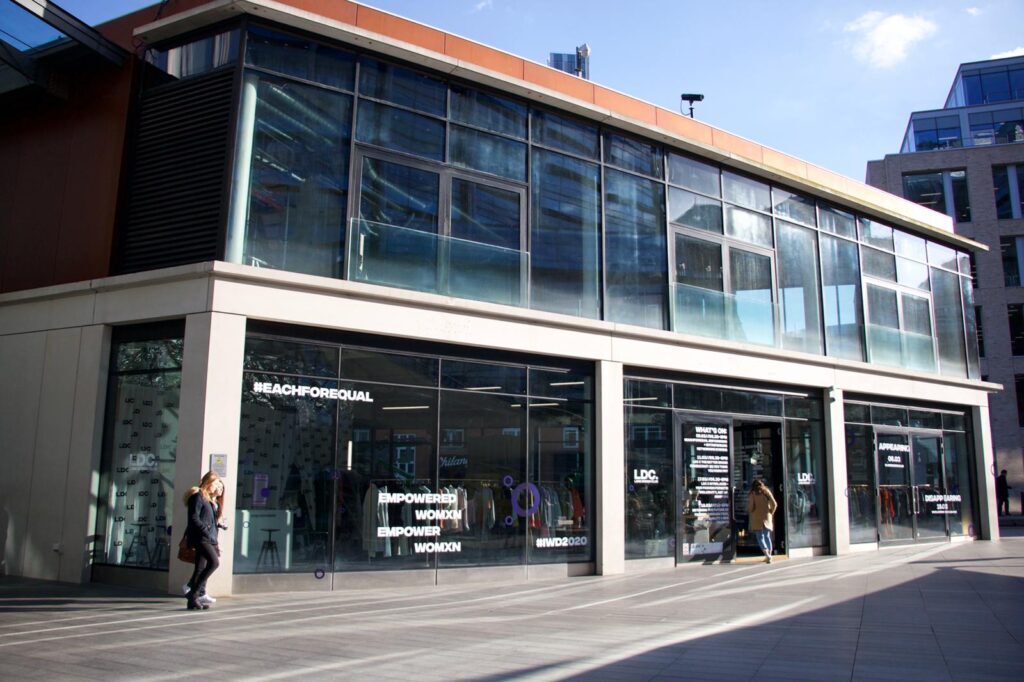 What features do you guys provide and what is your favorite? 
LDC offers a range of services in order to support our independent brands and help them grow into successful, sustainable businesses. More than just a pop-up store, or an e-commerce platform, we are a club in all senses of the word; we nurture our community through the following services;
– The LDC Accelerator, which includes masterclasses, webinars, recommended consultation services, as well as a brand facing blog and the Club News
– Content creation, photo-shoots, and other marketing support
– Storage, comm fulfillment and transportation/ logistics
To compliment every store or online campaign we put together an inspiring event series in both the physical and digital world. Including the likes of beauty zones, bars, virtual panels talks, workshops, and fashion shows. I get to meet so many inspiring people through my work, the community is at the heart of everything we do, and I love that.

How do you choose what brands to feature and what makes them unique?
Having worked in this industry for a long time, I have definitely developed an eye to spot the kind of clothes and designs that I think have something special about them and will be popular with our consumers. However, aside from agreeing on the designer's talent with my team, we also want to find brands that are in line with LDC's mission and values. 
It is really important for us to work with people and teams who believe in ethical and sustainable clothing, building and helping a community of designers and are not just looking out for themselves. 

Especially during a pandemic like the one, we're in, how do you think LDC is helping customers escape? 
That's a great question. Right now, the world is going through a very challenging time; some people are really struggling and suffering, and even others who might be less affected financially or physically, are no doubt feeling anxious and scared. 
Of course, we are aware that people's priorities are changing. However, I have found that most of us find some sense of calm in taking time to step away and enjoy the things we are passionate about, be that art, exercise or fashion, etc. For our customers who love design, we hope they take some solace in our digital workshops, live and direct with some of our amazing designers. We have put a lot of time and thought into the new articles coming up on the site, featuring some guest writers covering a range of topics. We have some inspirational stories coming from our designers on the LDC podcast and some great panel talks and ING Live's. Plus lots of great home luxuries to keep them comfortable at home. We're trying our best to look after our community and bring something for everyone. We hope some days just scrolling through the beautiful clothes to wear outside, when things do go back to normal, will bring some normality and a little bit of peace to their day. 
Tell us a little bit about the LDC podcast and what kind of topics do you guys cover? 
The new podcast will feature exclusive interviews from the people behind our brands and industry experts. 
Some of the areas we will be focusing on will be learning about building an independent brand from the ground up, ethical fashion, business tips, sustainability in all forms, the future of fashion, will the needs of consumers change as our working world changes? What will this look like? How will we need to change and adjust? 
We want it to be a place for new and established LDC followers, somewhere they can come and find out what we're about and up to next. A great listening space for all, covering some really interesting subjects in an unintimidating way.
What do you think LDC's mission is in 3 words?
 Community, Creativity, and Innovation.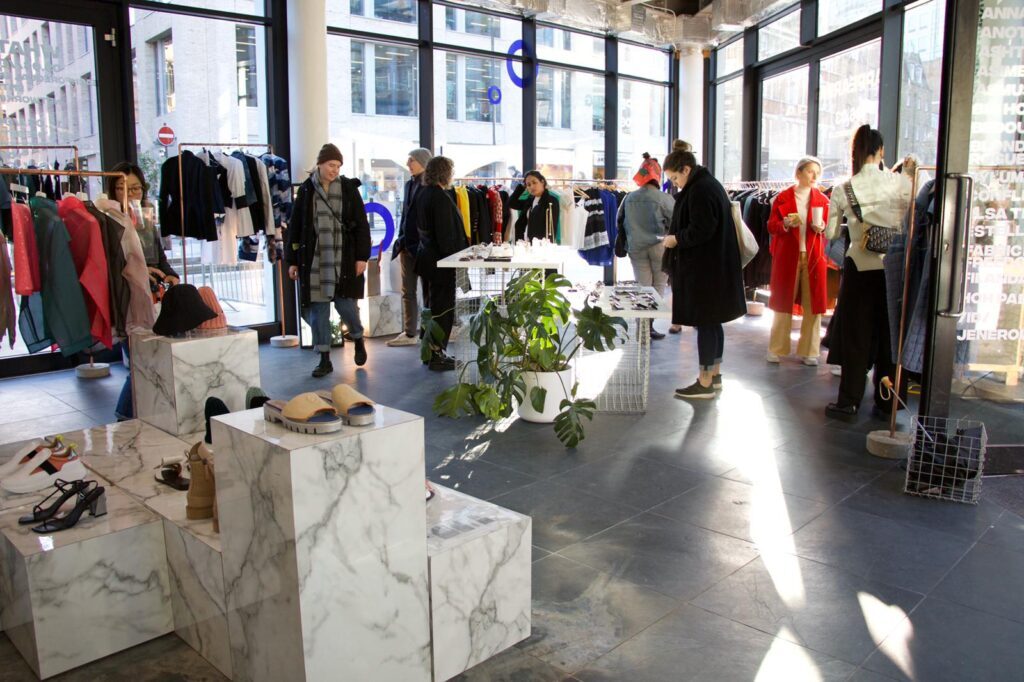 Any advice for people struggling through the pandemic and quarantine? 
I think this situation is new to all of us, and as I said above will affect us all in different ways, and some more directly than others. However, I think one thing we all have in common, is everyone is feeling fearful, but I believe also hoping for the best outcome. In a world where we rarely take a moment to slow down and breathe. For those who can, I think it could be a time to sit back and reflect. I hope it can become a time where people really reach out and support their families, friends and wider communities.

Of course, it is important to stay on top of work if you can and look after your family, but it is also imperative to take time to check-in and look after yourself. Reach out to friends or your partner as much as you can, no one should feel alone in this. 

If you are able to spend some of your days doing what you enjoy, whether that's taking time to read, exercise, eat well and relax. And if you are really struggling, whether it's with financial issues or physical or mental illness as a result of these crises, please do reach out to organizations who can support you.

Follow @lonedesignclub for exciting updates and chic posts.