Mess Magazine: Hi Riikka, nice to meet you. I read about your beginnings as a designer, I wonder how did you learn to design and turn fabrics from flea markets into beautiful gowns? Can you please tell me a bit more about how do you start your creative process and what do you try to accomplish whilst creating a dress?
Riikka Couture: Hi and so wonderful to meet you too. Yes, I'm a completely self-taught fashion designer. I learned everything on my own at home and built one woman's business empire by myself with the love of what I do and believing in. I started step by step by sewing curtains and old fabrics. Lace became my trademark since day one and I never want to lose that. It inspires me and can be turned into so many. By working home alone I learned how to create my own style and become better every day. It's been quite a journey and to be able to be creative and see my dresses coming alive on a woman is amazing!
Mess Magazine: How did you come up with the vision for Rikka Couture?
Riikka Couture: Vision Riikka Couture name came when I wanted to create a high-quality fashion brand. The name has to feel your own as much as your creations and I wanted it to describe who I am but most importantly what my brand is about. I have always designed dresses by my name but adding Couture to the end was a great way to bring little bit magic of Paris in it.
Mess Magazine: Who's a woman who wears your designs?
Riikka Couture: Anyone who has fallen in love with Riikka Couture dresses. My designs are meant to bring happiness and confidence to the customers who choose to wear my designs. It's been great to see my dresses around the world All the way from  Hollywood to Paris, worn by amazing, strong women. I create from the inspiration of old Hollywood times mixed with today's elegance and I think women who get inspired or love that combination usually are the ones who are wearing Riikka Couture.
Mess Magazine: Scandinavian and Baltic designers recently came in the fashion limelight with their most simple, colorful, tailored designs. As a Finnish couture designer, you have a unique status in that area. How do you see yourself in that specific market?
Riikka Couture: I think the best market is created with doing what you love with your vision. I don't design the usual Scandinavian style. I appreciate all the Finnish designers, but I wanted to go another way. Follow my intuition and I think by being completely self-taught I have created my own style. I see the world so different through my mind.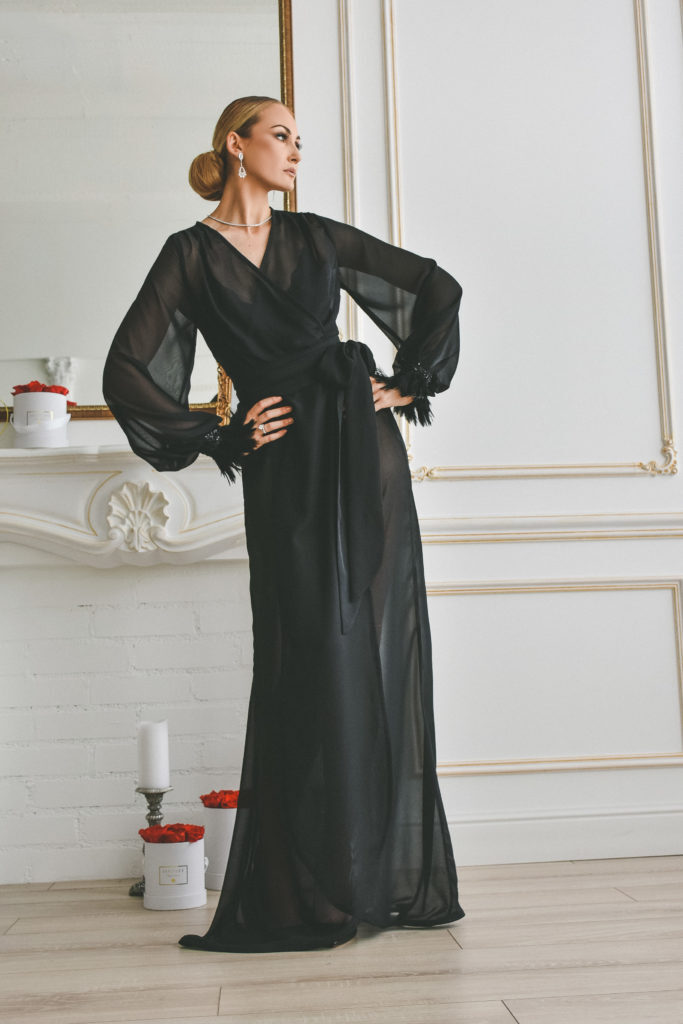 Mess Magazine: Your gowns are worn by very influential women around the world. How does it feel to dress them, including Britney Spears?
Rikka Couture: It's a blessing. I feel very honored and blessed that women who have worked very hard for their dreams and are the inspiration for so many people choose to wear my designs. Making a dress and a morning robe to Britney Spears was a childhood dream of mine and I can't ever put it in words how much it meant to me.
Mess Magazine: Tell me some of the women who inspire you. Who would you love to wear your gowns?
Riikka Couture: My mom inspires me. She always has! I remember being 4 or 5 years old, sitting on my parents bed, watching my moms jewelry when she chose a dress to an evening gala. I love her style but mostly what she has taught me about beauty: It comes from a heart. Beauty is the kindness. And if you can wear a nice dress while being kind, do it! Simply because wearing a pretty dress brings a smile on your face.    I also admire Grace Kelly. Her timeless beauty with class is unbelievable. And last not least, of course, Britney Spears. She has been my idol since childhood and I will always admire her.
Mess Magazine: You had a show recently during Paris Fashion Week. You lived in Paris for some time, and also the brand was born there. How did it feel to introduce your collection in the city which influenced your work so much?
Riikka Couture: It felt so great! I started from Paris back in the days only with dreams and to be able to go back and see everything I dreamed had become real! It feels amazing. The city inspires me still so much and being able to have my own show in the city of fashion still feels a bit unreal.
Mess Magazine: What is the next destination for Riikka Couture? Do you see yourself showing in Milan, New York or London?
Rikka Couture: Vision is to be able to bring my dresses to the women around the world. I love all those cities, but also Vancouver and LA have been on my mind. I always have a plan what's next but I go with silent and then let people know when the time is right. It's important to always grow, become better and be the independent and strong company.
Mess Magazine: Social media has an enormous impact on the fashion industry. What is your experience? How does it change the way women shop couture? Can online sale ever replace the unique customer experience which is usually associated with shopping couture in an atelier or shop?
Riikka Couture: Social media is an amazing thing! It gives all the brands the same opportunity to grow and find customers. You are not depended on the fashion industry that much no more. Now brands can reach so much more customers around the world and really grow fast. Online shopping has already changed a lot of the experience of shopping. But I believe there are still those who want to feel the softness of the fabric and see the shine of the crystals while trying on the dress while enjoying the great service. Riikka Couture does not just dress, it's experiencing with quality and glamour.
Mess Magazine: Recently you came out with a capsule collection of luxury T-shirts. Will you continue expanding in that direction?
Rikka Couture: T-shirts were a long-term idea I've had and being able to release the first collection now before the fashion week was great! I wanted to reach women in their everyday life, where happiness usually is hiding while having a morning coffee or spending time with friends or family. My T-shirt collection can be mixed with any style and that's why it's a classic piece woman should have in their wardrobe.
Mess Magazine: Where do you see yourself and your brand in the future? Let's say in 5 years time from now on?
Riikka Couture: I hope the company is doing great and we have evening and wedding dresses and clothing line for everyday life. Has this all happened in 5years? I hope so but I'm so excited to wake up every morning and start reaching my dreams. Dreaming is so important. It's where everything starts.
Mess Magazine: Every creation of yours tells a different story. As a little treat to our readers, please tell us a story you haven't designed yet.
Riikka Couture: Yes, my dresses are like diaries to me and I'm the only one who can read them.
To reveal little what the next story will be I call tell you it will have something to do with love and saying I do.
The interview by Dominika Perek and Rita Tamas
Fashion assistance and publishing the content: Victoria Petrova