When you wish upon a Zuhair Murad star, as us dreamers do, you have dreams that come in the form of skilfully curated masterpieces, which shimmer and shine in the presence of its wearer.
Zuhair Murad's Autumn/Winter 2015 Haute Couture collection was brilliantly dazzling. This collection was no 'twinkle, twinkle little star.' It was a seamless 'Space Oddity'.
Not one to shy away from a crystal or two, Murad finally turned to the sky for inspiration. Intrigued by the array of colours projected above, he felt compelled to explore it further – "I thought why not do a collection of the stars, of everything in this beautiful universe with this mysterious and twinkling light."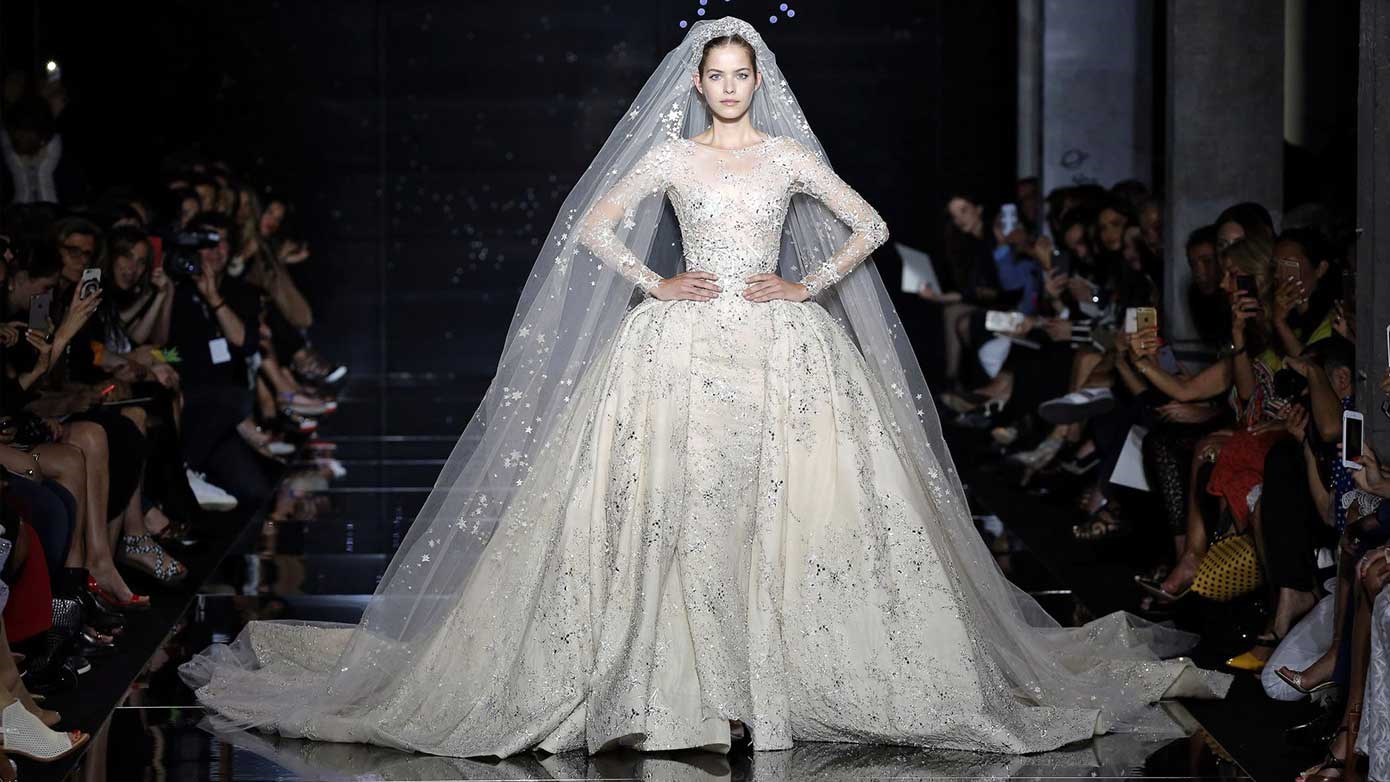 As a designer, Murad perfects the ability to create pieces that not only expose a woman's prowess, but also strengthen it. Yet how does this man consistently execute these collections, these styles and these emotions? It is because he understands. Since the late 1990's, when he first made his mark, Murad has been on journey of discovering what silhouettes and textures reveal the subtleties of a woman's body and her femininity.
So with a vision of beauty and mystery, Murad aimed for the stars- from the jewels in the sky to the mythical goddesses of the 1970's. The collection was to bring to life this cosmic woman, whose individualism shone through.
As the brand described, the collection was divided into what could be perceived as the four qualities it stood for- Stellar Shades, Lunar Sunlights, Celestial Bodies and Fatale Attraction.
The main transition that occurred was that of colour. The show opened in tones of black, drawing on the notion of mystery, for the galaxy is still a place of the unknown. It then shifted into tones of maroon and red, playing on seduction and our desire. Red soon turned hues of blue, which was the turning point in the collection from mysterious to tranquil. Finally, it shifted to beautiful tones of white drawing on the perceived colour of a stars light.
Silhouettes of the collection were feminine and flattering. Dresses ranged from being elegant and voluminous with full skirts, short and playful to slimming and oh-so sexy. In keeping with the tradition of feminine style, each look was nipped in at the waist.
When it came to fabric Zuhair Murad did not hold back on variety or luxury – dresses, capes and shawls of silk tulle, georgette, crêpe de chine, organza, velvet and olympian furs. Yet let's not forget the detail in embroidery and beading all of which turned beautiful dresses into dazzling stars.
Zuhair Murad aimed for the stars and succeeded. Creating a collection that doesn't over analyse femininity but rather shows it strength. In a beautiful display, the brand proved that when you wish upon a Zuhair Murad star, a spectacular series of dreams do come true.