Modern times need a modern vision and Amanda Cosco has one! She founded Electric Runway a global platform covering the latest trends and inventions based on the intersection of fashion and technology. Mess introduces you the #FashTech Pioneer and gives you the know how for your own start up!
In an Interview we learn from Amanda Cosco how the Girl About Toronto' turned her multimedia passion into a successful career.
Born into a family of successful tailors she could have followed in their footsteps but Amanda is a free spirit. She describes herself as a storyteller and explored her creativity in a career path suitable to her.
Amanda holds a Master's of Arts from Ryerson University, a certificate of digital media skills from the Ontario College of Art and Design and received the highest honours in her Bachelor of Arts with a double major in English and professional writing. These distinctive talents paired with her interest in culture and society led her to journalism. Working freelance as a copywriter she finally could explore the world as part of her job. While she found her way of personal expression, a long term nine to five job didn't stretch her creative muscle enough.
Fascinated by the raising power of digital media Amanda started a personal project. In her spare time the lifestyle blog Girl About Toronto  became her own voice channel. Quickly Amanda's zest for life and creative interpretation gained her a huge followership. Blogging about the beautiful things in life opened up new doors into a high society, product promotion and marketing. Thanks to the wide reach of her site, the Girl About Toronto turned into a promising business. Amanda's first media publication was full of potential but for her it was also a trap. At the crossroad of turning Girl About Town into a business she took a step back. Her project was a matter of heart and in a professional way this kind of superficial exchange would not fulfill her.
→ Knowing what you want from life and striving for what you believe in is the first step to success! Maybe it's not the first door that opens up but for sure it's leading to the right one!
While Amanda revalued what she wanted from her work to enrich her life, a matching opportunity came across. For her job she happened to report about technology and consequently she was asked to curate a wearable tech runway show. For this project Amanda joined forces with fashion designers and technologists.
She always loved the idea of wearable tech but observed how gadgets failed to be integrated in a meaningful way. Her thinking outside the box and integrating technology into wearable textiles hit the nerve of the time! The curated show called Electric Runway developed from an original 5 minute schedule into a professional catwalk presentation of 20 looks! The event was a huge success and and Amanda discovered an appetite for #FashTech! She saw the potential and founded Electric Runway, a platform created for an audience curious about the intersection of technology in the modern world.
→ Be open for new opportunities, dare to experiment and explore different fields of your interests. Interlink business and personal interests. When work turns into a project of passion it will be easier to go beyond what is expected and we achieve more!   
This certainly applied to Amanda. She found her niché and was ambitious to create a business. But how did she turned her vision into a resourceful product? Fashion and technology have been around for quite some time. She has not invented #FashTech but she discovered a holistic intersection. Wearable technology is widely used in the form of gadgets but Amanda observed how they fail to integrate in a meaningful way. While they function as gadgets they are lacking any emotional attachment. She realised that fashion and technology have been stuck in their own development for a while and inspired by the maker movement she wanted to disrupt them in order to innovate. While Amanda aimed to integrate them in a more relevant way she also acknowledged she isn't a physical creator. This is where she stands out from the many entrepreneurs, knowing not just skills but her deficits. Her career taught her that while you can be interested in many things you can't be an expert in all of them. Electric Runway became her ambition and creating a platform merged her skills, experiences and personal interests.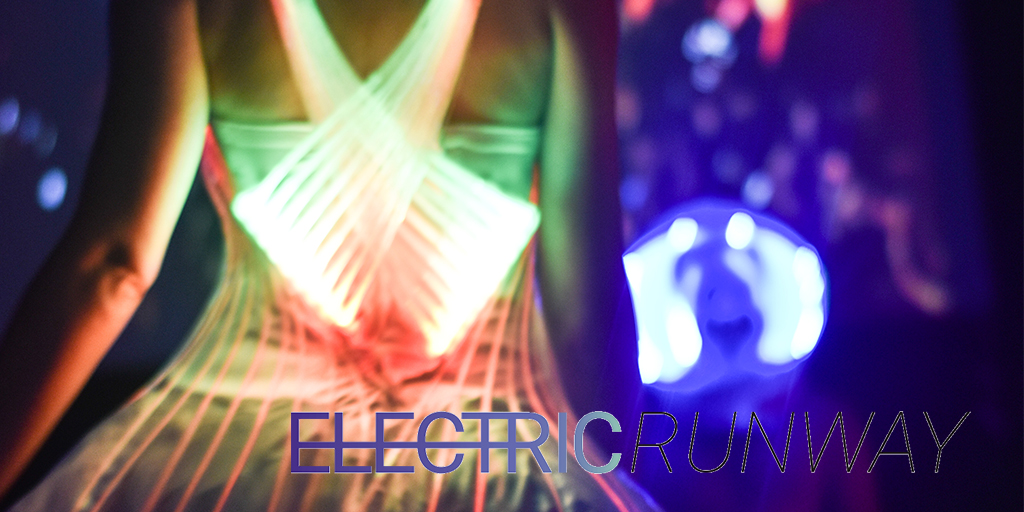 → You found your niché too? Feel the pulse of the society! A successful business has to go beyond personal interest! So question whether something is global and long term relevant.
Her extensive contribution in #FashTech proves her right! Amanda shifted her focus from the vast cultural journalism to pioneer one. Electric Runway is not just a blog, it is a physical and digital business, a source of inspiration, an accessible community and knowledgeable conversation partner.
→ Know your unique selling point and become an expert in the field. Create a business concept that is as relevant to you as it is to your market. Continue to explore your interests and find new ways to express them.
Today Amanda Cosco is an expert in the field of #FashTech. She still works for various publications and reported on every topic from wearable tech, smart fabrics, cyborgs, hacking hardware, wearables for women and next-gen retail. Beyond this she is a critically acclaimed consultant and regular speaker and moderator on #FashTech events. She also served as a foreign correspondent covering Silicon Valley's first-ever fashion week in 2015. There is much more to come, endless possibilities, constant inventions and we know for sure Amanda is not the person to stand still either.
→ The future is yours! There is no limit to imagination!