MESS meets Muchaneta Kapfunde founding editor & WearableTechStylist of FashNerd.com
FashNerd is the go-to destination for audiences thirsty for fashion and lifestyle technology! We learn from the business women how she merged her skills with her interests and turned into a successful entrepreneur!


Hello Muchaneta! Can you tell us some more about the person behind the business woman?
M.K: I would describe myself as someone with the kind of drive that is fuelled by my insatiable appetite for technology and my passion for fashion trends. Naturally I have a go getting attitude, that exists in both my private and public persona!

Your go getting attitude brings you along way! Where does your drive comes from?
M.K: My parents raised me believing that nothing is impossible as long as you are willing to put in the work. Their words have stayed with me throughout my career and positively influenced how I have tackled challenges and also how I was able to hit the ground running when it came to making the best of opportunities on offer.
You had a substantial career as freelance writer and PR consultant before founding FashNerd.com. Have you had a career plan or was it a sequence of opportunities taken and many interests that led you to where you are today?
M.K:  Believe it or not I was headed towards gaining a law degree, but at university I found myself drawn to media instead. After graduation I made sure that I took advantage of opportunities available to me and that if none were available I created them. I knew what I wanted and I made sure that I went after it with success in mind.
You worked in fashion throughout your career but when and why did technology became a part? 
M.K:  Fashion Technology was the obvious next step for me in my fashion career. I have always had a natural curiosity of the role that technology could play in the fashion industry. Unfortunately what I found was that there was nothing out there that communicated technology in a fashion voice, and that is why FashNerd.com was born.
When it comes to what excites me most about technology, it has to be the role that it currently plays in fashion's future. The industry is finally realising that they can use it as a tool to make clothes that will be able to improve the quality of life for consumers in a way that we never thought possible.
How did your business idea of intersecting fashion and technology come together?
M.K: The business idea of intersecting fashion and technology came together in a way that was unexpected. Created by myself and co-founder Mano ten Napel, FashNerd.com objective was to unite pioneering minds from fashion, lifestyle & tech space. With both Mano ten Napel and myself at the helm, FashNerd quickly developed into one of the fastest growing digital magazines within the Fashion Technology space.
When you founded the platform FashNerd what gave you the courage to start up your own business?
M.K: Knowing that there was a need for such a platform was what drove us to start FashNerd.com. Naturally we are both big on thinking outside the box and we believe it is because of this that within 12 months our community grew from zero to over 40K.
What was the most unexpected hurdle you had to tackle with FashNerd? Can you ever be prepared for such a challenge? What is your advice to young start ups?
M.K: The most unexpected hurdle that we have had to tackle so far was finding fashion tech writers who are passionate enough about the merge to want to write about it. With fashion technology still in its infancy, we learnt that fashion tech writers are at the moment a rare breed. We now look forward to the pool of talent maturing.
When it comes to advice for young startups, I would tell them to be prepared to be a Jack or Jill of all trades. As a start up it is inevitable that you will have a lot of balls in the air all at the same time, so you should be prepared for a few of those balls to fall. Also you must be willing to step out of comfort zone and do tasks that you might not be used to doing.
You are recognised as the leading influencer writing about Fashion & Lifestyle Technology. How would you define your job?
M.K: I would define my job as challenging yet rewarding, demanding but necessary.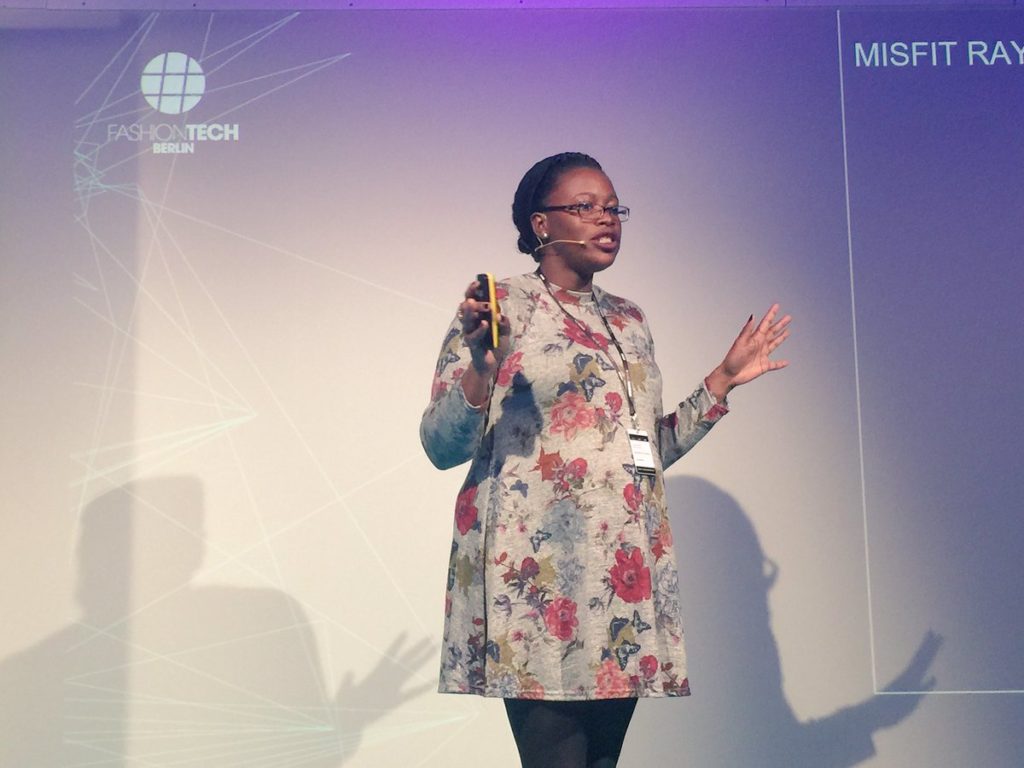 Can you give us an insight in a typical work day and activities?
M.K: When it comes to a typical work day at FashNerd HQ, I must admit that not one day is the same, which I love. That being said on an average day it can be all about emails, building relationships, connecting with our community on the social media, content management and sifting through press releases. We also have daily brainstorming sessions on what's going on in the industry, what new talent/startups we should be approaching and coming up with ideas of how we can become a better platform for the artistry.

FashNerd brings the world of technology to the mainstream consumer. Do you observe a change/development in the integration of fash tech?  
M.K: Yes we definitely observe change/development in the integration of fashion tech. We want the mainstream consumer to be familiar with technology and how it brings added value to their life. Nobody is more impatient than us to see technology explode in a way that will unleash consumer friendly fashion and lifestyle tech products that will eventually become the norm.


Do you feel that the world of technology is a male dominated business?
M.K: Yes the world of technology can still be described as a male dominated business, but change is taking place everyday. There are more positive initiates being set up on a regular basis that ensure that females entering the world of technology can do so with confidence that they are being given the tools they need to succeed.
So are there many female entrepreneurs and if so is there a sense of encouragement or competition?
M.K: I have met a lot of female entrepreneurs and so far I feel that although there is a sisterhood forming, there is also an underlying competition between women that is both healthy and and encouraging.
When it comes to female entrepreneurs in the fashion tech industry we must always keep in mind that #WomenInTech is more than just a trending hashtag, it represents the encouragement that exists in celebrating women making their mark in an industry that is notorious for being all about the boys.
You are the perfect example for a female entrepreneur. What has made you personally the proudest to date?
M.K: Definitely the launch of FashNerd.com
Looking into the future of FashNerd what do you hope to achieve in the next years?
M.K: We hope that FashNerd continues to be a platform that thrives on inspiring and stimulating the early adopters, the curious, the enthusiasts and the insiders. We want to evolve into being more than a digital magazine by continuing to challenge the perception that Wearable Technology is not fashionable. Besides
our continued support of the merge we also look forward to continuing to be the voice of lifestyle technology and championing the advances in IoT and the smart home. In this fast changing industry we try and stay relevant and ahead of the competition by remaining innovative in our way of thinking.