She told me I would love it and I did. When I met Meerim for the first time to discuss our fashion editorial she chose this place for a reason.
   It brought that emptiness to her that she could fill with her own ideas. I believe that it was one of the important factors when it came to choosing her office location. On the other hand Dongdaemun Design Plaza is very close to the fabrics market and as a designer it is very important to have access to materials. Another pleasant surprise is that this is the place where Seoul Fashion Week is held, believe it or not it gets very crowded.
   DDP was designed by famous designer Zaha Hadid and her neofuturistic inspiring design left me speechless. Right after our meeting I knew exactly what I had to do in ways which I could fill the emptiness. At first it felt giant and whatever you did you were a tiny particle in this enormous universe. Curved corridors led to spaceship like rooms, where you could conceive new ideas, trying to fill the room with your own concepts. Hadid's creation has echoes of an intimate emptiness that engages your ingenuity, a vessel large enough to nurture the soul by giving it space to thrive and henceforth create.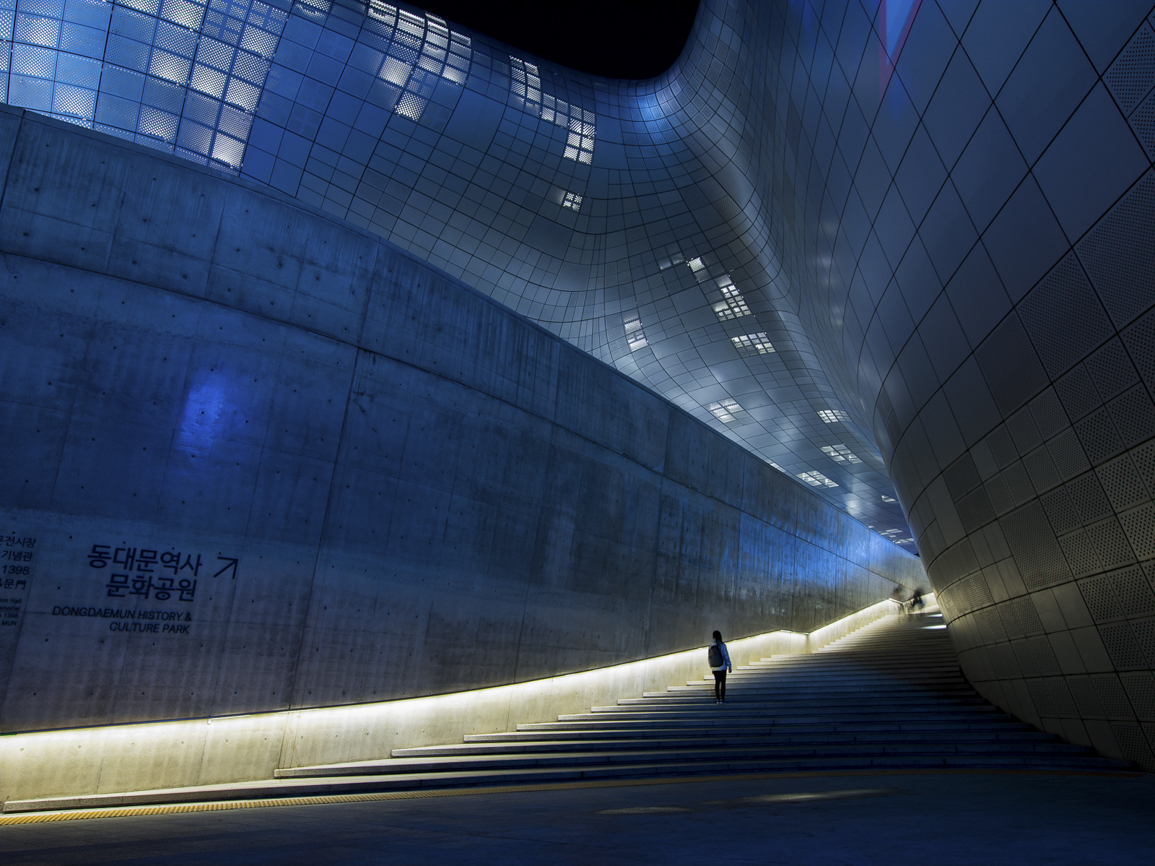 Artists are like aliens to other people and maybe this is why this design is so comforting. It feels like you go far away from reality becoming a blank sheet of paper that needs to be filled. The  atmosphere is incredibly important for an artist as what I think we do is reflect the reality through our own prism of understanding and perception, which is shaped by what we face every day, people that we talk to, things that we see. It is important to have a special place in your life for travel as it expands our perception of the world, it is important to keep it away from daily routine that can be damaging. Everyone is an artist, everyone creates his or her life, builds it from scratch and we all need that place where we can come to be on our own and sculpt, shape and form our own reality.
   Art is a form of communication, the universal language that we all can speak. The highest form of art it is the one that can become the platform for our own ideas and inspire to create new ways or explore different ways of interpretation. Because any piece of art is just an object if it not filled with meaning, it has no value and price if it delivers nothing. What Zaha Hadid has created for me is the platform on which I used to express my own feelings, a sense of loneness in this colossal universe in which we live. It made me understand the true value of relationship between people, it has shown me that creativity comes not only from the inside but from the outside and only by being open you can truly be creative.
Credits: Dmitrij Vasilenko©  @fashionphotographerabroad