Beyonce Wins Michael Jackson Vanguard
The Queen of RnB Beyonce has picked up the prestigious 2014 Michael Jackson Vanguard VMA following an extraordinary and lengthy fifteen-song medley of her latest album at this year's ceremony held in Inglewood, California at the Forum.
While she was doing her performance Jay Z was with their beautiful girl Blue Ivy in hand and the VMA in another presented the award to his wife, quashing the split rumors of Hollywood's most glam couple and putting on a united front for everyone to see.
 Bringing Queen B close to tears little Blue Ivy cheered "go mummy!" before Jay handed the award to "the greatest living entertainer".
Sexy Trio; Nicki Minaj, Jessie J and Ariana Grander Opener
Ariana Grande mixed Barbarella with The Fifth Element and TLC's No Scrubs her sweet yet sultry performance with Nicki Minaj's sexiest performance yet on stage singing Bobby Brown's "Humpin around" with Sir Mix-A-Lot's "I like big butts" remixed in was an amazing mixture of sweet and sexy. Add Jessie J's edgy and raw sexuality with her short dress and side slits cut up to her waist and exaggerated shoulders sets this performance apart from everyone elses!
This trifecta of brand new pop songs prove that Ariana, Nicki and Jessie are stating their claim of 2014 being their year. Plus, it had us even more excited for her "Bang Bang" official music video, which you can watch exclusively at bangbang.mtv.com right after the show!
Miley Cyrus' Deferred Acceptance Speech for Video of the Year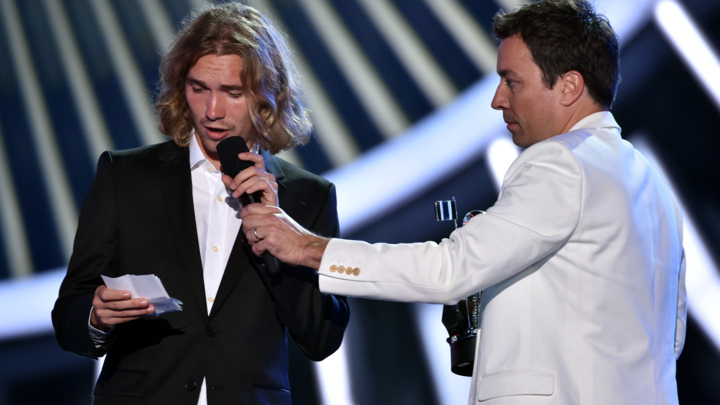 A lot of speculation has been said over Miley's deferred acceptance speech with critics saying it was a marketing stunt/publicity gag. But with a message as powerful as the one given media exposure is needed and no matter what Miley's intention an important issue is getting brilliant publicity.
Miley said on the VMAs red carpet that she hoped to leave a "different kind of impression" at the VMAs this year, as opposed to her dreadful twerking show-stopper last year – but nobody could've expected what she had in store for us.
When Jimmy Fallon announced she had won the Video of the Year she pulled a Marlon Brando and sent another person up in her stead.
This person was a homeless youth who introduced himself as Jesse, an ex homeless runaway who shared statistics about the enormous amount of struggling creative youths in the U.S and specifically, Los Angeles, where Miley has teamed with an organization called My Friend's Place to raise funds for youth outreach.
"A dream you dream alone is only a dream" Jesse said at the end of his nervously prepared speech. "But a dream we dream together is reality."
Sam Smith's Subdued Emotional Song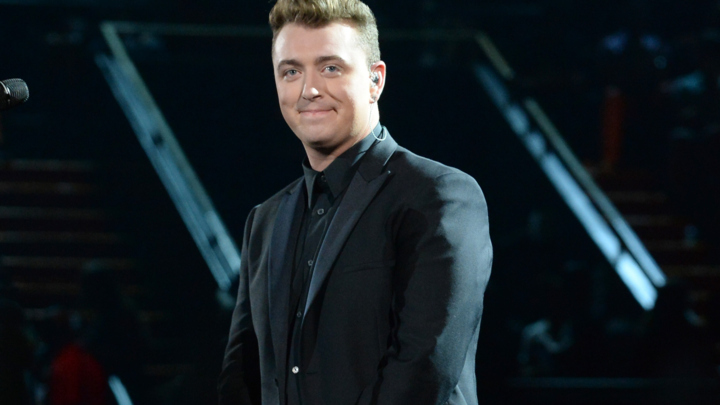 The VMAs are a telecast in relentless search of a retweet. Naturally, that leads to a concentration of spectacular, extravagant performances.
A reality that makes Sam Smith's melancholy and simmering rendition of "Stay with Me" a standout for all the right reasons. Stationed at a microphone, accompanied only by a keyboardist, Smith simple let his vocal cords do the talking – and smashed it. Dressed perfectly in a black suit, he sent that beautifully emotive falsetto through the crowd and straight to everyone's tear ducts.
Even his own. The best special effect was the ears in Smith's eyes as the song came to a close that revealed the vulnerable feelings behind those lyrics, and the broad smile that followed.
Jim Carey Tumbles for You
After Carey and, his dumb and dumber, co-star Jeff Daniels manly frolic to the centre of the circular stage. Carey is up to his usually funny and frantic antics when suddenly his disappears as he slips off the stage during their presentation of the Best Pop Video. When he popped back up he screamed "I meant to do that!" repeatedly and stated "We rehearsed that." To prove this he stopped in the middle of a cringe worthy trying-to-hard to be funny routine on his scarf to do it again!
He even ducked off screen, as if he fell again, before the nominees were announced. A lousy bit was saved by an impeccable showman and irrepressible goofball.