Dreamed in Bolivia and made in Perú, Juan de La Paz was originally founded in 2009 as a contemporary jewelry project in La Paz.
In the aim of timeless elegance, Juan C. Pereira and Andrés Jordan created a genderless space resulting from the reflection on sportswear and the native costumes of the Latin American continent. Their work focuses on the promotion of artisan communities and techniques through the exercise of contemporary design.
Juan De La Paz is specialized in the production of knitted garments made with South America's most luxurious natural fibers and talented hand.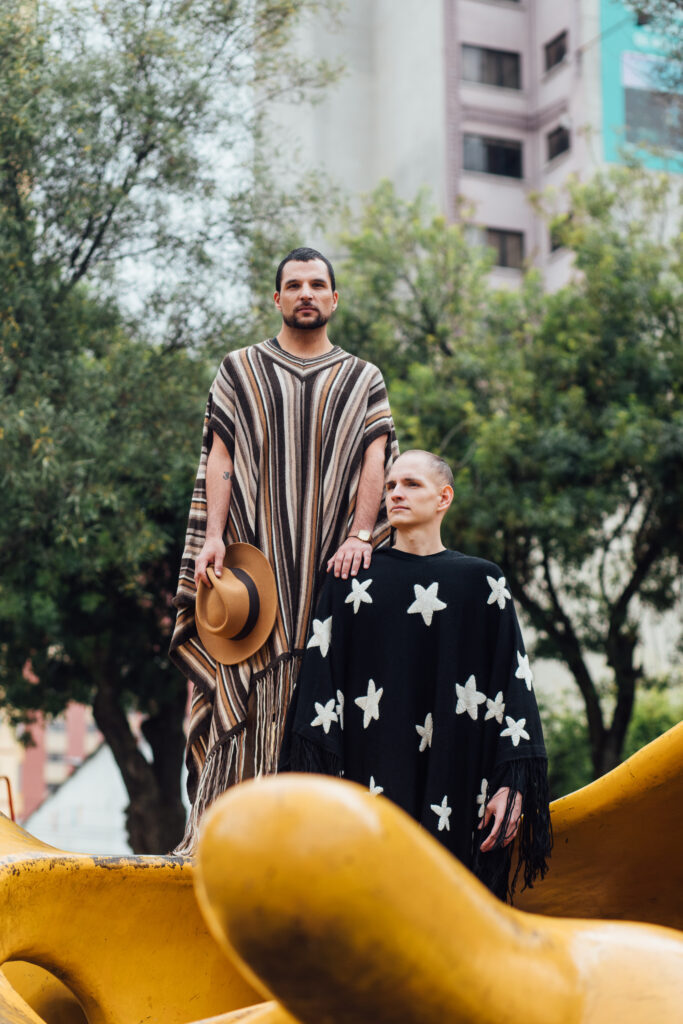 Dive into the world of Juan De La Paz with this Q&A with Mess Magazine:
What was your initial inspiration behind Juan De La Paz?
We set out to develop a luxury product based on the ancestral knowledge of the Andean region. In our regions, there are traditions and practices that have been able to continue for thousands of years, with weaving in alpaca being one of them. We see great value in it. The same with the fact of working with communities, natural fibers, and fair trade, are characteristics of the brand but also of the Andes.
What drew you to clothing & not other accessories?
We believe that clothing is an indicator of the times. We are inspired by the culture and history of our region, so we investigate the costumes of the past to understand current life and thus propose the new, reaffirming the typology and its origin.
What does empowerment mean to you and how does Juan De La Paz portray that?
For us, it is related to reinvigorating a culture through the valorization of ancestral knowledge and practices. In the same way, we work with women who, thanks to the fair trade practices we share, have been able to improve their quality of life, with many being the head of the household, which makes their husbands and communities see them with respect.
Can you give me a little background on the name of your brand?
Juan is a very common name in Spanish, we wanted to generate an identity based on the fact of "being" somewhere, of having an origin and making it explicit. Nobody tells you where he is from now before that data used to be mentioned for example. so we decided to "be" of peace. Being from a high, magical, and noble place.
Any advice for aspiring entrepreneurs? Especially making a mark in the fashion industry.
We are at a time when we must re-establish how we produce and how we consume in all terms. It is a priority to stop and think about the impacts of what we do.
What are some of your brand's main beliefs how did you come up with them /how does the brand incorporate all of these beliefs in the company?
Fairtrade
Our workshops in Peru certify fairtrade practices. We work with artisan women to vindicate and empower their community.
Slow fashion
Our garments are meant to last a lifetime, alpaca hair, and the quality we give in the workmanship guarantee to be heritable products.
Alpaca
We work our collections with natural fibers like alpaca hair. The alpaca farming and the shearing practices are totally harmless to the animal. Also, alpacas don't harm soil while growing.
Community 
In each collection, the brand aims to recover Ancestral textile techniques through collaborating with artisans and native communities.
Any exciting collaborations, projects, news we can look forward to?
We are going to collaborate with different artisan communities in the development of various lifestyle products, we are also going to collaborate with designer friends that we did in Global Talents Mercedes-Benz Fashion Week Russia.
What is one thing you want followers to take away from the brand as a whole?
The idea of ​​"the warm embrace of the Andes" is our ethos.
What are some of your favorite pieces?
Hand knitted baby alpaca Ponchos and track suites.