2015 is finally here and with a new year comes new ways to change your style, so here are the top 10 ways to change your style whether you're male or female.
Try a Turtle neck 
Thanks to Nicolas Ghesquiere's trend setting obsession with the 1970's, turtle necks are back in trend. They're especially great for those days that are a little colder as they can be layered easily or worn on its own. A great piece to have in your wardrobe for both male and female.
2. Save for that special item
Saving for a fashionable piece can transform your style this year, whether its that Chanel bag you've been longing for or that Armani suit you saw on George Clooney. You can make your fashion dream a reality by bringing lunch to work, skip the monthly manicure or even make money selling unwanted items.
3. Liven up your wardrobe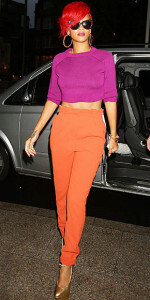 Why not enter 2015 with a bold statement, leave the black at home and liven up your look with a notice-me colour. If wearing bright colour isn't for you why don't you start with something small such as carrying a bright coloured bag, belt or scarf.
4. Reinvent your denim on denim
Denim on Denim isn't a new trend but you can totally make it new buy adding accessories such as gold jewellery or coloured shoes. Denim on Denim is also very popular amongst the gents too, a great way males can make this trend look new is by wearing different shades of denim to make to show individuality.
5.  Play with texture
Whether its a fur coat or a fringed jacket, bringing texture into your wardrobe is a good way to change up your style for 2015 and will be interesting for your outfit. Fur and fringing can be worn on both men and women at any time of the year.