5. Paris, France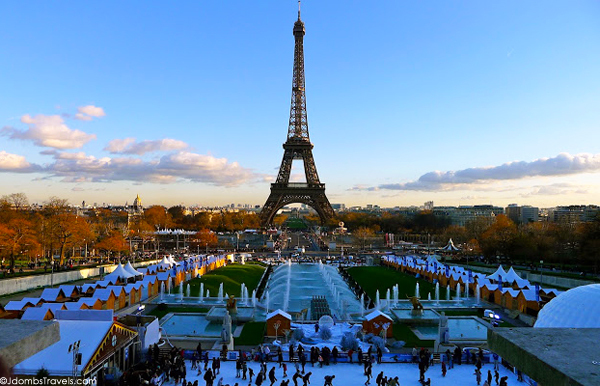 Paris is the city of love and this Christmas the city is already counting down the days until the festivities begin! From markets to shiny lights you will definitely be in for a treat this Christmas. One thing you must do when in Paris during the Christmas season is to jump on a carousel and relive your childhood memories with free carousels set up around the city. The department stores in Paris know how to create fabulous window displays, even if you don't end up going into the stores, its definitely a must to walk by and admire on the holiday check-list.
4. Zermatt, Switzerland
If you are interested in skiing this Christmas but are looking for a relaxing time to spend with family and friends, then the village of Zermatt is perfect for you. The streets of Zermatt are perfectly illuminated giving a magical feel to the beautiful mountains of Switzerland. The picturesque views of the alpine mountains covered in snow add to the outstanding beauty of Switzerland -relaxation is all you will want to do here in Zermatt this Christmas.
3.  Cologne, Germany
If you are a fan of the arts and crafts, food stalls and amusements at Christmas Markets then you will be in amaze with 7 different markets taking place in Cologne this Christmas. Our favourite has to be the Christmas Market at the Cologne Cathedral with its outstanding beauty when illuminated at Christmas time.  With over 160 wooden pavilions, Christmas wouldn't be Christmas without the traditional mulled wine, drank out of festively decorated mugs. Cologne's Christmas markets attract millions of visitors every year from all over the world to join in with the festivities. A Christmas experience that cannot be missed!
2. New York City
The most wonderful time of year is Christmas, so why not celebrate it 'big' in New York City. The New Yorkers definitely know how to celebrate Christmas with their stunning window displays, fully decorated christmas trees and lots of Christmas markets to keep you entertained. If you are heading to New York this Christmas, head down to the The Rink at the Rockefeller Centre  to visit the world famous christmas tree in the heart of the city . It doesn't get anymore wintery wonderland than this!
1. Lapland, Finland
So who would have guessed? Lapland had to be our choice for the best place to go this Christmas. With so much to see, from the Northern Lights to visiting the village where Santa Claus is based. Lapland is definitely a family trip to not be missed, or if  you and your partner are looking for a romantic getaway for a few days to Lapland and are looking for somewhere extraordinary to stay? The igloos at Hotel Kakslauttanen  are definitely something else, allowing you to experience the best of Lapland and it's magic. With the igloos being made out of thermal glass to keep you extra warm when watching the Northern Lights.