Virgil Abloh brought his American roots to Paris last Thursday in his Louis Vuitton Fall 2019 collection. Inspired by Rivington and Ludlow Street, Abloh represented New York's Lower East Side by opening his show with a saxophone performance and a theatrical scene of the daily life of a New Yorker. Including a backdrop only the truest of New Yorkers could love, Abloh's Fall collection took a darker tone in contrast to his spring show in June which showcased bright colors with a fun and lighthearted mood.
Among the classic "LV" prints, Abloh paid homage to the late Michael Jackson. Besides filling his runway with songs from Jackson's greatest hits, Abloh incorporated a collection of fedoras, loafers and white sequined gloves to pave the way for his inspiration.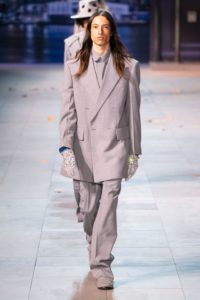 Adding his own touch to the designs, the Fall collection also featured Abloh's notorious puffer jackets, colorfully detailed handbags and multiple designs featuring the American flag—including an oversized scarf and a trench coat depicting the famous stars and stripes and the American flag itself hanging from the buckles of a black leather handbag.
Abloh closed the show with looks again inspired by Michael Jackson, specifically his "We Are the World" track. The final designs represented the cultural melting pot of New York City and showcased the countries, ethnicities and backgrounds in which American people come from. This included skirts and button-down tops stitched together by multiple flags.
Leaving his audience with something to remember, Abloh had also featured his newly designed take on the "LV" Keepall handbag along with the Fall collection. Described as kaleidoscopic, the new Keepall is designed with fiber-optics that glow different colors and has sparked quite a social media uproar. This latest installment of Louis Vuitton Menswear is only proof that there is no vision unreachable to Virgil Abloh.