In Conversation with the Founder of the Fashion Movement Remake, Ayesha Barenblat
Ayesha (@remakeourworld) is the Founder and CEO of Remake, passionate about telling the story of where our clothes from, the garment workers who made them and giving a voice to those unheard.
Remake has built a strong and thriving community who have made a pledge to buy better and #WearYourValues, committed to putting an end to fast fashion.
We have had the pleasure of interview Ayesha, discussing the story behind how Remake came to be where it is today, the power of social media campaigns, and how we can use our individual and collective voices to necessitate meaningful change. Remake truly believe fashion can be a force for good.
Hello Ayesha!
Could you tell us a little bit about your background and what inspired you to launch Remake?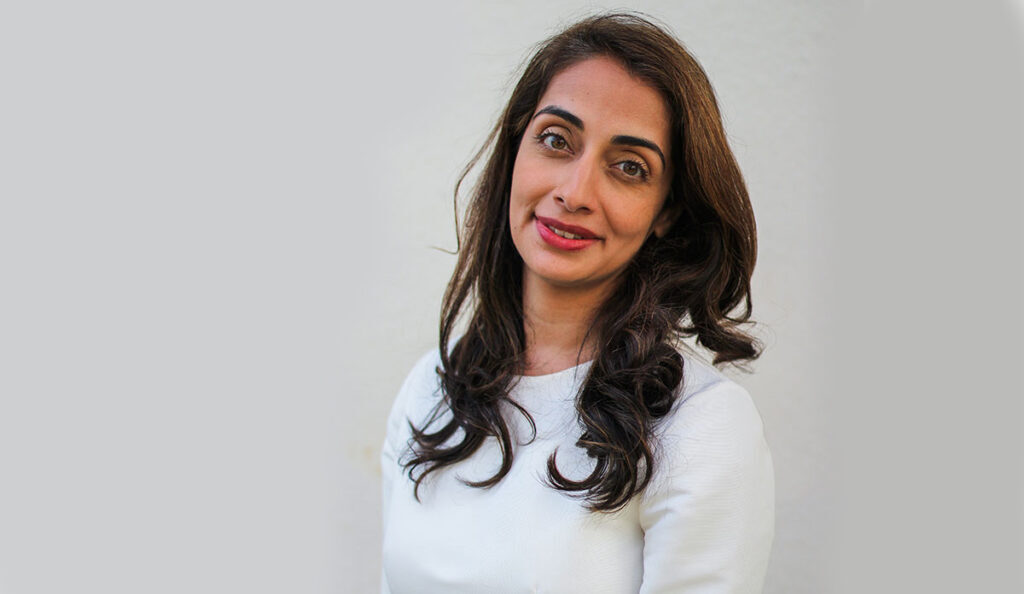 I grew up in Karachi, Pakistan, around a family that ran clothing factories. Early on, I understood the power of garment jobs to lift young women out of poverty. The fashion supply chain is one of the few industries in the world that mostly employs women, more than 75 million, most of whom are between the age of 18-34. Yet with the rise of fast fashion, I have also witnessed firsthand the damage cheap and disposable clothes do, particularly to women of color around the world.
Professionally I have worked over the last decade across brands, manufacturers, and governments to improve sustainability and human rights within the fashion industry. Then on April 24th, 2012 Rana Plaza fell down. I was working with the International Labor Organization at the time to improve garment factory conditions. As the death toll mounted, I watched the footage with growing horror and felt that I had to do more, sooner and faster. Working on the inside of the industry, I had always thought there was a missing piece of the puzzle – shoppers.
So I took a risk and founded Remake, whose mission is to ignite a conscious consumer movement to make fashion a force for good. I believe in the power of hopeful storytelling because behavioral science shows that people are not moved by a pain centered narrative. We become numb to bad news – be it sweatshop workers or refugees far away. It's hard for people to make a connection to these stories with their daily life.
I have had the pleasure over the last decade to have meals, laugh, talk and be awestruck by the women who make our clothes. These were not victims as the media paints them. These are incredible, resilient women often supporting upward of 5+ family members, leaving the safety of their villages to enter the big bad world of factory city life. I believe these stories, of the millennial maker, could spark a more empathic connection with millennial shoppers. With the power of video, virtual reality and social media we can connect in ways that were never possible before. I hope that the story told differently, may finally seal her in our collective consciousness, so we can start to ask more about who makes our clothes and to buy better.
In short, my background in fashion is both personal and professional. I have spent the last decade doing all I can to make the fashion industry more fair and just. As a Pakistani-American woman of color, I feel deeply connected to the women who make our clothes. For me this is not just work, it is my life's calling.
How effective do you believe social media campaigns such as #PayUp and #NoNewClothes are in driving and creating positive change for the fashion industry?
"Consumers are being heard and their demands are being met. The end result? Garment makers are able to afford food, housing, and are given a chance to survive."
Quite effective! In fact, it's been super exciting for us to see this new breed of social media activists who are demanding accountability and meaningful change within the fashion industry. In our opinion, social media has the ability to magnify and transmit the power of protest.
Because of social media, consumers can communicate with brands in ways they never could before. So as consumers seek action, many executives and brands are being held accountable for their behavior. In fact, some of the feedback we've gotten from brands previously listed as Unpaid on our PayUp Brand Tracker has been invaluable regarding the power of our online community.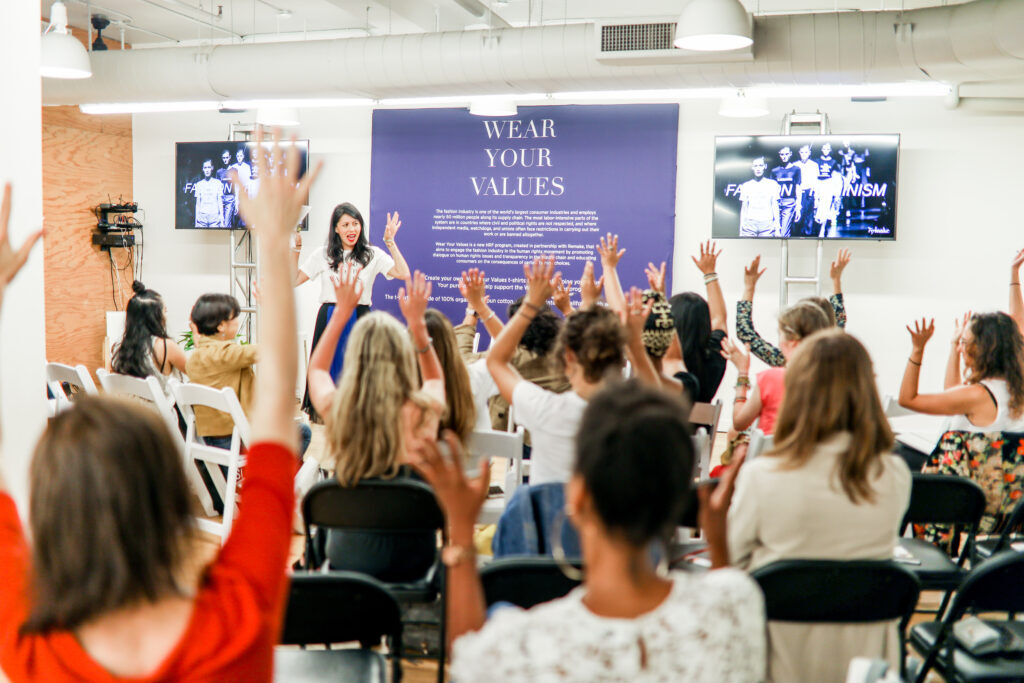 "We want to shift the conversation from boycotts and cancel culture to accountability."
Image Remake
We've heard that communication and PR departments from Unpaid brands so overwhelmed with comments, requests, and demands to #PayUp, nervous to even post about a sale, had no other choice than to go to company heads to pressure change and #PayUp – which is wonderful news! It's great news because consumers are being heard and their demands are being met. The end result? Garment makers are able to afford food, housing, and are given a chance to survive.
One thing that we do want to note in regards to social media is that we want to shift the conversation from boycotts and cancel culture to accountability. What we're here to do is pressure brands to admit to their mistakes and commit to real change.
It is clear that community is incredibly important to Remake.
Did the community of Ambassadors involved in the fashion movement at Remake happen naturally, or was it something that you consciously tried to implement from the beginning?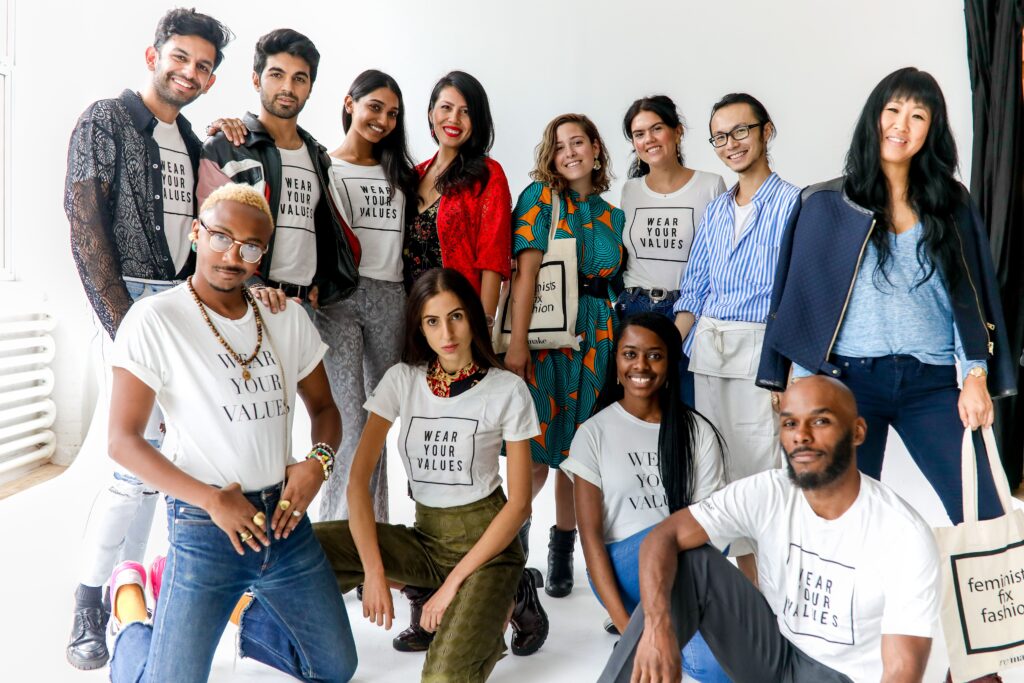 It 1000% happened organically. In fact it never donned on us to create an ambassador program at first. The program really stemmed from people coming to our events and reaching out on social media asking for ways that they can get involved in our community.
We attribute a lot of our success to our Remake Ambassador community. In a way, they are the true heartbeat of our organization, taking the lead in our #WearYourValues movement, where they're constantly engaging their own communities in thoughtful conversations about the women who make our clothes and the environmental impact of the fashion industry. Without our ambassadors, we wouldn't be who we are today.
In addition to our ambassadors, we've had the opportunity to work with some amazing influencers, organizations, activists, and brands who truly support the sustainable fashion movement and have helped us spread the word on #PayUp and #NoNewClothes. It's been really inspiring to see industry insiders and fashion influencers write to us letting us know that they've chosen to no longer work with brands whose values do not align with theirs because of our movement.
In my opinion, it's that kind of courage that keeps me going. It solidifies the fact that people want change and are willing to risk their livelihoods in order to provide her, the women who make our clothes, a better future.
Remake believes change happens as a result of individual action, however, so often people believe that their individual action will not make a big enough impact.
What can we do as individuals to help 'make fashion a force for good' and combat fast fashion?
Governments, brands, and factories should address issues in sweatshops, but consumers need to be a part of the movement too- we all play a part in shifting the industry for the better. The fact is, companies respond to the demands of the consumer, and they will prioritize what the consumer wants. Their every decision revolves around you (the consumer) and your decisions on where you will spend your dollars. If enough consumers show a great demand for ethical and sustainable products and transparency, it forces companies to take action. Companies are motivated by good business decisions, and as consumers, WE are the source of their business. If we shift our shopping habits, we are sending a message that we have different demands. Moreover, we live in the age of social media, where brands can be influenced by consumers through a Twitter or Instagram movement like our #PayUp Fashion petition. A strong campaign can make or break brands-sometimes overnight. If enough of us approach these brands and ask them to prioritize responsible production, they will be forced to take action.
Be curious and don't be afraid to speak up – challenge your favorite brands, ask them questions like who makes your clothes? What are factory conditions like? Corporate environment? Can they break down their pricing? Transparency should be key when making a buying decision.
In terms of tips I'd say first let go of the guilt. There are big and small ways, regardless of your wallet size, to "wear your values." Some ideas include:
Taking stock of what you own. Are piles of clothes sitting there and making you unhappy? only keep what you think you will wear at least 30 times and host a swap party for the rest. The next time you want to buy something consider this: will you wear it at least 30 times? If not it's best to walk away. If it costs less than your cup of coffee, know that women were exploited in making the piece and, again, walk away.
Embrace preloved clothes: there are amazing vintage, rental or consignment options. Consider "shopping" in a good friend's or sibling's closet (don't forget to ask first!).
Care for your clothes like the good friends that they are. Wash on cold, line dry, skip the dry cleaner and mend… Do remember to invest in quality, not quantity. Follow us on social media @remakeourworld and subscribe to our newsletter to stay in the know for sustainable fashion news, tips, tricks, brands, and how-to's.
Remake have taken us to various different locations in your Made In Series, in which you meet the makers of our clothes, amplify their voices and tell their stories.
Did you learn anything that changed your perspective on the fashion industry?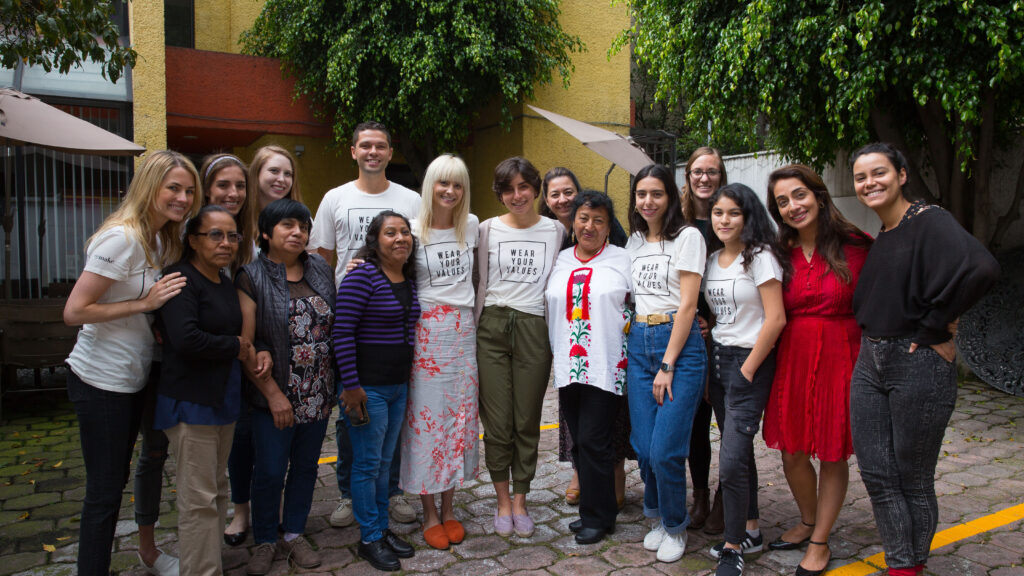 "The fashion supply chain is one of the few industries in the world that mostly employs women, more than 75 million, most of whomare between the age of 18-34."
I never really realized how much women dominated the workforce of the garment factory industry. Unfortunately, the working environment for many of these women includes pervasively low wages, untenable hours, sexual harassment and violence and hazardous health conditions. This takes a significant toll on the physical and mental health of the women who make our clothes.
Fast fashion is inherently violent given its focus on trends, fast turnaround and cheap prices which results in unpredictable and long hours at rock bottom wages. In essence, cheap clothes mentally and physically exploit women and engulf generations of women into a cycle of poverty.
On every Remake journey, the women we meet tell us that they are sacrificing their own well-being to keep their children in school and secure a better life for their families. Yet, she is making barely enough to pay rent and put food on the table. I remember a story of one woman that haunts me to this day. Her garment job paid her so little, that when she had a tooth ache, she had to take out a predatory loan and take up sex work on the side to pay the loan back.
What is the biggest message that you have taken away from this experience?
The women who make our clothes are just like us – they're mothers, wives, sisters, friends, daughters, aunts – you name it! We can support the women who make our clothes by learning who they are, listening to their stories, and remembering their hopes and dreams are no different from ours. When we wear our values, we support brands that support these women.
What's next for Remake?
Aside from continuing to grow our ambassador community and launching #NoNewClothes again this summer, we'll be concentrating on two specific campaigns this year. The first is the #PayHer campaign where we'll be raising awareness in hopes to help pass The Garment Worker Protection Act / SB 62 in California. Currently, due to loopholes in the system, the average hourly wage for garment workers in Los Angeles is $5.85 which is far below the minimum wage of $15 per hour. Passing the bill would be a landmark step towards ending our modern sweatshop regime. Not only would it end piece-rate pay and wage theft enforcing a minimum wage for factory owners but it would hold brands accountable to garment workers in the eyes of the law.
The second campaign, #ShareYourProfits, raises awareness surrounding the extreme wealth inequality in the fashion industry and to show that, yes, fashion brands and their billionaire owners can easily afford to create a social safety net for garment workers and increase pay to living wages. According to PayUp Fashion research, most large apparel brands returned to earning huge profits by the end of 2020 and many of their billionaire founders increased their wealth while workers suffered. #ShareYourProfits aims to build community support for our 7 Actions, including Action 2: Keep Workers Safe (which demands a social safety net for garment workers) and Action 6: End Starvation Wages.
For more information on both campaigns and to support the causes, please sign the PayUp Fashion petition which can be found at www.payupfashion.com. In my experience, I've found that for true change to happen it takes grassroots organizing. We the people are powerful – in how we vote. And we forget that we can vote every day with our wallets, by signing petitions, and by using our voices to drive positive change each day.
---
Thank you, Ayesha, for sharing with us the story and values behind Remake and showing us how, when we care for people and our planet, we can truly transform the future of fashion.
If you want to get involved and make a difference, join the movement here.