On Sunday July 5th, 2020 Balmain re-structured the vision of the traditional fashion show while the world is on lockdown. Creative Director of Balmain, Olivier Rousteing sent a cruise ship down to the iconic Seine River to stage Balmain's latest couture show.
The idea of 44 models on a cruise ship for the world to see runs contrary to the typical way we envision Paris Couture Week to look like, when it's flooded with fashionistas, journalists, buyers and influencers from around the world. Couture is as exclusive as the guests who are invited. The most expensive fashion that money can buy, pieces run from $20,000 for ready-to-wear to $150,000 for a gown. Hardly imaginable for most people to see or wear. Most people would be freaking out for a garment of that price tag to risk damages from the elements.
Olivier Rousteing took the highest form of fashion, couture, and made it public one of the many reasons Balmain's "Sur Seine" a revolutionary fashion spectacle.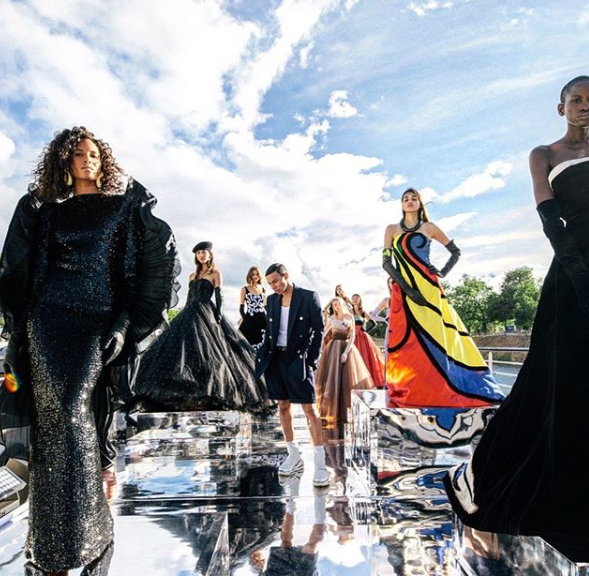 Other than the footage available on platforms like YouTube, Twitter, Instagram and Facebook. The show was set up by having a live stream on Balmain's TikTok account, which is a big first for any major fashion house. Usually fashion influencers dominate the TikTok, now a major fashion house has jumped on board.
The importance of going digital is a way for a brand to communicate with the fashionable fans. However, the vast majority of the followers cannot experience an actual runway show.
According to the CEO of Balenciaga, Cederic Charbit, "Each season the brand invites about 600 guests to experience its physical spectacles at Paris Fashion Week. Over 8,000 people watch the shows live on YouTube, 60,000 watch on Instagram, and 300,000 discuss the shows on twitter."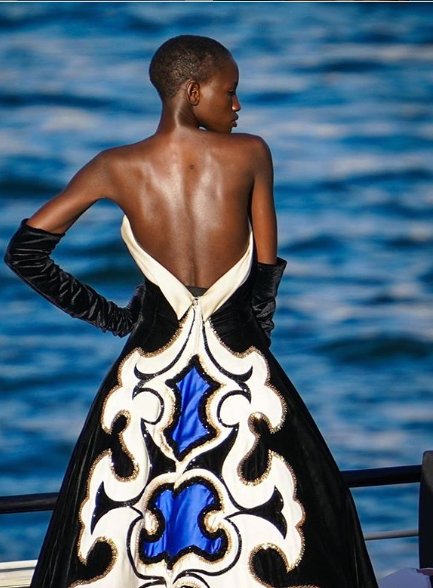 Based on those statistics, 600 is too many people to fit in one setting during the pandemic and there are too few people that are invited to physically see a fashion show. The number of fashion lovers outnumber the guest attendance. When Balmain presented their collection down the Seine, it leaves room for many more than 600 while maintaining the social distance, afterall the seine is 483 miles long.
Imagine if more fashion houses across the world did this, no more would a certain type of audience need to travel to see fashion. Any kind of person can witness a show by chance and learn to appreciate fashion beyond boutiques, social media, department stores and e-commerce.
Olivier Rousteing hinted his desire to make fashion more democratic when he joined Vogue Global Conversations back in April 15, 2020:
"600 people is not representative of the community that we have… We cannot have 10 million people in our room but we can make sure for the 10 million we can give them an experience that is grand, stronger and different than what we give today."
The cruise coming across the Seine river provides anyone with access to see the models, whether it's a passersby by the bank, walking on a bridge, bicycling across town to see a hint of fashion. Even if it isn't the best view to capture every detail of a garment during an enclosed runway show. Instead of the exclusive right of an invitation to see a show or anyone who travels to France to see the show. Anyone who happened to be in France, on July 5th, 2020 by the Seine had a chance of seeing Balmain's cruise. This is a game changer because we're already aware of the amount of fashion crashers like Marie S'Infiltre at the Chanel Spring/Summer 2020 show where Gigi Hadid had to boot off the stage!
Not only was the cruise a presentation of a new collection this year, but it marks signifigance in Balmain history. Pierre Balmain founded his namesake brand in 1945 after serving his draft in the military during WWII. Balmain is celebrating the 75 year anniversary while being fully conscious of the current battles that haven't ended since WWII. The globe is still facing issues of racial and socioeconomic inequality, and Balmain under Rousteing is trying to address these issues through his runway.
"As we all know, other struggles continue. Renewed calls for justice and equality—heard on streets all across the world today—are in reaction to tragic losses, but their growing strength and force allow us to dream of the possibilities of long-delayed changes, pushed forward by a newly energized and impressive mix of young, determined and diverse voices" Olivier Rousteing said on Instagram.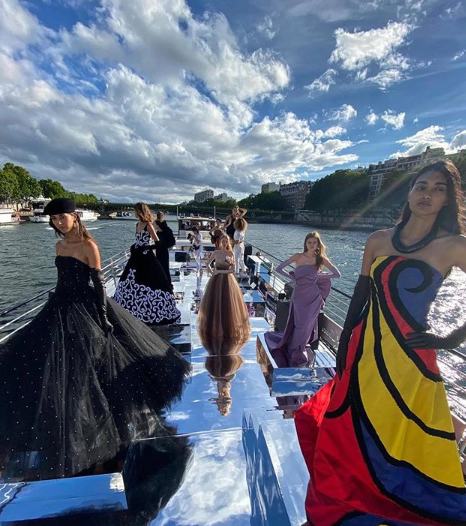 The show mixed factors of COVID-19 and BLM. Each model did keep a 6-feet or 2-meter distance from each other while showcasing the new Balmain collection. Their movements were loosely inspired by Black Lives Matter, Rousteing worked with the art director Andrew Makadsi to bring Jean-Charles Jousni's choreography (he famously worked with Beyoncé) with a musical accompaniment by French singer Yseult into the cruise All of the model movements and poses represented justice and equality.
Rousteing is the leading man in the race of a publicly spaced fashion show. This is one step to bring fashion during a time of crisis while further democratizing the industry. May Olivier Rousteing continue to be bold in his creativity and have more fashion houses follow his lead.