Before designers collaborated with the high street, it was art that took centre stage with fashion. From Andy Warhol to Salvador Dali, we go down our top then fashion meets art collaborations in the past 100 years.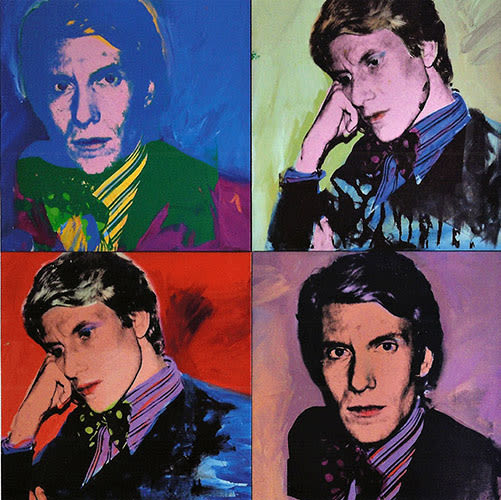 Andy Warhol x Yves Saint Laurent
Andy Warhol is the king of pop art. Mixing his work with big names of his time was a big statement to his own movement. With his famous 'Marilyn Diptych' featuring Marilyn Monroe, Warhol has inspired hundreds of artists and designers with his work.
In 1974, Warhol came together with the young Yves Saint Laurent  to create a 4 piece portrait  silkscreen image, exploding with colour. This work shows the reflection and connection of fashion ad art in the industry at the time.
Raf Simmons x Sterling Ruby
For Fall 2014, Raf Simmons was hugely inspired and worked by Sterling Ruby's bleached out clothing and fabrics. It was about recycled art, and made a huge impact for the season. Sterling Ruby announced this is the affordable way to own his work, more affordable than his own work.
Damien Hirst x Alexander McQueen
Hirst is known for his piece "For The Love Of God", a silver embellished human skull head, consisting of 8,601 diamonds. With skulls and birds being McQueens motif, it's so surprise both brand and artist collaborated. In November 2013, scarves designed by both sides were released followed by a short mini-movie. With the theme of skulls, butterflies, nature and symmetry a total of 10 scarves were designed, sold all around the world.
Salvador Dali x Elsa Schiaparelli
In 1938, surrealism met fashion creating the skeleton dress. Quilted and styled to the rib cage, leg bones and spine of a person, the dress holds sophistication and class. Designed for the Circus Collection, this dress has inspired hundreds of designers today.

In 2012 Rob Pruitt and Jimmy Choo came together for a one off collection. Pruitt is also known for his Andy Warhol Monument as well as his contemporary art. The collection includes a range a of clutches and handbags, with stripes, bold colours and embellishment.
"I think that my art really comes alive when it's activated in these kinds of ways. I would feel terribly sad if it only hand an existence on the wall of galleries, and hopefully, museums." – Pruitt (Complex style)