Some celebrities have it all the money, the power and the talent, but unfortunately when it come to fashion their abilities can sometimes decline. Now that we are 7 months into 2015 its safe to look back and reflect on fashion faux pas, whether it was a casual outing or red carpet event we're not holding back.
Dencia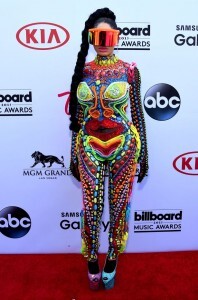 The 2015 Billboard Awards saw a lot of celebrities that graced the red carpet with their amazing style and others that looked not so amazing, and unfortunately Dencia had to be one of them. The Cameroonian born singer wore a black mesh jumpsuit that had colourful beads sewn onto it, making her look like a walking advertisement for skittles. She then paired the outfit with different colour shoes and some odd looking sunglasses. Sorry Dencia but it's a no from me.
2. Joy Villa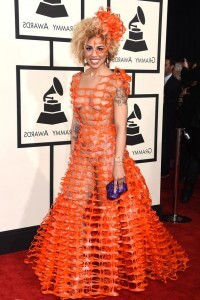 Earlier this year the singer Joy Villa definitely turned heads at the Grammys, unfortunately it was not for the right reasons. She wore what only appeared to be the bright orange mesh used for construction as a dress and also made the effort to make a head piece from the mesh. Joy accessorised with a pair of studded heels and a blue clutch bag. The fact that she wore the outfit with nothing but nipple tape and a thong underneath made it even more quirky.Despite the terrible outfit we do have to say the hair and makeup looked amazing.
3.Will.I.Am
Will.I.am attended this years star studded Oscars looking very casual, and its not surprising that he ended up on our worst dressed list as his unique style is either a hit or miss. The musician who also performed at the award evening wore a collarless shirt which consisted of white, red and navy vertical stripes, a black jacket, rolled up trousers and studded leather shoes. Will.I.am then topped off his already bad outfit with a train conductor type of hat and thick square clack glasses. Seriously Will, where is the love?
4. Marion Cotillard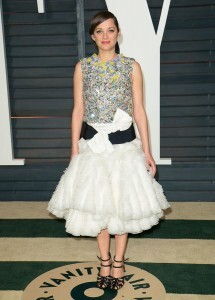 Marion Cotillard attended the Vanity Fair after party where she wore a Giambattista dress but unfortunately the dress didn't look as good as it did on the runway. The dress was overly fussy and reminiscent of a swan and made the french actress look like she was sitting on a cloud. This was not the right dress.
5. Madonna 
Now we know Madonna is no stranger to head turning red carpet looks, but this year at the Grammy awards Madonna made sure that all eyes were on here. The singer definitely made it on our worst dressed list after going over the top in the Givenchy ensemble. She wore over the knee boots, fingerless gloves that went over her elbows and a lace bodice complete with a pink silk trim and black embellishment. All the components together would only create a disaster.