Reflection of a unique existence and concept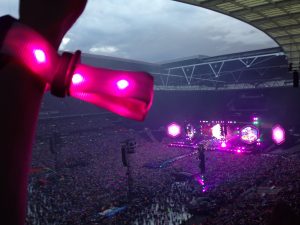 A band formed in another sphere – before the 21 century and ahead of their final name and group.
Have you ever heard of Pectoralz or Starfish? In 1996 college friends Chris Martin, lead singer and pianist and Jonny Buckland, guitarist started this band called Pectoralz. During a period where passionate musicians had a chance to learn, test, develop and form into an authentic band – offscreen.
But what is a band without a bassist? When Guy Berryman joined the duo the band rebranded as Starfish. It was not just a time with space to grow together but when band members had an impact on the musical identity.
In a two year long process and with Will Champion, drummer and backing vocalist finalising the band in 1998, the band Coldplay was formed.
This all happened in a time when the making of a rock band was not a TV show but a work process. Is it therefore the pure music with its definitive characteristic that distincts Coldplay and makes them a rare species nowadays? But if so how comes that they did not extinct in a culture that progressed into the age of technology? Is music enough in a world of digital effects, social media, youtube, streaming and  downloads?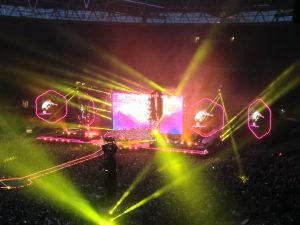 In an instant society where the presence means past and the future became presence what draws thousands into Wembley and makes them listen for hours? Coldplay exists over two decades; they grew by selling CD's and without digital platforms. Steady they transformed into this internationally acclaimed British mega rock band and somehow they managed the impossible and stayed relevant.
The sensitive rock music touches tastes universal but how does a world tour sells out within seconds? If you have ever been to a concert you will know about the Coldplay effect; old and young, modern and traditional, poor and rich, introvert and extrovert, football fan and sewing bee, this is the place where the human characteristic is the only connection that unifies them all.
The moment the concert start it's a holistic experience; human talent harmonised with technology.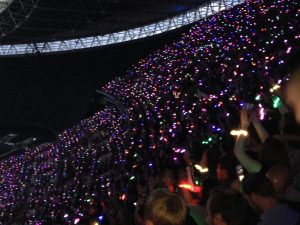 Like a kaleidoscope, a simple connection of human creation with the senses.
Lighting, digital effects and set design support every song and astonish the masses.
People reach out their arms and the digital wristbands handed at the entrance are changing colours to the music. A singing crowd is in touch with senses. It's a live interaction in a digital world.
A real instantness and an exclusive moment not possible to capture on a camera. The uniqueness of a live life effect. Emotions against a computer numbness. In an universe of digital magic – back to human.