And there we go…another Fashion Week season which will be held in the digital, navigated from the coziness of our sofas and without any kind of exclusive and resource-wasting events.
You probably can already sense that I have never been the biggest fan of the fashion schedule. Why would a whole industry put half of its employees and ship them to one particular place (mostly Paris or Milan actually) to then fight over the attention of prepaid 'street style' photographers and a silly seating hierarchy? It's absurd what environmental and probably also mental consequences come with the outdated and artificial staging of magic and glamour. Still and even in the middle of a pandemic we are not willing to let go though, the industry is clinging on to all kinds of versions of what used to be a fashion month.
Berlin is probably the best example of this. After the cities big trade shows announced last year that by 2021 they will go off to the capital of business and form the new Frankfurt Fashion Week, we were all wondering 'What's with Berlin?!'
Now we got the answer – Berlin Fashion Week is here to stay and to add some fascinating dynamics to their agenda.
Fashion Open Studio is a showcasing initiative by the one and only Fashion Revolution. The unique online concept aims to connect the industry honestly and transparently. The goal is to give designers the chance to showcase their work and have a platform to communicate their values, aside from the silly expensive, and over-saturated outlines of conventional fashion weeks. Conversation, transparency, and accountability are the basics of this concept, all values very much fitting to the Berlin way of fashion.
This week you will be able to find an amazing collection of events and inspirations through the Fashion Revolution initiative. January 19th is defiantly the day when you should make yourself comfortable on your sofa, have some sweet delights by the new Copenhagen style bakery spot SOFI ready, and settle in for da day of knowledge exchange and fashion activism.
After the kick-off event 20 designers in 20 minutes, a Pecha Kucha style presentation on more responsible fashion inspirations, you can stay right online for the amazing EMEKA feature.
EMEKA is a black and green business (I love this description by the founder Sydney Emeka Nwakanma) taking up the conversation of donation clothes in developing countries and how the flood of textiles that get send to the global south sometimes destabilizes economies and fosters power structures that actually should be gone a long time go!
The brand sources fabrics which are upcycled in mostly Kenya to then create customized or ready to wear suits. This way EMEKA is not only producing special and unique aesthetics but also provide possibilities for employment in the East African country.
Your evening program for January 19th should start at 6.30p, maybe with a little glass of something non-alcoholic by Berlin's first sober Bodega NÜCHTERN. The evening talk by FOS is a real gem, and no other than Orsola de Castro (founder and creative director of Fashion Revolution) and Dio Kurazawa will discuss with other guests new narratives for luxury fashion and how high-end fashion can stay relevant through heritage. Dio is a founding partner of The Bearscouts, but also an advisor to powerhouses such as GANNI or Copenhagen Fashion Summit and a true inspiration!
On January 20th Fashion open Studio has the perfect lunch break entertainment for you. Follow the initiative on IG to get a glimpse into the creative process of ANEKDOT. Berlin's sexiest underwear label was created based on the need for lingeries which is ethically and responsible but also hot af!
The classy and timeless lace creations are sourced from surplus fabrics, manufactured in the founder's studio in Berlin or a small workshop in Poland. Sofie, who is the owner of the brand learned her design profession in Florence where she fell in love with vintage aesthetics and textile craft. Her designs are motivated by inclusive and honest values for empowered women who want to shop consciously.
On the same day, you should fetch yourself a comfy cup of Berlin-style VOTE women's group coffee and enjoy an afternoon panel on arts and culture – in particular sustainability culture. One of the panelists will be the wonderful Céline Semaan-Vernon, a Lebanese- Canadian designer and founder of Slow Factory Foundation. She is one of the leading figures in the current sustainability discussion, never scared to speak about uncomfortable realities and push our boundaries. With her initiative, she created awareness but also several relevant learning tools as an open education online school and a matchmaking program for industry professionals.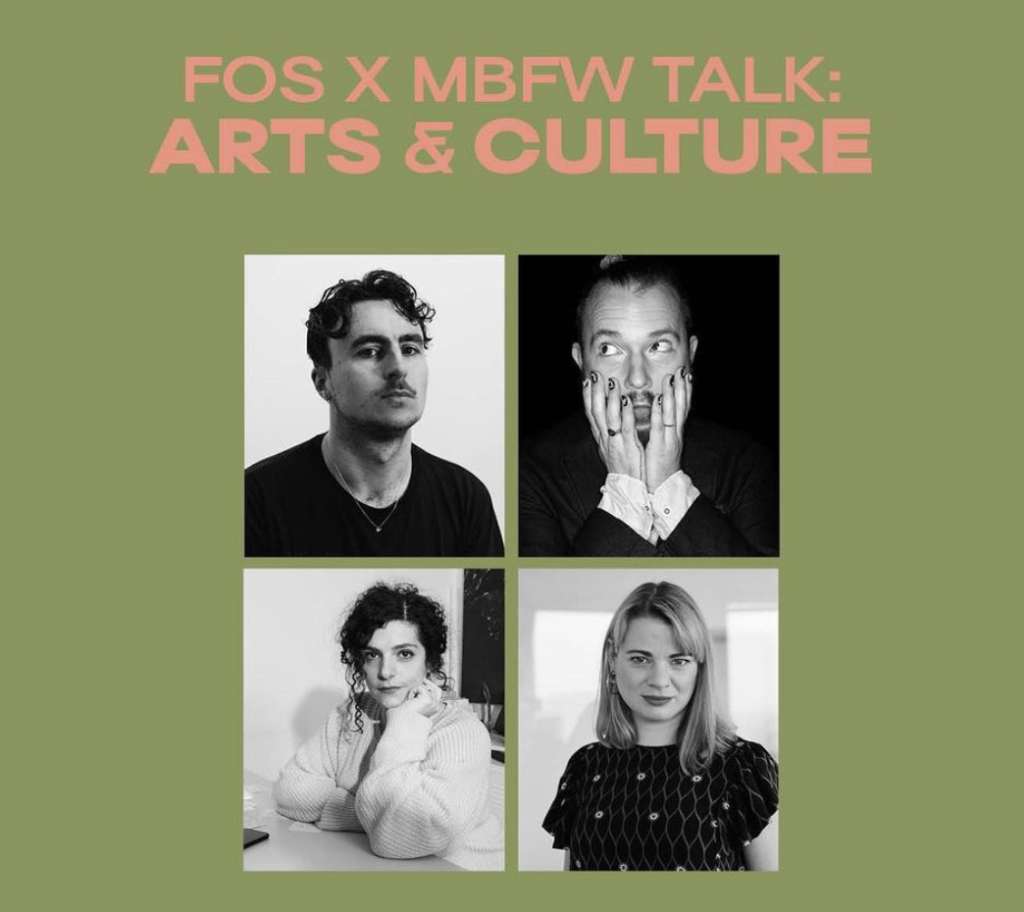 Fashion Open Studio is your go-to platform for transparent and credible sustainability content, in general, and especially now! While the Fashion Revolution initiative, and it's guests and featured designers are true stars, I wonder what the actual story behind the overall schedule of the fashion week is. The plan for this week is almost overcrowded with local players, without a direction, and frankly just confusing. It seems Berlin didn't get the very much needed push of refreshment at all. Instead, now the more sustainable designers express the held backs if they are featured on the same platforms as brands who do not act by any kind of responsible values at all. What is the bigger sense of all of this, and where will it go? Will Berlin Fashion Week have to feature the same five designers for the next years or will there be an honest radical change to finally play into the true strengths of this city- a no bullshit attitude with great talent and innovation.