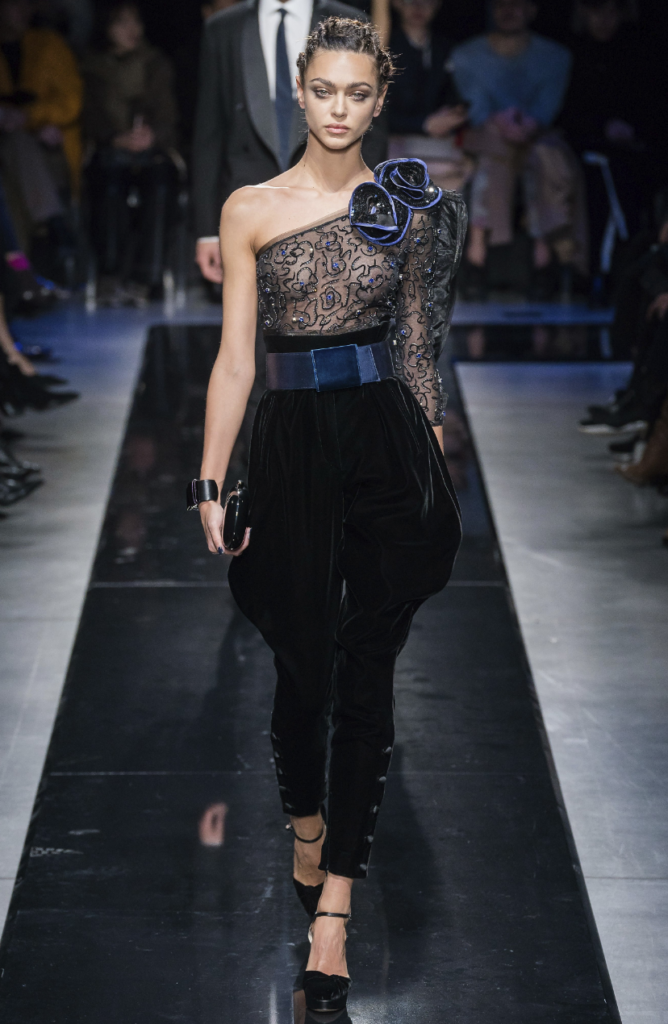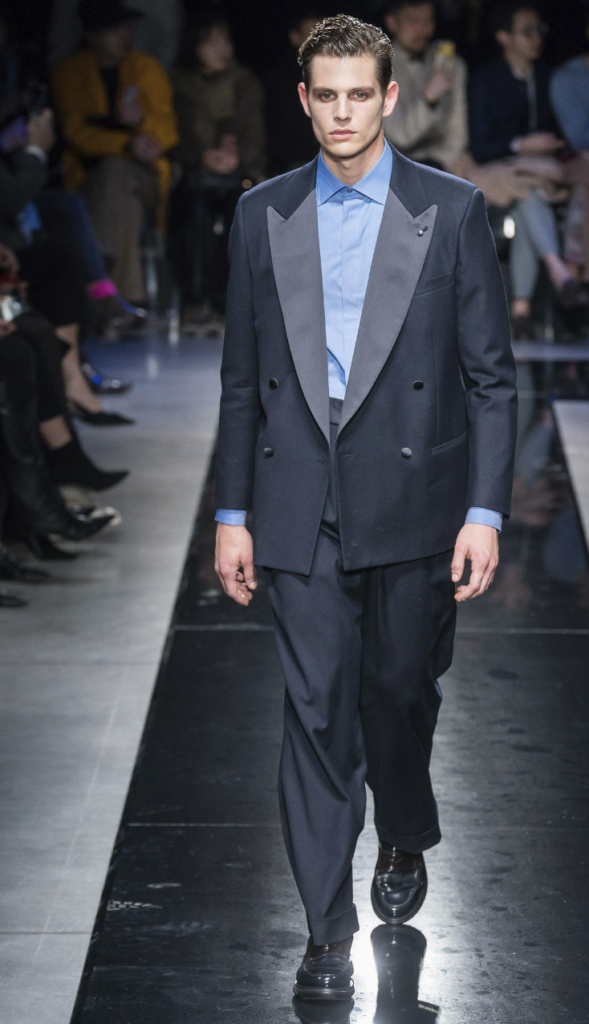 Blue lasers lit Armani Silos, an exhibition complex recently purchased by Giorgio Armani himself, and set the tone of the show to come. Titled Rhaspsody in Blue, Armani's coed collection left a sentiment of effortless cool. A black mirrored runway set the stage for the collection's sharp silhouettes and smokey-blue accents. Armani played with a monochromatic blue palette and implemented it in his menswear signature suiting. Created for a refined woman, the womenswear also had a distinct architecture. Armani paired pants with jodhpur distortions at the quad with midnight blue detailing, sometimes sparking, on velvet and silk textures. The collection was a playfully mysterious.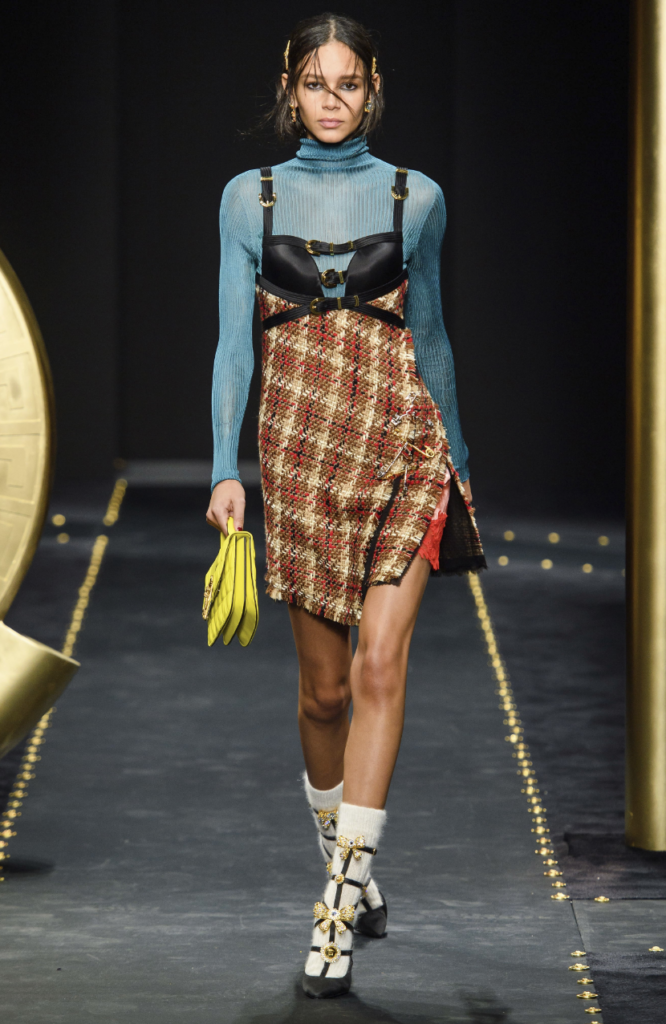 Versace juxtaposed its opulent nature with a grunge aesthetic. In reaction to culture's obsession with maintaining perfection via social media, Donatella Versace experimented with the idea of glamorous imperfection. Marc Jacobs introduced this mood in his infamous 1992 grunge collection, the show that led to his termination from Perry Ellis. Grunge is emblematic to the 1990s Pacific Northwest music scene and is a nod to the ways in which low-brow society influences the elite (Long live Nirvana). Donatella accented holey frayed sweaters with paperclips, reminiscent of the oversized gold ones completing Gianni Versace's most well known creation, a 1994 dress worn by Elizabeth Hurley. The collection included other Versace staples like its signature gold print and bondage harnesses. Donatella provided a fresh take on the grunge spirit, injecting Versace's sumptuousness with a grunge tinge and layers of colorful gypsy hues.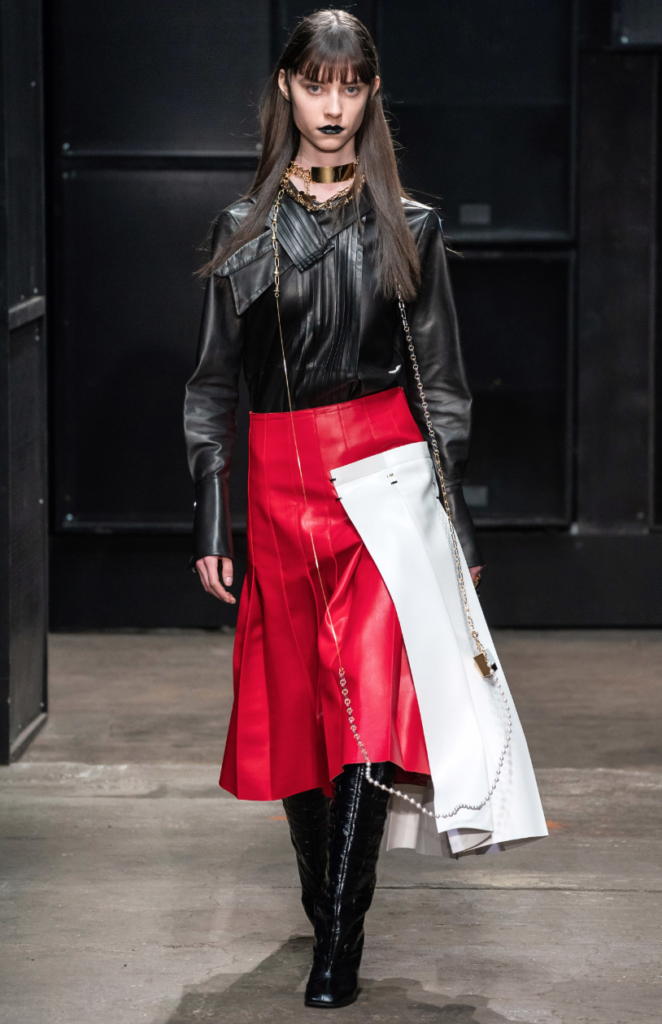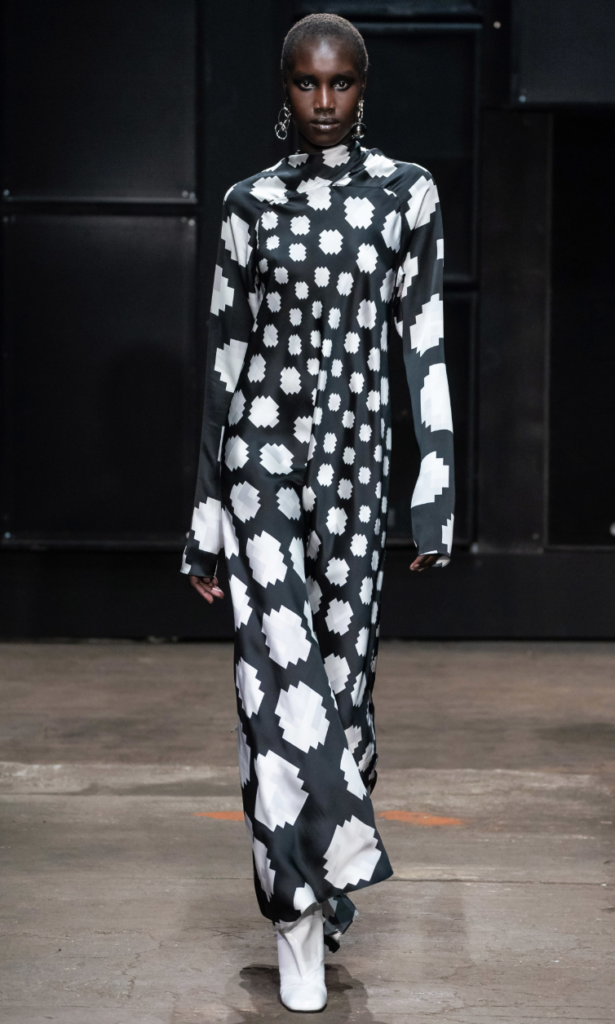 Marni's collection, denoted as neurotic erotic, explored the subconscious' heretical desires, pairing deconstructed pieces with chunky chain belts and necklaces. Reminiscent of punk fashions, rings and metallic accessories held dresses together. The color palette of pinks and reds was employed in tartan patterns and silk and leather fabrics. Chunky tall boots met asymmetrical hemlines, while pixelated polka-dot and flower dresses captivated spectators. The fashion world applauds creative director Francesco Risso for casting a diverse cast of models and redefining Marni's idea of seduction, playing with androgynous beauty and fetishistic  accessories.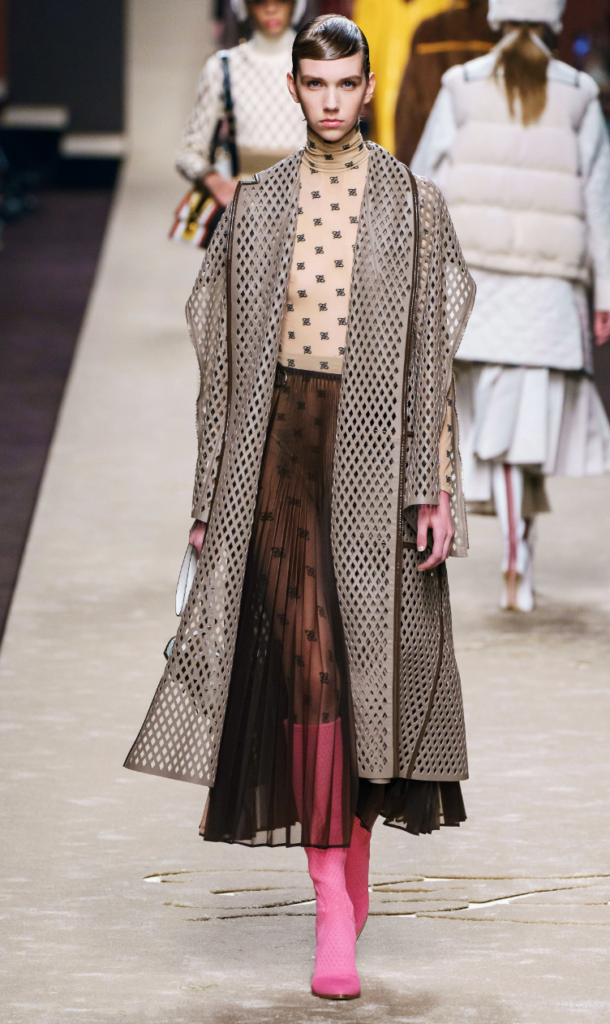 This years Fendi collection was the last designed by the late Karl Lagerfeld. The illustrious creative director has helped shape the brand since he met the Fendi sisters, and founders, in Rome in 1965. The collection featured many of Lagerfeld's key contributions to the Fendi aesthetic like high Edwardian collars and Fendi's signature fur coats and detailing. In 1981, Lagerfeld created the double F logo synonymous to Fendi, known "Karligraphy," and he reimagined it for the last time using the copperplate font of his own handwriting. The monogrammed logo was woven into stockings and turtlenecks and shown through sheer pleated skirts. Lagerfeld stuck to geometric hemming, defining strong pagoda shoulders and sleek wide trousers. The show concluded with a video paying tribute to Karl Lagerfeld's influential career.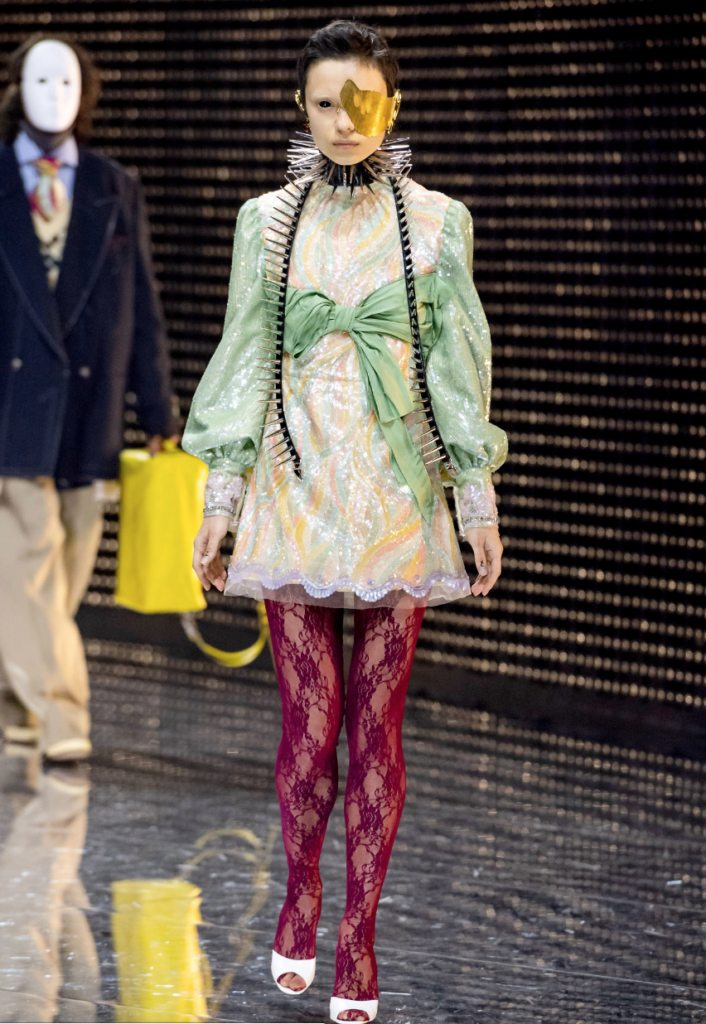 Gucci never fails to surprise and intrigue with its quirky aesthetic. Creative Director Alessandro Michele's genderless approach to design renders his collections as ambiguous and allows for varying interpretations. A colorful palette and mismatching patterns and styles is typical for a Gucci collection, but this one took fashion individuality to an unprecedented level. Masks, scarfs, and thick chokers with protruding metal spikes, along with metal ear and eye coverings, gave the collection a dissenting twist. In a press conference following the show, Michele explained, "A mask is hollow but also full." The mask becomes analogous to the wearer, together creating a shared meaning. In contrast, pierrot collars fantasized the collection with the sentiment of innocence.