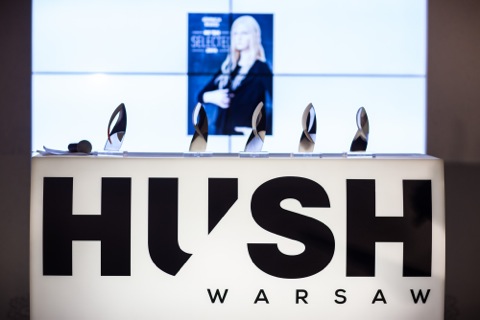 It is said that Polish fashion market completely lacks professional fashion events – that's not true. Not completely. Twice a year we have the opportunity to participate in HUSH Warsaw fashion trades, and there's nothing unprofessional about them!
The fifth edition of HUSH Warsaw is right behind us and it deserves a summary. 114 stands of Polish designers, placed on a National Stadion is impressive enough, but it gets even batter after taking a quick glance at the designs presented. Some of them were classics: Ania Kuczyńska with her timeless basic shapes made of the most elegant fabrics, beloved Łukasz Jemioł with his innovative approach to fashion, Joanna Hawrot and her multi-wearing possibilities dresses. We know them well and value them for their cohesive vision of their own brands. But HUSH is also about identyfing young, promising designers, so naturally it brought some new jewels to the crown this time. As for my favourites, Lelui – a brand by Dagmara Rosa, the amazing personality and the most friendly smile combined with the ability to sell just about anything. Fortunately for all the novelty-hungry consumers, what she sells is an intriguing vision of how a woman should add some comfortable mystery to her appearance. Dzky. by Maciek Sieradzky, popular because of the Polish edition of Project Runway, staged his famous braids bags and sweatshirts – the new symbol of streetstyle "cool" (it's enough to say that Anja Rubik is a loyal fan of Sieradzki!). A clever interpretations of conceptual fashion striked from Domi Grzybek's stage and finally – the brand that is based on ecology in a way that is not repulsive to the consumer – Wearso. All in all, some serious money could have been well spent during December's HUSH Warsaw, and it was – the cash in the ATM (installed especially for the trades!) was gone circa five hours before the trades closed on Sunday.
HUSH Warsaw is not just the pleasure of shopping though. A final gala of HUSH Selected 2014 quality label took place on Saturday and awards were given to Polish designers in five different categories:
• Footwear and accessories: awarded to Loft 37
• Product of the Year: awarded to est by eS.
• Image photoshoot: awarded to wearso.
• Consistency: awarded to Diana Jankiewicz.
A separate category, created in collaboration with the Main Sponsor, Martini, was "Designer of the year #BEGINDESIRE". That prize was won by no other than Joanna Hawrot, which we think was well deserved!
What else is left now if not to anticipate the next edition of HUSH Warsaw? We'll patiently collect our personal funds to carelessly spend them in June on Polish authorial fashion, and there's one thing we know for sure – it will be worth every penny!