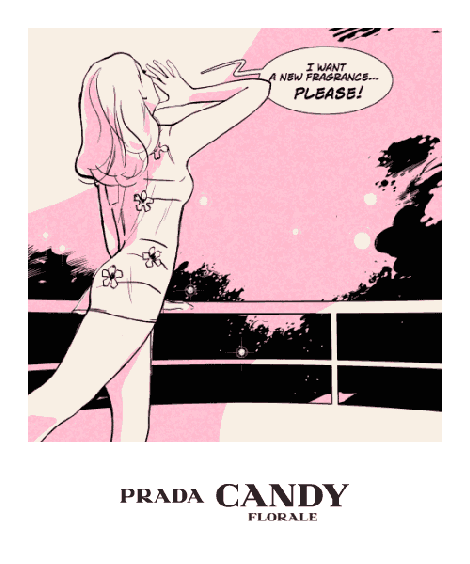 We have seen many Prada Camdy ads since 2011, featuring the main girl herself, Léa Seydoux, but what have the high-end label used next to promote the scent? Not only classic short film, and magazine page campaign, but a set of comic strips, to celebrate the illustrator Francois Berthoud.  
The comics, designed with the classic bold outline, and two-tone images, hold an individual story for the fragrance. The story is about Seydoux herself, calling for a type of scent she desires, and searching far and wide into space for it. Finally, to end with Seydoux claiming the scent she wanted, uplifting her mood. 
This is a fresh take for Prada, and stepping away from the classic, high-end image. Adding a bit of playfulness was a risk for a brand, however executed with the brand/product essence throughout. 
Prada Candy Florale is available as 30ml/50ml and 80ml as Eau de Toilette now.